Richard Albert to Serve as Co-President of the International Society of Public Law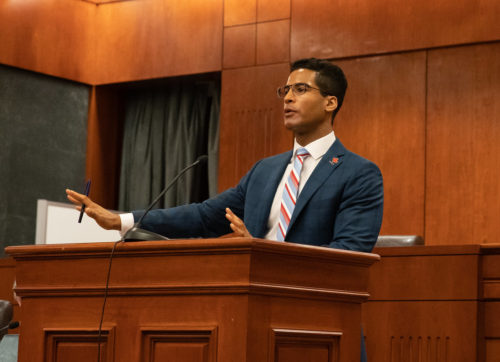 Texas Law Professor Richard Albert has been elected to serve as Co-President of the The International Society of Public Law. He will take office in July 2021.
Albert, the William Stamps Farish Professor of Law, was elected on July 30 as part of a slate that includes fellow Co-President-Elect Judge Marta Cartabia, President of the Italian Constitutional Court; Secretary-General-Elect Prof. Sergio Verdugo, of the Universidad del Desarrollo, in Chile; and, Deputy-Secretary-General-Elect Prof. Michaela Hailbronner, of Germany's University of Giessen.
The current Co-Presidents of the Society are Lorenzo Casini of La Scuola IMT Alti Studi Lucca, and University of New South Wales Prof. Rosalind Dixon.
"It is an honor to represent Texas Law as Co-President-Elect of ICON-S alongside Judge Marta Cartabia," said Prof. Albert. "ICON-S is the rarest of learned societies—a community focused on learning, teaching, and problem-solving in a way that brings together thinkers and doers, embraces scholars of all ranks, and prioritizes diversity, equity, and inclusion. Professors Lorenzo Casini and Rosalind Dixon are outstanding Co-Presidents, and I am grateful for their example as model leaders."
"I thank in particular my colleagues here at Texas Law," he continued. "We have the very best cohort of scholars of constitutionalism anywhere in the English-speaking world."
Dean Ward Farnsworth said, "Richard Albert is one of our great faculty members. He is deeply admired by his colleagues here and recognized worldwide as a leader in his field.  We are enormously proud to see him recognized with this highly deserved position of honor."
Sanford Levinson, Prof. Albert's colleague on the Texas Law faculty, was also effusive about the election outcome: "Richard is a rare blend of a truly serious scholar and an indefatigable organizer of events that allow scholars and students from literally all over the world to share ideas and seriously engage with one another as equals.  His election reflects both of these attributes, remarkable success as a still-young scholar of world-wide significance and as a true catalyst bringing everyone together to deepen their understanding of constitutionalism in all of its dimensions.  The Law School is very lucky to have him on its faculty, and I am personally lucky to have him as a cherished colleague."
In addition to his service for the Society, Prof. Albert is planning multiple virtual conferences and events for the coming months, including The Global Summit of The International Forum on the Future of Constitutionalism, taking place January 12-16, 2021.