Tarlton Joins the Celebration of 'National Archives Month"
Did you know that October is National Archives Month? Organized by the National Archives—the official keeper of our nation's most important documents and materials—this month of activities is designed to connect citizens to history, and to build the habit of exploring amazing collections in archives of all kinds.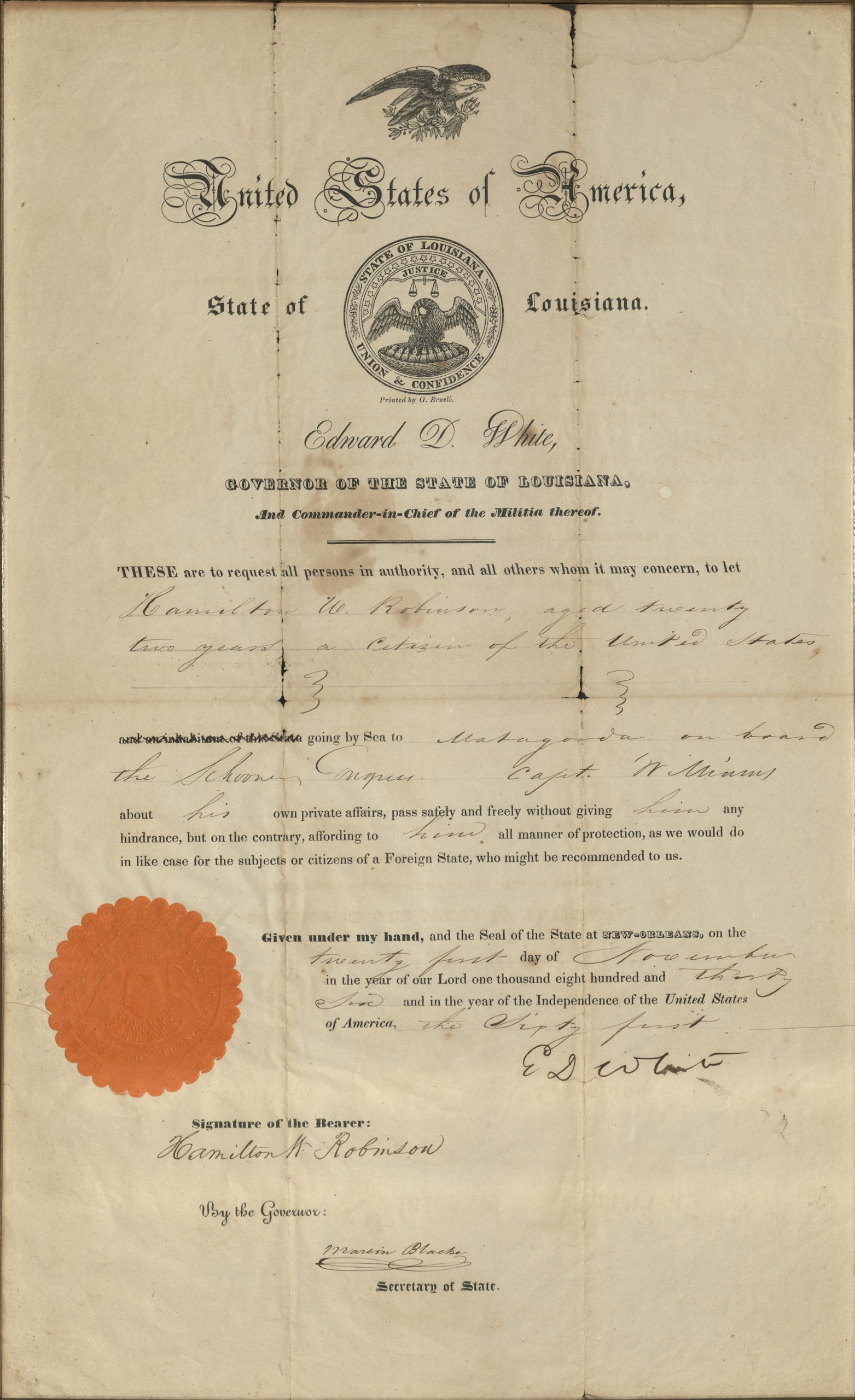 Nowhere is the celebration ringing truer than in Texas, and particularly in the Tarlton Law Library. Tarlton has joined forced with the Archivists of Central Texas, who are curating the online Archives Peep Show, featuring extraordinary and rare objects themed around the topics of Advocacy, Politics, Early Texas, and many more. From Tarlton's collection, you will find a Louisiana-Matagorda Passport from 1836 and an excerpt of the legendary Texas Law Dean W. Page Keeton's personal, heavily annotated Cases on Torts.
"This project is a lot of fun," said Barbara Bintliff, Director of the Tarlton Law Library/Jamail Center for Legal Research and the Joseph C. Hutcheson Professor in Law. "We love taking the opportunity to show off Tarlton's collections and it's thrilling for us to see how much our students—and faculty, and the larger community—enjoy exploring them!"
The Tarlton Law Library maintains over 5,000 linear feet of archives for the purpose of historical research. Tarlton holds records of enduring value created by The University of Texas School of Law, as well as the papers of U.S. Supreme Court Justice Tom C. Clark and the Uniform Law Commission,  collections of several Texas Supreme Court justices and federal judges, and many University of Texas School of Law alumni, faculty, and deans. These remarkable collections provide materials relevant to legal history and the history of legal education in Texas and the United States.
Finding aids for many of Tarlton's archival collections are available via Texas Archival Resources Online (TARO), a consortium of the major research archives in Texas.
Prof. Bintliff is quick to point out that Tarlton's contribution to the Archive Peep Show was very much a team effort. "Our archivist, Evelina Stulgaityte, chose these materials and worked with the Archivists of Central Texas to assemble the display. She does an extraordinary job for us, under the general direction of Molly Brownfield, Interim Head of Special Collections."
Of course, taking advantage of Tarlton's vast digital collections can be done 365 days a year, any time of day or night. Included there are all the old law school yearbooks and alumni newsletters, historical photos of the law school, and histories of the the law school's integration, the Peregrinus mascot, and Assault & Flattery, among many others.