Mimi Nguyen '22 Sworn in as UT System Student Regent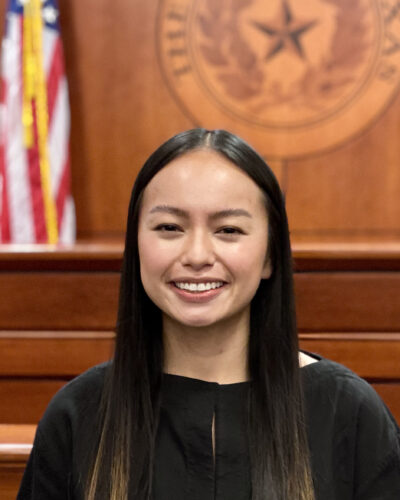 On June 26, Thuy Dan "Mimi" Nguyen '22 was sworn in as UT System Student Regent by Judge Cynthia Lafuente-Gaona BA '93. An intimate audience of family and close friends gathered in the Law School's wood-paneled Eidman Courtroom to witness and applaud this remarkable beginning to Nguyen's final and seventh year as a UT System student.
Nguyen will serve a one-year term as Student Regent. She joins nine other dedicated and distinguished Texans who together serve as the Board of Regents, the governing body for The University of Texas System. The Board of Regents is appointed by the Governor, chosen because they have been strong advocates of excellence in academic programs, scientific inquiry, and responsible public service.
"At UT, we like to say that what starts here changes the world, and Mimi Nguyen is a wonderful example of that concept in action," remarked Dean of the Law School Ward Farnsworth. "We are so proud to see her representing Texas Law and all of The University of Texas at one of the highest possible levels."
The Law School's Robyn Munn spoke with Nguyen to learn more about her and her goals for her term as Student Regent.
RM: First off, congratulations on this wonderful distinction Mimi!
MN: Thank you so much!
RM: Could you tell us the tale of how you came to be this year's Student Regent?
MN: Of course. I first learned about the position as an undergrad at UT during my time as an Archer Fellow for the UT System. The Archer Fellowship enables undergraduate students from the various UT System institutions to work full-time in Washington, D.C. while earning a semester's worth of class credit. Through the program, I was able to meet and become friends with students at other schools across the UT System family, and the program also enabled me to intern for the United States Supreme Court.
RM: You interned for the Supreme Court? Wow! Let's definitely come back to that.
MN: Sure! So the application process takes place over the course of a few months. I first sent my application to UT's student government for their nomination. From there, UT forwarded their choices to the UT System who, in turn, sent their selections to the Governor's Office. The Governor's office then contacted the finalists for an interview before naming me as their choice for the position. It was a totally surreal experience when Governor Abbott's office called to inform me that I was selected to be the next Student Regent.
RM: I can imagine!
MN: I was initially excited… and then nervous because I knew that it was an important role, and I wanted to do a good job. Still, it's very comforting and encouraging to know that a lot of people have believed in me along the way.
RM: So many people are cheering for you! So why don't we get back to that Supreme Court internship? How was that?
MN: It was a life-changing experience and something which confirmed my aspirations to be a lawyer and return to UT for law school. I distinctly remember at the age of nine I was helping my mother study for her naturalization exam, and I asked her: "How many Justices are on the Supreme Court?" This was the very first time I learned about our form of government and the laws that enabled us to live in this country—ten years later I was able to intern for that very institution.
RM: That sounds like an incredibly powerful experience.
MN: It was. As someone who was not born in this country, I was deeply inspired by why my parents chose America as the place for us to live. This lifelong curiosity led me to pursue a career as a lawyer.
RM: And why Texas Law?
MN: I chose Texas Law specifically because I love Texas, and I knew I could continue to grow as a student here. Studying law at the University of Texas has given me key insights into the part that the law plays in our evolving understanding of citizenship, individual rights, and shared commitments. Now nearing the end of my time as a student, I want to give back to the UT System which has given so much to me. Serving as Student Regent, I believe, is an ideal way to do so. I want to create changes for current and future students that have tangible benefits beyond their time on campus.
RM: What are your goals for your term as Student Regent?
MN: As Student Regent, I have the same rights as regularly appointed board members, except for the right to vote. I'll be attending board meetings and bringing a student perspective to matters that come before the board. I'll also visit the various UT System institutions, meeting with students and administrators. The role is a huge responsibility and not one that I take lightly. I'm remaining open as to my goals in this position because I understand that what a student at one UT System institution needs can be different than another—and I want to make sure I don't lose sight of that. My overarching aim, however, is to serve as a voice for students and advocate for maximizing the student experience across all the UT System institutions.
RM: And all of this will be in addition to your activities at the Law School, right?
MN: Yes! I'm currently on the executive board of the Texas Law Review, where I serve as a Notes Editor. I am also a Student Ambassador, working with the UT Law admissions office to help prospective students gain a better understanding of the school, and a member of the Asian Pacific American Law Student's Association and the Women's Law Caucus. I'll also be joining the Entrepreneurship and Community Development Clinic this fall, counseling and representing entrepreneurs, nonprofit organizations, and community groups in Austin. And, over the summer, I am working as a Summer Associate for Vinson & Elkins in Houston.
RM: It's going to be a busy year! Thanks so much for speaking with us, Mimi, and again congratulations!
MN: It was my pleasure!