Public Service Expo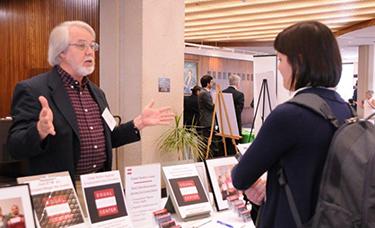 Presented each fall by the CSO, the Public Service Expo offers Texas Law students an opportunity to informally meet with government agencies and public interest organizations to learn about the employers and available internship and job opportunities.
This year's Expo will be held virtually on Brazen from 11:00 a.m.-1:00 p.m. (Central) on Thursday, October 15, 2020.
All Texas Law students are invited to attend. Please register online at Public Service Exp on Brazen and click on "Login".
2Ls, 3Ls, and LL.M.s Submit Your Resume by Noon on Wednesday, Oct. 14
You may now submit your resume to employers requesting your class year via Symplicity. Please submit no later than noon on Wednesday, October 14, 2020. Resume Books will be made available to participating employers after the Expo. [more info]
2020 Participating Organizations & Agencies | as of October 6, 2020
American Civil Liberties Union of Texas (Houston, TX)
American Gateways (Austin, TX)
Capital Area Private Defender's Service (Austin, TX)
City of Austin Law Department (Austin, TX)
Equal Justice Center (Austin, TX)
Federal Deposit Insurance Corporation (Washington, D.C.)
Federal Public Defender – Southern District of Texas (Houston, TX)
Harris County Public Defender's Office (Houston, TX)
Hays County Criminal District Attorney (San Marcos, TX)
Human Rights Initiative of North Texas, Inc. (Dallas, TX)
Internal Revenue Service – Office of Chief Counsel (Austin, TX)
Law Offices of the Shelby County Public Defender (Memphis, TN)
Legal Aid of NorthWest Texas (Fort Worth, TX)
Marine Officer Programs/Judge Advocate General (JAG) (Austin, TX)
Montgomery County Office of the Public Defender (Montgomery, AL)
Mosaic Family Services (Dallas, TX)
NARAL Pro-Choice Texas (Austin, TX)
National Labor Relations Board (Fort Worth, Houston, and San Antonio, TX)
Office of the Colorado State Public Defender (Denver, CO)
Office of the Texas Attorney General (Austin, TX)
Orleans Public Defenders (New Orleans, LA)
RAICES (San Antonio, TX)
Railroad Commission of Texas (Austin, TX)
Refugee Services of Texas (Austin, TX)
Save Our Springs Alliance, Inc. (Austin, TX)
South Texas Pro Bono Asylum Representation Project (ProBAR) (Harlingen, TX)
Texas Advocacy Project (Austin, TX)
Texas Appleseed (Austin, TX)
Texas Association of School Boards (Austin, TX)
Texas Civil Rights Project (Austin, TX)
Texas Department of Insurance (Austin, TX)
Texas Fair Defense Project (Austin, TX)
Texas Health and Human Services – Office of the Chief Counsel (Austin, TX)
Texas RioGrande Legal Aid (San Antonio, TX)
Texas State Board of Pharmacy  (Austin, TX)
Travis County Attorney's Office – Criminal Division (Austin, TX)
Travis County District Attorney's Office (Austin, TX)
U.S. Air Force JAG (Randolph AFB, TX)
U.S. Army JAG (Fort Hood, TX)
U.S. Attorney's Office for the Southern District of Texas (Houston, TX)
U.S. Department of Justice (Washington, D.C.)
U.S. Small Business Administration (Texas and Washington, D.C.)
Volunteer Legal Services of Central Texas (Austin, TX)