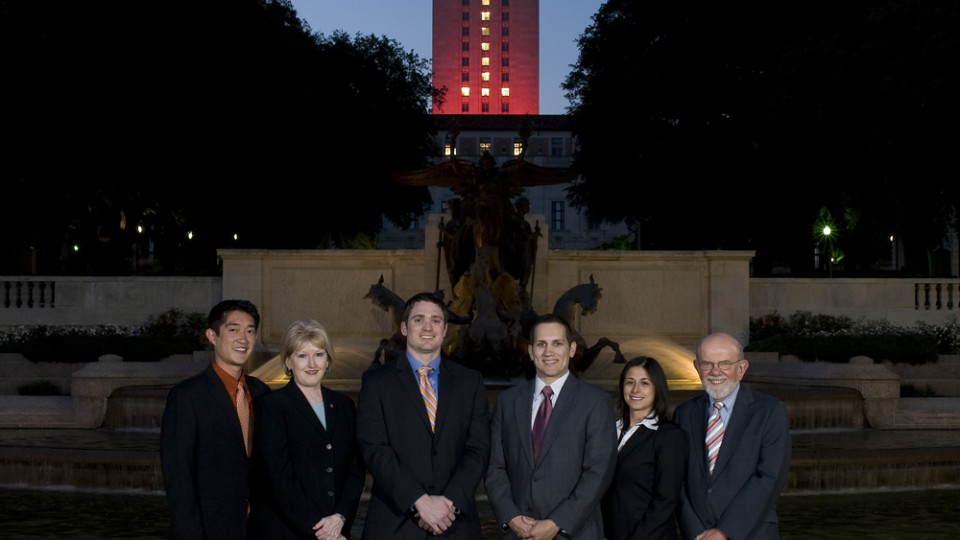 UT Tower Lit for Bankruptcy Moot Court team's National Championship April 27, 2010
The University of Texas lit the Tower on April 27, 2010, to honor the Law School team that won the 2010 National Championship at the Judge Conrad B. Duberstein National Bankruptcy Moot Court competition. This is the twelfth national championship UT Law has won in the last ten years.
The UT Law team swept the Duberstein competition this year. Third-year students Patrick Schmidt and David Shank narrowly beat their team members Kelli Benham, Rex Mann, and brief writer Mark Little (all in their third year), in the final round of the competition to win the national title.
The Duberstein National Bankruptcy Moot Court teams are coached by Debbie Langehennig, '88, a Chapter 13 Trustee; Jay Ong, a shareholder with Munsch, Kopf & Harr PC; and Vanessa Gonzalez, '08. Professor Jay Westbrook also works with the bankruptcy moot court teams.
This competition is sponsored by the American Bankruptcy Institute and St. John's University School of Law. This year, the competition was held March 13–15, 2010, in New York, and included nearly fifty teams from thirty-five law schools across the country. The problem involved Ponzi scheme bankruptcies. The final round panel consisted of Federal Appeals Court Judges R. Guy Cole, of the 6th Circuit; Steven Colloton, of the 8th Circuit; Gerald Tjoflat, of the 11th Circuit; and Wallace Tashima, of the 9th Circuit, along with bankruptcy judges Carla Craig, chief judge for the Eastern District of New York and Stuart Bernstein of the Southern District of New York.
This is ninth time the University has held a Tower lighting in recognition of the Law School teams' outstanding academic achievements. Previous lightings were for the 1999 National Mock Trial championship team; the 2000 Tournament of Champions Mock Trial national championship team; the 2002 Frederick Douglass Moot Court national championship team; the 2003, 2004, and 2005 Judge John R. Brown Admiralty Moot Court national championship teams; the 2005 ABA Arbitration competition national championship team; the 2004, 2005, 2006, and 2008 Giles Sutherland Rich Memorial Intellectual Property Moot Court national championship teams; and the 2009 Hispanic National Bar Association Moot Court team.
Contact: Cheryl Brandt, associate director of advocacy programs, cbrandt@law.utexas.edu, 512-232-1257