Welcome to the Class of 2013!
Classes begin Wednesday, August 25, for the University of Texas School of Law's Class of 2013, and the incoming students are an impressively accomplished and diverse group. This year's incoming students hail from thirty-two different states and four different countries and can speak twenty-two languages, from Arabic to Danish to Mandarin to Wolof.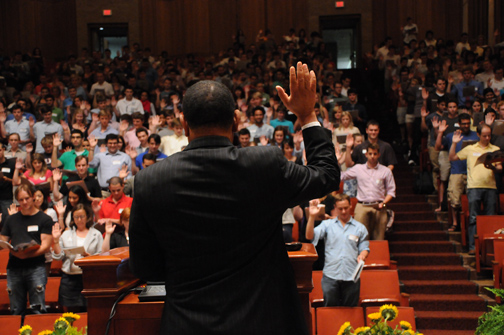 The Class of 2013 counts among its members a national championship skier and college varsity football player as well as a professional ballet dancer, a modern dance improviser, and players of the oboe, trombone, guitar, and piccolo. Several Eagle Scouts are part of the incoming class, as are a graduate of the U.S. Military Academy at West Point and a graduate of the United States Naval Academy.
Thirty-two percent of the Class of 2013 are from outside of Texas, and 46 percent of the class are female. Minority representation is 30 percent, and the youngest incoming 1L is nineteen years old. Two incoming students will celebrate their birthdays on the first day of classes.
The Law School welcomes the new class of future lawyers, and wishes them success in their studies and beyond. If you are a first-year student and require further assistance or information about the Law School's Orientation Program, log on to Freshlaw Central. (Access to some information will require use of your UT EID.)