Pamela Brown, Director of the Bi-National Family Violence Project, to Speak on Pursuing Justice across International Borders
The Law School's William Wayne Justice Center for Public Interest Law and Career Services Office will present speaker Pamela M. Brown, director of the Bi-National Family Violence Project of Texas RioGrande Legal Aid (TRLA), on Monday, November 8, 2010, from 11:30 a.m. to 1:30 p.m. in the Sheffield Room at the Law School.
Brown will speak from 11:30 a.m. to 12:30 p.m. about the impact of international borders on families and family law and her innovative work representing survivors of family violence in international child abduction cases. From 12:30 a.m. to 1:30 p.m. she will speak about her life in the law. Lunch will be served at 11:30 a.m. and 12:30 p.m. Audience members may attend one or both sessions.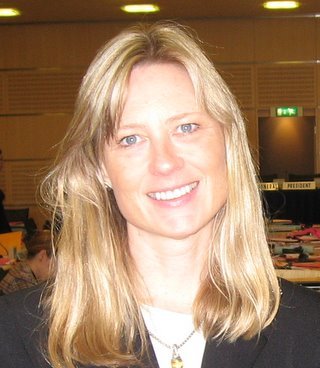 Brown founded the Bi-National Family Violence Project in 2002. In addition to representing individual clients, the Project works to increase cross-border communication with Mexican judges, lawyers, prosecutors, and other officials to facilitate the prompt resolution of cases in which survivors of family violence are affected by their proximity to the international border with Mexico. Brown has reunited approximately fifty children with their families. In 2010, she was recognized for her work with the Impact Award from the Poverty Law Section of the State Bar of Texas. Brown has also received numerous awards of merit from the National Center for Missing and Exploited Children for her work in recovering abducted children. Brown is an active member of the United States-Mexico Bar Association and served as one of its delegates to the 2006 Special Commission to review the Hague Convention on the Civil Aspects of International Child Abduction.
Before founding the Bi-National Family Violence Project, Brown directed TRLA's Violence Against Women Project, supervising other project attorneys and representing survivors of family violence in contested custody cases. She also dedicated several years of her career to legislative advocacy before the Texas Legislature on behalf of low-income Texas residents. In 1997, she received the State Bar of Texas Presidential Citation for her work on fee legislation designed to extend the access to civil legal services to the poor in Texas.
Brown's talk is part of the occasional "Lives in the Law" speaker series focusing on the work and lives of lawyers who strive to improve the lives of others through litigation, advocacy, and public service, presented by the Justice Center and Career Services Office.
The talk is cosponsored by UT Law's Domestic Violence Survivor Support Network, International Law Society of Texas, and Public Interest Law Association.