Meredith Shytles, '11, wins Skadden Fellowship
Meredith Shytles, a third-year student at the Law School, has won a prestigious post-graduate Skadden Fellowship. Shytles will use the fellowship at Austin-based Advocacy Inc. She will work there as an attorney ad litem appointed to represent teenage girls with disabilities in the foster care or juvenile justice system to assist with access to mental health services, meaningful trauma care, and placement in the least restrictive environments. Shytles will focus on the needs of girls with disabilities who have a sexual assault history or those who are pregnant or parenting.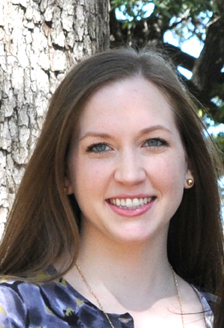 Shytles said there is a great need to serve girls involved in the juvenile justice and foster care systems.  "Girls in this population have astonishingly high rates of sexual abuse and other traumas in their past, which can disrupt educational progress, increase suicidal tendencies, lead to risky sex and drug practices, and result in serious mental illnesses," Shytles said. "I will advocate for their right to receive adequate medical and psychological care in connection with their disabilities, access to trauma-informed programs, and assignment to the least restrictive placement. I came to law school because I was interested in gender issues and hoped to pursue a career in public interest law working for women's rights.  I began volunteering for a hotline for pregnant teenagers in Texas, which opened my eyes to the overwhelming challenges that face female teens in receiving the care that they need."
At the Law School, Shytles was a 2009 Frank Douglass Public Interest Summer Fellow; a 2010 Co-op Public Interest Summer Fellow; a 2010 Public Service Scholar, and was also a member of the Justice Center Student Advisory Board in 2010. She also participates in the Immigration Clinic, is active in the Public Interest Law Association and Law Students for Reproductive Justice, and took part in the 2009 UT Law winter break pro bono trip to Gulfport, Mississippi. She also volunteers for Jane's Due Process.
"I found a lot of support at the law school for my interests," Shytles said. "The immigration clinic gave me amazing hands-on experience by giving me the opportunity to represent a trauma survivor in her asylum claim. Learning how to earn her trust and find the best way to represent her in light of her sensitive experiences was an invaluable experience that I am so grateful to have as I head into my project.  I also was able to take several classes, including Domestic Violence and the Law, School to Prison Pipeline and Child Protection Issues, that expanded my horizons and gave me great background knowledge that I am sure I will draw upon during my fellowship."
Skadden Fellowships are awarded for two years. Skadden provides each Fellow with a salary and pays all fringe benefits to which an employee of the sponsoring organization would be entitled. For those Fellows not covered by a law school low income protection plan, the firm will pay a Fellow's law school debt service for the tuition part of the loan for the duration of the fellowship.
Contact: Kirston Fortune, UT Law Communications, 512-471-7330, or kfortune@law.utexas.edu