UT Law Class of 2015 Equal Justice Scholarship awarded to Christopher Larson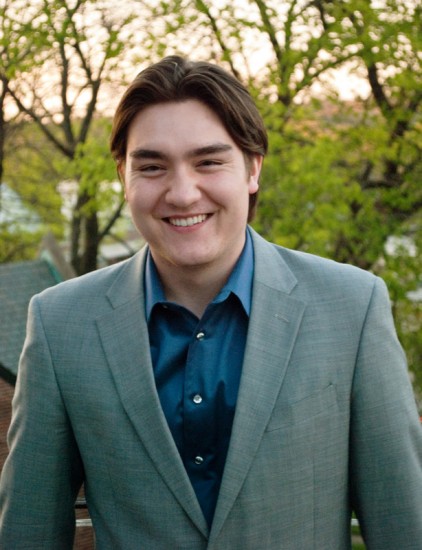 The University of Texas School of Law has awarded the eighth Equal Justice Scholarship to Christopher Larson, an incoming first-year law student. The scholarship covers tuition and fees for three years of legal study. Larson has committed to working after law school on a full-time basis for three years providing direct legal services to low-income individuals or groups at a nonprofit organization in the U.S.
The Equal Justice Scholarship was established to increase access to justice in Texas. The Law School developed the scholarship in partnership with the Texas Access to Justice Commission and Baylor University School of Law, which has a similar program. The scholarship's scope has since been expanded to permit post-graduate work outside Texas.
Larson graduated magna cum laude from Tufts University, where he majored in peace and justice studies with a concentration in community development and public policy. He interned with the Harvard Legal Aid Bureau and became involved in the Bureau's Foreclosure Task Force, "Project No One Leaves," a foreclosure-eviction defense project. He worked as the program coordinator and serves on the project's board of directors. He also helped organize the National Foreclosure Conference at Harvard Law School and interned at Boston Community Capital's Stabilizing Urban Neighborhoods Initiative. Larson also founded the Tufts Chapter of Project No One Leaves, which canvasses foreclosed properties in low-income neighborhoods around Boston, Massachusetts, and connects residents to resources, helping them assert their rights in the eviction process. He was awarded Tufts University's 2012 Presidential Award for Citizenship and Public Service.
Larson joins current scholars Cassie McCrae, '14, and Erin Gaines, '13. This summer McCrae is working with Earth Justice in Tallahassee, Florida, and Gaines is working with California Rural Legal Assistance in Salinas, California. The most recent graduate of the program, Jordan Pollock, '12, has received a two-year Equal Justice Works fellowship to work at Public Counsel, a legal nonprofit in Los Angeles, California, representing immigrant detainees.
"The Equal Justice Scholars have set a high standard of excellence in the classroom and, more importantly, in the greater communities they serve," Larson said. "This scholarship provides an opportunity to use our legal education to pursue a common cause—justice for those who cannot afford it. I am tremendously honored and excited to commit to such an undertaking this fall."
"Christopher Larson has an outstanding record, and the Law School is pleased to welcome him as the newest Equal Justice Scholar," said Eden Harrington, director of the William Wayne Justice Center for Public Interest Law, which administers the program. "The Equal Justice Scholarship is an important component of our commitment to supporting public service, and we are proud of the many contributions of our current and former scholars."
Related links: