Ernest E. Smith Lifetime Achievement Award given to Marianne Carroll, '81, at Texas Journal of Oil, Gas, and Energy Law symposium banquet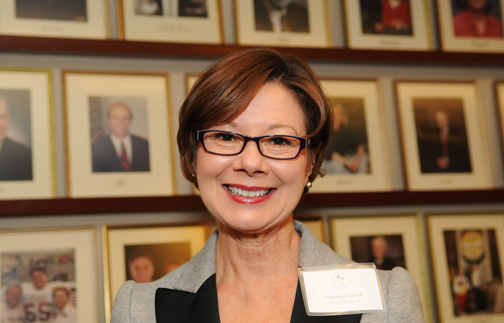 On January 17, 2013, the Texas Journal of Oil, Gas, and Energy Law awarded the 2013 Ernest E. Smith Lifetime Achievement Award to Marianne Carroll, '81, partner at Brown McCarroll LLP. This prestigious award is given to a distinguished attorney who has made significant contributions to the oil, gas, and energy industry.
Carroll received her BA, summa cum laude, from the University of Texas at Austin, and her JD from the Law School. As an electricity attorney at Brown McCarroll, Carroll's primary area of expertise is the electricity regulation industry. She represents and advises clients across the energy industry from producers to retailers and utilities as well as consumers, investors, and developers. She also represents clients in front of the Public Utility Commission of Texas and the Electric Reliability Council of Texas.
Carroll has been recognized by The Best Lawyers in America forenergy law in 2008, 2010, and 2011. She was also recognized by Chambers USA as one of the "Leaders in Their Field" in Energy: State Regulation & Litigation (Texas) in 2011. Also in 2011, she was awarded the Gulf Coast Power Association Power Star Award.
The Ernest E. Smith Lifetime Achievement Award honors practitioners who have participated in the advancement of natural resources law, policy, or scholarship. The award is named after Professor Ernest E. Smith, Rex G. Baker Centennial Chair in Natural Resources Law at the Law School. Considered the preeminent specialist in oil, gas, and energy law, Smith cowrote leading casebook Oil and Gas Law and leading treatise Texas Law of Oil and Gas. He created the first-ever wind-power law class to be taught at an American law school, and also teaches property law. Smith recently received the Massey Teaching Excellence Award, which is given to a law professor who "epitomizes the School's priority of providing the highest quality of teaching to its students." Smith also serves as a faculty advisor to the Texas Journal of Oil, Gas, and Energy Law.
The eighth recipient of the Ernest E. Smith Lifetime Achievement Award, Carroll joins Kelly Hart & Hallman partner Glenn Johnson; Vinson & Elkins partner Fielding "Tres" Cochran III; Andrews Kurth partner Timothy Unger; Cotton Bledsoe Tighe & Dawson founding partner Robert Bledsoe; former Devon Energy General counsel Duke Ligon; Exxon general counsel C. Kenneth Roberts; and the late Frank Douglass, founding partner of Scott, Douglass & McConnico, in receiving this honor at the Journal's annual banquet.
The Texas Journal of Oil, Gas, and Energy Law is the only entirely student-run energy publication in the country, and one of the largest publications at the Law School. In addition to publishing articles on oil, gas, and energy topics twice a year, the Journal hosts a two-day continuing legal education symposium in conjunction with its banquet. This year's symposium took place on January 17–18, 2013, at the Etter-Harbin Alumni Center. Symposium topics included Developments in Energy Storage, Regulatory and Commercial Issues in Shale Plays, Recent Trends in Master Limited Partnership Transactions, The Role of Government & Markets in Forming Energy Policy, and Legal Issues with Top Leasing. Speakers included law firm and in-house practitioners, government officials, and law and business professors.
(Photo by Steph Swope)