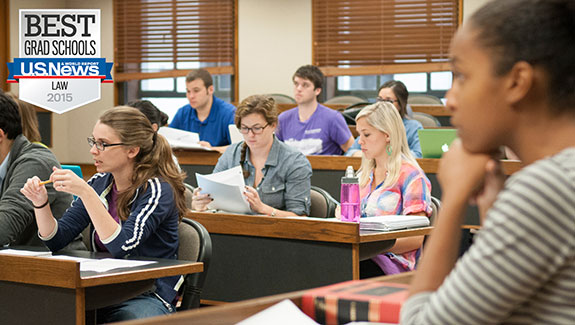 U.S. News and World Report Names UT Law No. 1 for Biggest Return on Investment
U.S. News and World Report announced its short list of 10 law degrees with the biggest return on investment, naming The University of Texas School of Law No. 1.
According to its report, UT Law reported the highest salary-to-debt ratio – a calculation based on how many times a student's reported starting salary covers his or her debt load.
"I can't think of another dimension for which I'd be happier to see this school excel," said UT Law School Dean Ward Farnsworth. "Preparing our students to lead great lives is the most important thing a school can do; and for many generations, this place has done it better than any other."
The average law school indebtedness of 2012 law school graduates with debt was $108,293, while the average median starting private sector salary for all 2011 graduates was $76,125, according to data provided to U.S. News by 194 ranked law schools.
University of Texas law students graduated with an average debt load of $86,312 in 2012 and earned a median starting private sector salary of $155,000 in 2011.
"We've provided an outstanding education and great opportunities, and on affordable terms," Farnsworth said. "It is deeply gratifying to see this recognized."
10 Law Degrees With the Biggest Return on Investment:
University of Texas — Austin
University of North Carolina — Chapel Hill
Brigham Young University (Clark) (UT)
Stanford University (CA)
Yale University (CT)
University of California — Berkeley
Boston College
University of Pennsylvania
Rutgers, the State University of New Jersey — Newark
University of Michigan — Ann Arbor
*Schools designated by U.S. News as Unranked were excluded from this list. U.S. News does not calculate a numerical ranking for Unranked programs because the program did not meet certain criteria that U.S. News requires to be numerically ranked. For this list, only private sector starting salary data was considered.