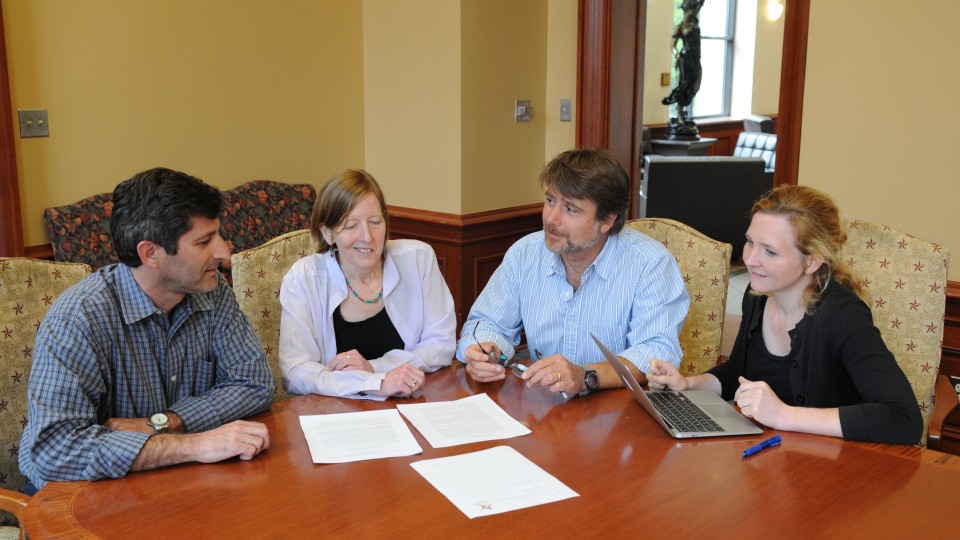 Rapoport Center Launches Major Five-Year Initiative
On a daily basis we are confronted with horrifying stories of human rights violations both locally and globally: from the treatment of asylum seekers to new forms of slave labor, deadly working conditions and racial injustice. Other headlines present alarming statistics of international and domestic income and wealth inequality and a growing gap between the "haves" and the "have nots." Yet these discussions often remain separate: human rights advocates and theorists have little to say about growing economic inequality and economists and policy analysts speak little about human rights.
Texas Law's Bernard and Audre Rapoport Center for Human Rights and Justice has taken on the task of bridging this divide, aiming to bring these two critical issues into conversation through its critical, interdisciplinary approach to the practice of human rights and social justice.
Inequality is also the new focus of the global leader in philanthropy, the Ford Foundation, which is providing key support to the Rapoport Center's newest initiative: a five-year project to study and rethink the global human rights movement for the twenty-first century. The Ford Foundation has awarded the Center an initial two-year, $400,000 grant to jump-start the project's assessment of the use and potential of human rights law and discourse to address some of the structural causes of inequality.
"This work is urgent," says Texas professor and Rapoport Center co-director Karen Engle. "Despite considerable advances since the 1970s, human rights practice has failed to address some of the globe's most pressing problems. The world might be more democratic, but it is also more unequal. At the same time, contemporary information and communications tools enable new strategies of engagement with local movements and opportunities for new partnerships."
"The Rapoport Center is uniquely positioned to work with and analyze the global human rights movement," according to Texas government professor and Rapoport Center co-director Daniel Brinks. "We have established relationships with activists and academics from around the world, and with area studies centers and faculty from across the University, giving us access to every region of the world, as well as a wealth of disciplinary approaches," says Brinks. "And we have spent the last ten years critically examining human rights work, its accomplishments and shortcomings. This work lays the foundation for the more comprehensive project that lies ahead."
Collaborating with Engle and Brinks in this ambitious project are fellow Texas Law professor Ariel Dulitzky, the director of the law school's Human Rights Clinic, and Julia Dehm, who joins the Rapoport Center from the Institute for Global Law and Policy at Harvard Law School.
"I'm starting my work on this project by addressing questions of natural resource governance, human rights and inequality," says Dehm, an Australian citizen, whose previous research has focused on environmental law and human rights, especially in relation to the social implications of carbon offset schemes.
"The next five years will deepen our understanding about the ways human rights work is being and should be done today," adds Brinks. "It is one thing to read about isolated events that give rise to grave human rights concerns, and another to document the ways in which inequality both leads to these events and structures our responses to them. We need to do more to understand what, if anything, the human rights movement should be doing in this new global context."
"Human rights were traditionally invoked in response to state violence. Even though today they are commonly used to make and respond to economic and social demands, the human rights movement has largely elided attention to the unequal distribution of wealth and resources that has increased alongside the growth of the movement itself. We are committed to understanding whether and how human rights might respond to the distributive consequences of domestic and international policies on issues ranging from natural resource governance to labor."
The project kicks off this Fall with a public colloquium series in which lawyers and economists will speak over the course of the semester on the relationship between human rights and inequality. Several speakers will explicitly consider economic development, and the role of human rights in ensuring more equal distribution between the Global North and Global South. The series will begin on September 28th with "A New Greek Tragedy: Inequality, Human Rights, and Democracy" featuring James Galbraith, Alvaro Santos, and Philomila Tsoukala. The full schedule for the series is below. And for a full list of all Rapoport Center activities, visit their website here.
September 28, 2015
"A New Greek Tragedy?: Inequality, Human Rights and Democracy"
James Galbraith, Lloyd M. Bentsen Jr. Chair in Government/Business Relations and Professor of Government, LBJ School, UT Austin
Alvaro Santos, Professor, Georgetown University Law Center
Philomila Tsoukala, Professor, Georgetown University Law Center
4-6pm, Sheffield-Massey Room (TNH 2.111), Texas Law

October 12, 2015
"Croesus' World: Human Rights in the Age of Inequality"
Samuel Moyn, Professor of Law and History, Harvard University
4-6pm, Sheffield-Massey Room (TNH 2.111), Texas Law
October 26, 2015
"Right to Development After the Collapse of Development"
Balakrishnan Rajagopal, Associate Professor of Law and Development, Department of Urban Studies and Planning, Founding Director, Program on Human Rights and Justice, Massachusetts Institute of Technology; Founder, Displacement Research and Action Network
4-6pm, Sheffield-Massey Room (TNH 2.111), Texas Law
November 11, 2015
"This Changes Everything: Capitalism vs. the Climate"
Naomi Klein, Puffin Foundation Writing Fellow, The Nation Institute; C.L. and Henriette Cline Visiting Professor in the Humanities, UT Austin
7-9pm, Lady Bird Johnson Auditorium
Co-sponsored by the Humanities Institute
November 23, 2015
"Sustainable Development Goals—A Course Correction?"
Sakiko Fukuda-Parr, Vice-Chair of the UN Committee on Development Policy; Professor of International Affairs, The New School
4-6pm, Sheffield-Massey Room (TNH 2.111), Texas Law