Joe Jamail Dies at 90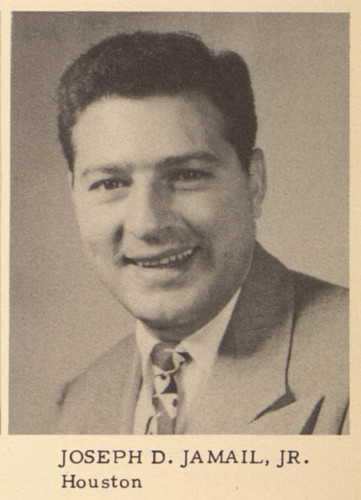 Attorney and Longhorn philanthropist Joe Jamail, BA '50, JD '53, Life Member, Distinguished Alumnus, died Wednesday at age 90.
Dean Ward Farnsworth shared these comments after learning the news:
I was deeply saddened to hear of the passing of Joe Jamail, our wonderful friend and graduate. It is a loss felt keenly by all of us at The University of Texas School of Law.
Joe Jamail was a larger-than-life figure – a one-of-a-kind Texan, a magnificent and legendary trial lawyer, and an immensely generous and loyal friend to the UT Law School and the rest of the University of Texas. His name graces our clinical programs and our law library, and the example he set as an unsurpassed champion in the courtroom will remain an inspiration to all of us. So will the example he set as a citizen. He gave back to the world with passion and kindness, stuck up for the underdog, and changed the lives of thousands in our community as well as elsewhere. His legacy will live on in our school, and in the works of our students and graduates.
Before he was one of America's foremost lawyers or philanthropists, Joe Jamail was a loving and devoted husband and father. Our deepest condolences to the Jamail family on Joe's passing. We will remember our dear friend here, always, with the greatest respect and affection.
The university shared statements of condolence from President Gregory L. Fenves and Athletic Director Mike Perrin here: Statements of Condolence on the Death of Joe Jamail.
To learn more about the illustrious and legendary career of a man who was once called "the King of Torts," read this extraordinary profile in Texas Monthly: The Greatest Lawyer Who Ever Lived.