Jack Pope '37, Former Chief Justice of Texas Supreme Court, Dies at 103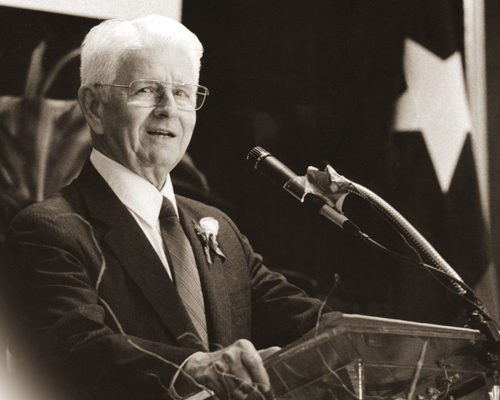 Andrew Jackson "Jack" Pope, a member of the Texas Law Class of 1937, passed away on Saturday, February 25, 2017. He was 103 years old.
After passing the bar in 1937, Pope practiced law in Corpus Christi at the firm started by his uncle Walter Pope, a former state representative. He eventually left private practice to enlist in the war effort, serving in the Naval Reserve. Soon after the war, he was appointed by Gov. Coke Stevenson fill an unexpired term in Texas' 94th District Court. He spent the next 38-plus year as one of Texas' best-known and admired jurists, including over two decades on the Texas Supreme Court, for which he served as Chief Justice from 1982 to 1985.
Dean Ward Farnsworth remembered Justice Pope fondly. "Jack Pope represented the traditions of the Law School at their best. We take special pride in those graduates who go on to distinguished careers in public service. He set the highest standards in that regard, becoming, among many other things, one of the great Chief Justices in the history of our state. His memory is revered in our community, personally and professionally."
Justice Pope was a mentor to many, including the Texas Supreme Court justices who came after him. Former Chief Justice Wallace Jefferson '88 noted the high regard he and his contemporaries on the court held for their predecessor: "Law is 'the thin line in all of our communities between peace and anarchy.' Chief Justice Pope wrote those words and patrolled that line for a century. He ensured that all Texans, rich or poor, were welcome in the halls of justice. Jack Pope will forever be known as a common law judge whose extraordinary life secured the rule of law for all Texans."
To learn more about the extraordinary life and career of Chief Justice Pope, read Chuck Lindell's feature about him published by the Austin American Statesman upon the Judge's passing. According to that feature, Chief Justice Pope is survived by two sons, Andrew Jackson Pope III and Walter Allen Pope, and three grandchildren. His wife Allene passed away in 2004. The couple had been married for 66 years.
Services are scheduled for Friday, March 3, 2017 at University Avenue Church of Christ in Austin, with burial following at the state cemetery.