Littwin: "Texans need to tell Cruz and Hensarling to keep the Consumer Financial Protection Bureau"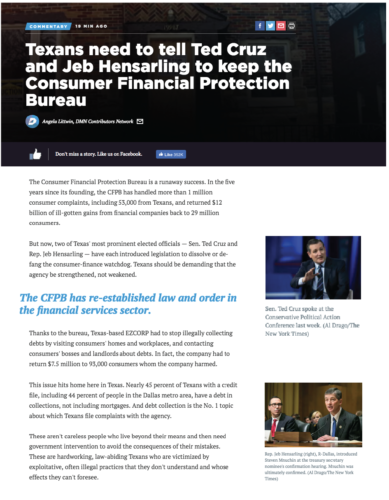 Prof. Angela Littwin, reacting to a spate of news stories out of Washington confirming that two of Texas' most powerful elected officials are sharpening their knives for the Consumer Financial Protection Bureau, has penned a forceful new op-ed defending that agency and explaining all the good it does for Texans and, indeed, all Americans. The op-ed appeared in this morning's Dallas News, the online outlet of the Dallas Morning News.
It begins:
"The Consumer Financial Protection Bureau is a runaway success. In the five years since its founding, the CFPB has handled more than 1 million consumer complaints, including 53,000 from Texans, and returned $12 billion of ill-gotten gains from financial companies back to 29 million consumers.

"But now, two of Texas' most prominent elected officials — Sen. Ted Cruz and Rep. Jeb Hensarling — have each introduced legislation to dissolve or de-fang the consumer-finance watchdog. Texans should be demanding that the agency be strengthened, not weakened…"
Read the entire opinion piece here.