Texas Law Team Wins Regional Transactional Law Meet, Heading to National Finals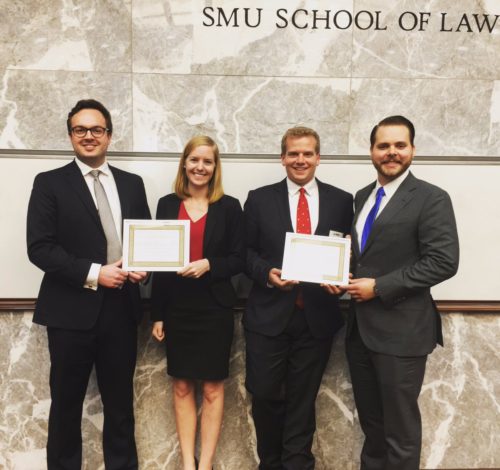 A team from Texas Law spent Friday in Dallas taking on regional competition at the 2017 Transactional LawMeet, where they won Best Draft and Best Seller, meaning they were the top team in representing the seller's side of the mock transaction.  They now advance to the National finals at the end of March.
The four-member team is Jack Moxon LL.M. '17, Brittany Scheier '18, David Stevenson '18 and Daniel Cadis '17. Moxon and Cadis served as the team's lead negotiators in the meet.
The problem presented to teams was described on the Transactional LawMeet website:
This year's Transactional LawMeet® case involves the sale of the brewing, bottling and wholesale distribution operations (the "Division") of Kombucha Hoocha Ltd. ("KH") to a wholly-owned subsidiary of International Beverage Brands, Inc. ("IBB"). IBB is a large, publicly traded branded beverage company, offering a variety of soft drink and juice brands. KH is a privately-held company that operates both a chain of retail "brew cafes" and a wholesale brewing, bottling and distribution operation. The Division produces a line of so-called "functional" beverages…

After a lengthy sale process led by KH's investment bankers, KH and IBB have entered into a non-binding letter of intent for the purchase of the Division. The two sides are now in the process of drafting and negotiating the definitive acquisition agreement for the transaction. In this year's LawMeet®, teams will represent either KH or IBB in these efforts.
The team's participation in the meet was sponsored through the law school's advocacy program and the Texas Business Law Society. The March 31 finals will be held at the offices of the legendary Sullivan & Cromwell LLC in New York City.