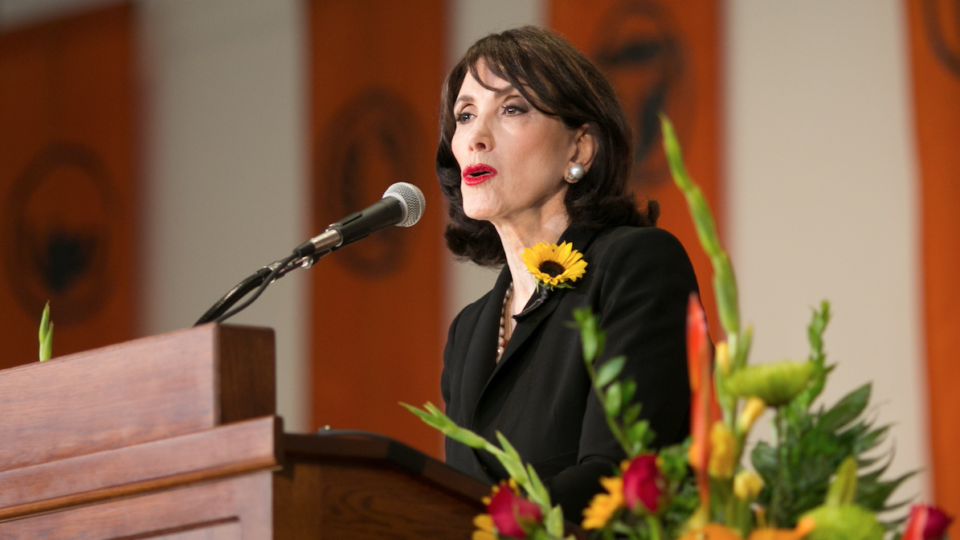 Linda Addison '76 Delivers Inspiring Commencement Address
The Texas Law Class of 2018, their families and friends, and the law school leadership and faculty, were regaled with an exceptional address from Linda Addison '76 at the annual commencement ceremony, held on May 19, 2018. Ms. Addison, who serves on the Law School Foundation and is a founder of the Center for Women in Law, is the Immediate Past U.S. Managing Partner for Norton Rose Fulbright, as well as Immediate Past Chair of the firm's U.S. Management Committee. Her address, built around "the eight principles that have served" her in her life and career, offered meaningful insight into why Ms. Addison has enjoyed such success and has been so honored by the law school and The University of Texas at Austin, having been named an Outstanding Alumna by the law school alumni association in 2008, and, in 2013, receiving the coveted orange jacket from the Texas Exes and the University of Texas as a Distinguished Alumna. In 2015, she received the university's highest honor, the Presidential Citation.
Below are Ms. Addison's remarks, as given. A video of her speech will be available shortly.
University of Texas SCHOOL OF LAW Commencement Address
May 19, 2018

Dean Farnsworth, Former President/Former Dean Powers, Permanent Class President Holmes, associate and asssistant deans, distinguished faculty, law school staff, family and friends, and most importantly:  members of the Texas Law Class of 2018:

I stand before you with a great deal of humility.  I know that in years to come, most of you will not remember who your commencement speaker was, much less what I said, but you will remember that on this day, Meghan Markle, who played a lawyer on TV, became a princess.  I know this because I do not remember who my law school commencement speaker was, but I do remember being in this very gym as a freshman, hearing Janis Joplin sing "Piece of My Heart" in October, 1969.

As a fellow Texas Law graduate, I know a great deal about you.  You are high achievers who have set big goals.  Many of you are perfectionists.  Some of you know exactly what you want to do with the rest of your lives, others may not.

Traditionally, commencement speakers share advice.  I have worked at the same law firm for four decades.  Most of you will change jobs and even careers several times.  Although the world that I entered when I graduated from this law school was very different from the world you are entering, I want to share eight principles that have served me well. Some are very practical, some are more strategic. I hope they will be equally useful to you on the exciting journey that lies ahead.

First, the most important career decision that most of you have yet to make has both everything and nothing to do with your job – and that decision is whom you marry.  You want to choose a life partner who is truly a partner; who is willing to do more than half of the work – at least some of the time.  Especially if you have children, you will have to depend on each other and share responsibilities.  Be careful whom you marry.  Be even more careful with whom you have children.  Even the most enlightened employer in the world cannot make up for a bad partner.  Your career should be as important to your partner as it is to you.  I am fortunate to be married to Max Addison, whom I met in Charles Alan Wright's Federal Courts class.  Max is an accomplished lawyer himself, yet he always considered my career as important as his own.  Max and I graduated from law school together, and by the way, he does not remember who our commencement speaker was either.

Second, forget about balance and instead strive for work and life integration. You can have a rewarding career and a rewarding family life – but sometimes not at the same time.  Sometimes, for a couple of hours you're a great parent, then for a couple of hours you're a brilliant lawyer.  You have to re-evaluate your priorities constantly, even in the course of a day, to make sure you are spending your time and energy where you are needed most.  You can be in the most important business meeting of your life, and if you get a call that your husband or child is being rushed to the hospital – and I have received both these calls – your priorities change instantly, as they should.  I always told my husband and daughter, if it was important to them, it was important to me, and I would not miss the important things.

Another way to integrate work and family is to involve your family in your career decisions.  A friend of mine in New York with a C-suite job at a major communications company that requires her to be in Washington 25% of her time, took the job only after a family conference with her husband and two children, involving them in what she handled as a family decision.  In 2013 I was honored as a Distinguished Alum of the University of Texas, which after the birth of my daughter, is one of the highlights of my life.  After all the hoopla was over, my daughter said to me, "I thought it was going to be a celebration of you, but it felt like a celebration of our family."  And at a dinner celebrating a friend's election to the board of her Big Four accounting firm, her husband made a beautiful toast in which he shared that several years earlier, on the night she came home and told her family that she had been admitted to the partnership, their daughter, who was six at the time, said, "Daddy, look what we did."

Your family is the best and most important support system you will ever have.  Make them a part of your career decisions that affect them.

Third, build your stamina. If you want a big life, one that is rewarding both personally and professionally, then you have to have stamina.  If you do not have it, build it.  Work out.  Lift weights.  Think of stamina like oxygen, and remember the airlines' instruction to put your own oxygen mask on first, before helping others.  For those of you who aspire to leadership,  these are not jobs for wimps.  You are not going to get to the top of any organization working only 40 hours a week.  BUILD YOUR STAMINA.

My fourth piece of advice relates to the inscription above the door of the law school, "that they may truly and impartially minister justice."  Although you may not be directly involved in the administration of justice, each one of you can promote justice by how you react to injustice.  When you see injustice, confront it, do not be a bystander.

My parents were survivors of Nazi concentration camps who lost their families and everything they held dear in the Holocaust.  Many who work in Holocaust remembrance, as I have, focus on the perpetrators, or the victims, or the rescuers.  I was always haunted by the bystanders.  The Holocaust could not have occurred without bystanders.  My parents would not have survived the Holocaust had America been a bystander.  When I graduated from law school, I was able to have my chosen career only because I joined a firm that refused to be a bystander.  Today it is a diverse, global firm with offices throughout the world.  In 1976, it was the only major Texas firm that would permit me, a woman, to try cases.

My parents were saved by the courageous acts of individuals, who risked their lives to hide them, or to feed them.  And without the courage of the partners who believed in me, I would not be standing before you today.

The great Irish statesman and philosopher Edmund Burke said that "all that is necessary for evil to flourish is for good men to do nothing."  Individuals who refuse to be bystanders can change history and change lives.  So when you see cruelty or injustice, unfairness or unkindness, and you will, DO NOT BE A BYSTANDER.

Fifth – and this may be shocking to a roomful of high achievers – do not hold yourself to a standard of perfection.  I know how hard this is; I am a recovering perfectionist myself.  I suspect many of you are perfectionists as well.  And one thing that perfectionists have in common is beating ourselves up when we are not perfect or failing to take a risk because we cannot guarantee success.  Do not do that to yourself.  You do not have to be perfect.  You just have to be good enough to achieve your goals. Don't get me wrong:  You need to set high goals and work hard to achieve them.  You cannot miss the dispositive case, or the controlling document. Your work needs to be perfect, but you do not.  None of us is perfect, and do not ever let that hold you back.

In my role as Managing Partner, I dealt with several things that were outside of my expertise.  I have finally learned the "good enough" principle.  I have never had a formal course in accounting, but I had an excellent Chief Financial Officer. His job was to be the accounting expert.  My job was to be good enough to ask him the tough questions and fulfill my responsibilities as head of our firm.

The person from whom I first learned this lesson was writer and filmmaker Nora Ephron.  Several years ago, I spoke at a conference at which Nora also was one of the speakers, and I was seated next to her at dinner.  Every sentence she uttered was so clever and witty that it could have been a line she wrote for Meg Ryan in Sleepless in Seattle or You've Got Mail.  Nora had a rare gift for doing interviews.  Her questions were so funny it did not matter what the answers were.  I had just seen Nora interview Julia Stewart, who at the time was the relatively new CEO of IHOP.  Julia gave as good as she got, with answers as funny as Nora's questions.  I said to Nora, "that must have been an unusual experience for you to interview someone as funny as you are."  Her response?  "I am not that funny."  "Yes you are," I said.  "No, I am not,"  she responded.  "Who is funnier than you are?"  I asked.  "Lots of people," she said.  "I know dozens of people funnier than I am."  "Like, who?" I asked.  "Like stand-up comedians," she said.  "Like comedy writers.  I am really not that funny," she said, and she said it factually, not in a self-deprecating way.  Then she paused and looked me straight in the eye and said something I will never forget: "I'm really not that funny," she said.  "But you know what?  I'm funny enough."

Several years ago I heard Supreme Court Justice Elena Kagan say substantially the same thing about her tenure as Dean of Harvard Law School.  She said as dean, she had to do many different things and the key was to do them all ADEQUATELY.  "And that's actually a special talent in itself," she said, "…A certain kind of breadth in your skill set.  Even though you were not the best at anything… you were not the worst at anything either."

As Ursula Burns, the former CEO of Xerox, said "done is better than perfect."  There are ways to wire around weaknesses – bring in people who are good at the things you aren't. Learn and get better as you go.  Very little we do in life is rocket science.  Remember:  you don't have to be perfect, you just have to be good enough to succeed.

One of the biggest problems with the quest to be perfect is that it can prevent you from taking risks.  My sixth piece of advice is TAKE RISKS, and be adaptable.  Your legal education has prepared you to do both.  When you take risks, you will not always succeed.  But I can guarantee, in the words of Wayne Gretzky, that you miss 100 percent of the shots you don't take.  Fear of risk holds us back because we fear failure.  It can be hard to raise your hand – sometimes things work out in the short run, and sometimes they take a little longer.  But I know I would not have become Managing Partner of our firm several years ago if I had not run for Managing Partner 12 years before that.  I did not win that first election, but after it I learned, to my surprise, that I did not lose either.  I established myself as a contender and a leader in the firm.  It led to my service on our Executive Committee and to increasingly responsible roles as head of our New York office, then Global Head of our litigation practice, and ultimately, Managing Partner.

And be adaptable.  Your legal training gives you the ability to do many things in addition to practicing law, and you will be presented with opportunities.  After four decades of practicing law, I have found that the rigorous, analytical thinking I learned in law school is valuable as I transition to public company board service.

My seventh piece of advice is: get out there.  Chance favors those in motion. Put yourself in a position where good things can happen.  Attend events, meet people.  Network – IN PERSON, not just on social media.  People have to see you.  And the more they see you, the more likely it is that they will remember you when they need to hire a lawyer or have another good opportunity.  Put yourself in a position to be exposed to those new opportunities, and be open to them.

And when you take those opportunities, my eighth and final piece of advice is: be persistent.  Your law school performance is not an indicator of your future success.  Your future success will depend on your persistence.

When I started practicing law in 1976, firms and clients did not want women in the dining room, much less the court room trying their cases.  Business clubs excluded women, making it difficult, if not impossible, to network or even to attend a lunch meeting.

But I had a huge cultural advantage, although I did not perceive it as such at the time.  Like some of you, English is my second language.  Although I was born in America, we spoke Polish at home, and I did not learn to speak English until I started school at age five.  Our family was different from our neighbors; I was different from my classmates.  I always felt like an outsider.  That men did not want me in their clubs or trying their cases felt very much like showing up for the first day of kindergarten without speaking English.  My parents taught my brother and me that in America we could achieve our dreams if we worked hard enough. No one works harder than a child of immigrants.  Working to overcome your insecurities and perceived shortcomings makes you stronger, and ultimately, contributes to your success.

My parents were not supposed to survive Nazi concentration camps.  That they both survived, and found each other, and had me – has always given me a sense that I could defy long odds.  That led me to take on challenges like the Texas Blue Law case, which made it possible for you to shop on Sunday.  Most others thought it couldn't be won, and I always suspected they wouldn't have given that case to a woman if they thought it was winnable.  I was probably the only person in the State of Texas who thought I could win that case.  It never occurred to me that I wouldn't win that case…and I did.

Success is generally a result of persistence.  Thomas Edison said, "many of life's failures are people who did not realize how close they were to success when they gave up."  Do not quit. Successful careers are not built overnight, they are built upon small steps, small successes, and as I have mentioned, even failures.  If you have a big goal, there is no shortcut to get there.

One piece of advice often given to graduates is, "Find a job you love and you'll never work a day in your life."  DO NOT BELIEVE IT.  Even the most rewarding and successful careers have a lot of unseen grind to them.  Be persistent.

And, even more than that, always believe that something wonderful is about to happen.  I feel like that a lot. I have been fortunate to have wonderful things happen in my life – and I have always worked hard to put myself in a position to maximize the chances that those things will happen.  I am really lucky, and as the saying goes, "the harder I work, the luckier I get."

So these are eight big lessons I've learned over the course of a challenging and rewarding career and life.   Choose the right life partner; integrate your work life and personal life; build your stamina; confront injustice and do not be a bystander; don't let the quest to be perfect get in the way of your goals; take risks and get out there – – be persistent and let chance favor you.  I hope a few things might have resonated and will help you as you move forward to lead a big life – one that matters and is rewarding to you and others, both personally and professionally.

I want to close by telling you a story that comes from the world of horse racing.  In June 2015, American Pharoah won the Belmont Stakes, becoming the first horse to win the coveted Triple Crown since Affirmed had won it 37 years earlier, in 1978.  Immediately before that race, Pharoah's owner, Ahmed Zayat, gave the winning jockey, Victor Espinoza, five words of advice. "Be safe and make history."

Texas Law has prepared you for life, not just for jobs.  Many of you, perhaps most of you, will hold jobs that do not yet exist, in industries that have not yet been imagined.  So as you go out into a world that is changing in unprecedented ways at an unprecedented speed, my wish for each of you is:  be safe and make history.

Congratulations to each one of you.