David Holmes Delivers Student Address for Class of 2018 at Sunflower Ceremony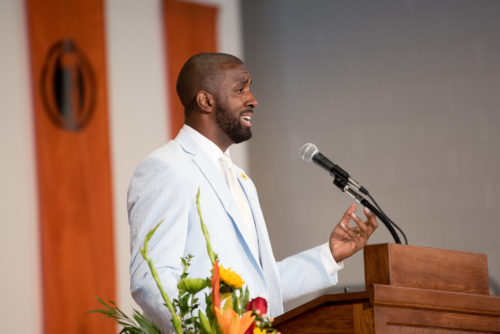 Permanent Class President for the Class of 2018 David M. Holmes spoke on behalf of the class at the 2018 Sunflower Ceremony on May 19, 2018, at the Gregory Gym. Mr. Holmes's speech was witty, touching, and even a bit musical, as he closed his time at the podium with a modified verse of the Boyz II Men classic, "It's So Hard to Say Goodbye to Yesterday." Holmes, an assistant director of the law school's a cappella group, Medley, hit all the right notes as he reflected on the triumphs and tribulation of the class's three-year law school journey. A full transcript of his remarks are below; the video of his speech will be posted shortly.
Remarks on Behalf of the Class of 2018, by David M. Holmes

As delivered on Saturday, May 19, 2018

Good afternoon to the Texas Law administration and faculty, to all our family and friends in attendance, and to each and every outstanding individual in the Class of 2018.
I'm honored and thankful for the opportunity to play a role in today's ceremony, the culminating moment of the past three years we have all spent together. Being elected your permanent class president (yes, I agree it still sounds weird, especially from a podium) is a honor I genuinely never expected, but I could not ask for a better group of people to represent.

Today, we graduate from one of the most elite law schools in the country, having survived a gauntlet of some of the most brilliant instructors on the planet. Be Proud!

Yes, law school was difficult and trying and at times leaves you feeling beaten down, but today, I say be proud – because while there are many things that make this law school great, it was all of you that made it special. It was all of you that made afternoons in the Tom Clark Lounge 1L year a safe space to argue with great passion and fervor, not about Palgraf's importance or standing doctrine, but about whether a Cheeto is a chip, or not. On nearly every tour I gave to visitors, it was you that surprised them into asking how so many could walk around with a smile on their face and a joke on their lips.

It was also you who showed the administration that the portraits on the wall all looked the same and demanded change, and it was you who completed over 18000 pro bono hours of service. It was you who carried us up the mountain to take a long breath of that sweet, sweet T14 air. In all seriousness, it was your love and care for each other that was the heart and soul of this school.

I came to law school straight from undergraduate, for two reasons – first, I realized that economics was just math trying very hard to pretend it was something else, but it was just math. Second, I learned that the law undergirds nearly every aspect of our society, and so I wanted to become an expert in the law to try and make a difference.

I knew others came to law school after working in other jobs or with more specific career goals in mind, so coming into law school I prepared myself for a place full of professionally minded individuals, singularly focused on high achievement and success – instead, I got you. A collection of people as caring, fun, and level-headed as they are brilliant and insightful. I mean, you guys Somehow turned a crawfish boil meant to celebrate the end of 1L finals into a all night 2L turn up!

So yes, as you walk out of this building today, I charge you to hold your heads high and know that you made a difference, you continue to make a difference, and this was only the very beginning of what we will go on to do.

To that end, I want to say thank you to our stellar faculty, not just for providing us with a top-flight education, but for caring enough about our development as individuals and professionals to open your lives to your students, and build lasting bonds that we will cherish for years.

I thank the administration, from the admissions office that let us in (thank you), to the Dean, Student Affairs, and Financial Aid Offices that took care of us once we got here. I also would like to thank our families and friends, both those that are here with us today to celebrate this moment, and those who could not join us but guided and supported us throughout the journey, even if they didn't always quite understand what we were freaking out about.

Finally Class of 2018, I ask you to take a moment to look around you right now. See all the people here just to share in this moment. This is the community you built. I note this for two reasons. First, yes, the bar is next. We know this. It's coming. But as you spend the next three months buried in preparations for what might feel like the final boss challenge of some twisted video game, remember that you have all these people supporting you, rooting for you, studying with you, and here to help you.

Secondly, I want to encourage you, as you go on after the bar to your careers as successful purveyors of the law, to recognize and think about how important and special a thing it is to have had the kind of support and foundation so many in our world lack, and take it upon yourself to never forget the impact you can have on another person who just might need your help. Whether it means continuing to shine in pro bono work, joining a nonprofit, or simply being the best mentor you can be when the alumni department comes calling, remember how crucial and essential a little help can be, and strive to provide that role whenever and however you can.

With that, I again say thank you for allowing me to be a part of your community these past three years. Perhaps my favorite perk as class president is that I now have an excuse to bother you all and stay in your lives forever – but until then, for now I will simply say in the immortal words of Boyz II Men,

I don't know where this road is going to lead
All I know is where we've been and what we've been through
And I'll take with me the memories
To bring me sunshine whenever I need
It's so hard to say goodbye, 2018!

Congratulations to us all, enjoy this moment, and get ready to Change the World. Thank you.