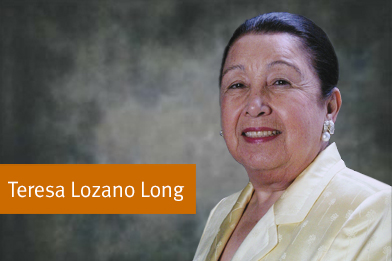 Long-time friend to the Law School, Dr. Teresa Lozano Long will be honored during a White House ceremony on Thursday, November 21 with the National Humanities Medal. The National Humanities Medal, inaugurated in 1997, honors individuals or groups whose work has deepened the nation's understanding of the humanities and broadened our citizens' engagement with history, literature, languages, philosophy, and other humanities subjects.
For many years, Dr. Long and her husband Joe Long '58 have been among the most dedicated and generous supporters of the University of Texas in general and the School of Law in particular. "So many students have benefited, and continue to benefit, from Terry's deep and abiding care, sincerity, and generosity," remarked Dean Ward Farnsworth, "It is truly a pleasure to witness her receiving such well-earned national recognition."
We share UT News' original article here, with permission. It was first published on November 20, 2019.
Teresa Lozano Long to Receive National Humanities Medal in White House Ceremony

by Susanna Sharpe, LLILAS

AUSTIN, Texas — University of Texas Distinguished Alumna Teresa Lozano Long will be honored with the National Humanities Medal by President Donald Trump during a White House ceremony on Thursday, Nov. 21.

The National Endowment for the Humanities awards the medal annually to honor "individuals or groups whose work has deepened the nation's understanding of the humanities and broadened our citizens' engagement with history, literature, languages, philosophy, and other humanities subjects."

An ardent supporter of education and the arts, Long is the namesake of the Teresa Lozano Long Institute of Latin American Studies (LLILAS) at The University of Texas at Austin, named for her after she and her husband Joe R. Long created a $10 million endowment for the institute in 2000.

LLILAS, part of UT Austin's College of Liberal Arts, is widely regarded as the best Latin American studies program in the United States. In giving their gift, the Longs remarked that they wanted to make better something that was already very good. "This is our way of acknowledging the importance of Latin America in the future of this country and, therefore, the critical role that the institute continues to play in forging closer ties to Latin America," said Teresa Lozano Long at the time.

"Teresa Lozano Long is an example to us all in her generosity and steadfast support of education and the arts," said Virginia Garrard, director of LLILAS Benson Latin American Studies and Collections. "In particular, the consistent contribution of Dr. Long and her husband Joe R. Long as benefactors and supporters of the Institute of Latin American Studies has created rich and significant educational opportunities for countless students, many of them Latinos, and has had an enormous and positive impact in scholarship on Latin America, with benefits far beyond our campus."

Long and her husband both come from backgrounds of economic hardship. Each graduated high school as class valedictorian, and each is a University of Texas graduate, Teresa the first Hispanic woman to receive a doctorate in health and physical education. Together, as a devoted and financially successful couple, they have dedicated a large part of their fortune to causes about which they are passionate: education, health care, the arts and equal access for underserved communities. The couple's philanthropy was recognized by the UT System Board of Regents in April 2018 when they each received the board's highest honor — the Santa Rita Award.

"Teresa Lozano Long's dedication to her alma mater has helped make The University of Texas at Austin a premier international center for teaching, research and public service in Latin American studies," said Ann Huff Stevens, dean of the College of Liberal Arts. "Both Teresa and her husband Joe are prime examples of how alumni support helps us continue to enhance learning and discovery opportunities for our students and faculty."

In a letter to the campus community, UT President Gregory L. Fenves celebrated Long's recognition. "I am absolutely thrilled for Terry. Her accomplishments are a reflection of UT's core values and the very highest aspirations we have for our graduates. In a year when UT students, professors and alumni have received many illustrious awards, this is one of the true highlights."