🤘STUDENT SPOTLIGHT: Barbara Di Castro Pimenta '23
For this edition of Texas Law's Student Spotlight series, meet 1L Barbara Di Castro Pimenta, member of the Texas Journal of Oil, Gas, and Energy Law and the Chicano/Hispanic Law Students Association!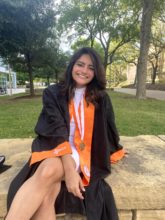 Q: What sorts of things are you engaged in at law school?
As a 1L I have tried to not overwhelm myself with the numerous societies and organizations I could be involved in. Currently, I am a member of the Texas Journal of Oil, Gas, and Energy Law. Through TJOGEL I've had the chance to engage in incredible networking events and the opportunity to participate in mindful discussions about the energy sector in Texas. I am also an active member of CHLSA, which has provided me with a variety of resources and a wonderful mentorship program.
Q: What made you want to become a lawyer?
My parents' journey and the people in my community! If it wasn't for them always pushing me, motivating me, and believing in me—when I couldn't even believe in myself—I would have never made it to UT Law. They gave me the strength and passion to pursue this path, to ignite change, and to help my community through the difficult times.
Q: Can you describe your favorite Texas Law moment?
My favorite Texas Law moment has been getting to know my professors! Even though we are facing unprecedented times, my professors have really put in the effort to provide us with as real and as close-to-normal a 1L experience as they can, and I really appreciate that.