The Juvenile Justice Clinic Celebrates 45 Years
It's a milestone school year for Texas Law's Juvenile Justice Clinic.
The clinic, which offers litigation experience while exposing students to the operations of the juvenile justice system by placing them as student attorneys with the Travis County Juvenile Public Defender, grew out of a 1975 seminar led by Professor Michael Rosenthal, who had students working with public defenders to represent children in juvenile court.
In the 45 years of continuous operation since, over 1,000 Texas Law students have participated in the clinic.
"These students have impacted the lives of so many children and their families," said the clinic's Director, Pamela Sigman, who has served in this capacity since 1996. "They've handled more than 8,000 cases over the years!"
The 1975 students were assigned to the public defender's office, prosecutors,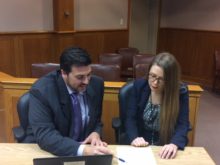 and probation officers. Within a few years, however, students began working solely with the Juvenile Public Defender's office as defense attorneys.
Now during each semester, student attorneys, under the supervision of an attorney in the public defender's office, represent 8-10 clients, handling all investigation, interviewing, discovery, plea bargaining, and litigation functions on their cases. Additionally, they serve as the juvenile's attorney at initial detention hearings by addressing probable cause and a plan for release.
The work teaches invaluable lawyering skills, even for students who move into careers in other aspects of the law.
"I love seeing former students who are now practicing attorneys in the news, at events, or around the courthouse," noted Sigman. "I often hear that the clinic experience influenced their lives and careers just as they impacted the children they represented."
The clinic's influence has extended beyond its casework and into other programming at Texas Law and in the community. In 2000, the clinic arranged for students to speak at local middle schools on topics such as constitutional rights and protections, and the consequences of violating the law. Since then, Texas Law 2Ls and 3Ls have presented to approximately 3,000 middle school students.
Texas Law offers sixteen clinics in all, with topics ranging from immigration, to capital punishment, to human rights, and—in the school's newest clinic, founded this year—law and religion.
"Experiential education was a relatively novel concept when the Juvenile Justice Clinic was founded," mused Texas Law's communications director Christopher Roberts. "Now, it is a central part of what our school does, and what almost all law schools do. Giving students the chance to help real clients with real problems and real stakes provides invaluable experience to build skills, gain confidence, and master our legal systems."