Pandemic Pro Bono in January Succeeds Despite Challenges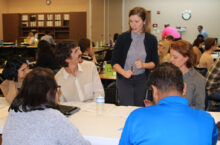 Each year, the Richard and Ginni Mithoff Program organizes a winter break service trip to South Texas: Pro Bono in January, or PBinJ. Due to the pandemic, students did not travel to South Texas in January 2021 — but the tradition went on, online. "We want to continue to support our pro bono partners in South Texas and their client communities on the Texas-Mexico border," said Mithoff Program Director Andrea Marsh. "While we can't do the trip this year, that's not going to stop us from helping out virtually. With the help of partners and volunteer attorneys, we've pulled together what we call 'Pro Bono. In January.'"
"Pro Bono In January" Activities
The Mithoff Program planned varied pro bono activities over the weeks of January 11 and 19, 2021. Students engaged in virtual pro bono activities with Texas RioGrande Legal Aid, with a focus on South Texas. Students participated in asset preservation and estate planning clinics, assisting low-income homeowners to draft wills and medical and financial powers of attorney. A smaller group participated in volunteer internships with TRLA's Edinburg Office and its Rio Grande Valley-based public defender program. The South Texas Pro Bono Asylum Representation Project (ProBar) also hosted student volunteers to work on immigration matters.
Closer to home, the Mithoff Program hosted several of its in-house projects, including Expunction Project intake and eligibility review sessions, a Psychiatric Advance Directives (PAD) clinic, a SPEAK (Support Parents' Education Advocacy & Knowledge) workshop, Supported Decision-Making (SDM) clinics, and a Gender Affirmation Project (GAP) clinic. Students also volunteered for the Mithoff Program's Parole Project and the Capital Area Private Defender Service.
PBinJ 2021 Alumni Involvement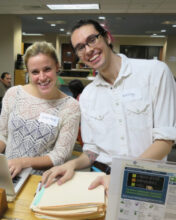 None of this work would be possible without the assistance of Mithoff Program partners, like TRLA and ProBar, and volunteer attorneys who supervise students. Significantly, Texas Law graduates have major roles in almost all the activities. At TRLA, for example, Eva Sikes '18 has taken the lead in organizing the asset preservation and estate planning clinics. Paul Quinzi '01, a reference attorney at the Travis County Law Library, and Sarah Mae Jennings '18, of the Texas Fair Defense Project, supervise expunction work. Tovah Pentelovitch '15, a TRLA staff attorney, and Wesley Hartman '18, an attorney with the KIND Medical-Legal Partnership in Austin, help supervise students in the GAP clinic.
Alumni also assist with the disability law projects. Attorneys helping with the SDM clinics include Wesley Hartman along with Mario Boisselier LLM '16, an attorney in private practice; Marissa Latta '18, a staff attorney at TRLA; and Caitlin Machell '19, a fellow with Legal Aid of Northwest Texas. Kassi Gonzales '19, a fellow with the Austin Medical-Legal Partnership, helps with the SPEAK workshop, and Claire Krebs '18, an associate with Fish & Richardson, helps with the PAD clinic.
Alumni Look Back and Pay it Forward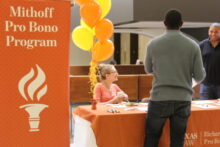 Claire Krebs participated in PBinJ twice, once as a student leader, and volunteered for Gender Affirmation Project, immigration, and expunction clinics. She also volunteered with the Law School's Environmental Clinic over several semesters, working on challenges to a liquefied natural gas export facility planned for construction in the Rio Grande Valley. Her firm is now co-counsel with TRLA and the Sierra Club on related cases and she has been able to continue that work in private practice. "Volunteering for the Environmental Clinic, I got to meet client representatives, deliver comments at an administrative proceeding, and prepare and file comments opposing the facility that was used as the basis of administrative challenges and litigation against the facility for years," said Krebs. "I highly recommend pro bono work with the Law School's clinics."
Krebs did not volunteer on any of the Texas Law disability law clinics as a student but finds the work supervising students in PAD clinics an excellent way to model law firm pro bono to students and to give back to the Law School. "At first, I was learning about PADs alongside the students. But that's how a lot of law is, especially in private practice; you deal with unfamiliar issues all the time," said Krebs. "The students are great people who care a lot, and it's just nice whenever you get to spend time with nice people! I also value my relationship with Texas Law professors who gave me support and encouragement. Providing supervising support to their projects is a small way of paying that back."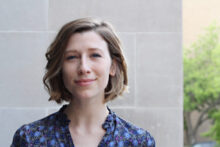 TRLA attorney Eva Sikes participated in PBinJ as a 1L, helping prepare wills and transfer on death deeds, as well as U Visa applications, and DACA renewals. "The breadth of work gave me a taste of multiple areas of law, and I got experience with careful drafting and bedside manner in client meetings," said Sikes. She went on to participate in Mithoff Program activities throughout law school, helping community members with supported decision-making agreements, asset preservation, driver's license reinstatements, and DACA applications.
Sikes now uses student volunteers to expand the reach of her practice. "TRLA has a large client population who are homeowners. Often the home is these clients' most valuable asset. Low-income homeowners may not be able to afford a private lawyer to prepare an estate plan. Dying without a will is usually much more expensive than dying with a will, and the next generation pays the price," said Sikes. "Our asset preservation clinics help to protect our clients' hard-earned assets and ensure the intergenerational transfer of wealth. Bringing in law students lets us amplify our impact, and help more clients protect the equity they've built up over time."
Sikes also finds working with students rewarding: "I remember being in their shoes a few short years ago. I am always impressed by the care students bring to their work, their attention to detail. It's meaningful to be able to give them a chance to work with clients and hopefully get a reminder of why they chose to become a lawyer in the first place."
"We are extremely grateful to our partners and the attorneys who organized projects and will supervise student work. And it is incredibly rewarding to see former students leading the charge," said Marsh. "Winter break is always an important time for students to devote significant time to pro bono work, because they don't have to juggle volunteering with class responsibilities. First-year students appreciate getting legal experience on their resumes while they're looking for summer jobs. Third-year students appreciate the opportunity to fulfill the Pro Bono Pledge before graduation. It was very important to provide students with a PBinJ experience despite the pandemic. Our alumni helped make that happen during a very difficult time."