Texas Law Team Takes National Championship in Admiralty Moot Court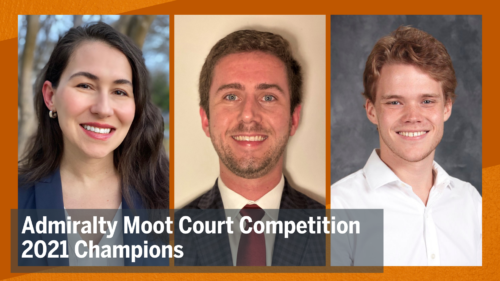 Texas Law 2L Mason Currah and 3Ls Alex Gaudio and Elizabeth Hamilton have won the Judge John R. Brown Admiralty Moot Court Competition, besting 28 other teams from across the country.
In addition to emerging as the tournament champions, Currah, Gaudio and Hamilton won the honor of the Maritime Law Association of the United States Award for Best Brief. Hamilton, meanwhile, won two individual honors—the Rebecca Jackson Best Oral Advocate in the Championship Round Award and the Royston, Rayzor, Vickery & Williams Award Best Oral Advocate in the Competition—and also shared the Team Oral Advocacy Awards in the Preliminary Rounds with Gaudio.
"The entire team did amazingly well, obviously, but the best part for me was seeing the incredible teamwork," said Dr. iur. Carly Toepke, one of the team's two coaches and Texas Law's Assistant Director of Graduate and International Programs. "That's what made it possible for them to get the highest brief score in the history of the competition, and explains their dominance in the oral advocacy scoring."
The history-making performance was especially meaningful for all involved as the School of Law is actually the founder of the competition, hosting it every year in a rotating location with a local law school partner. This year's event, moved online because of COVID, was co-hosted with Tulane Law School. Other law schools in this year's tournament included Baylor, Washington University, Boston University, Pepperdine, Brigham Young University, and fourteen others.