Law School Foundation Elects New Members and Elevates Senior Trustees
The University of Texas Law School Foundation has elected four new members to serve on its Board of Trustees and invited two former members to rejoin the Board and serve an additional term. The election results were announced by Jack Balagia '76, the Board's current Chairman, and Susan L. Blount, Vice Chair for Administration, and Del Williams, Vice Chair for Development.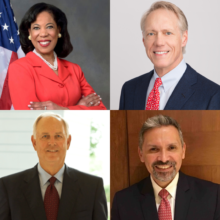 The new members—who will begin their three-year terms on September 1, 2021—are Parker Folse '80, a Partner at Susman Godfrey LLC, Rene Gonzalez '93, who serves as General Counsel of ExxonMobil Exlporacao Ltda., Arleas Upton Kea '82, the Deputy to the Chairman for External Affairs of the Federal Deposit Insurance Corporation, and William "Bill" Whitehurst '71, a Partner at Whitehurst, Harkness, Brees, Cheng, Alsaffar, Higginbotham and Jacob, PLLC.
"This diverse group of outstanding alumni are going to bring tremendous knowledge and skill to our Board," said Balagia of the new trustees. "My thanks to our nominating committee for bringing this great collection of talents into our fold. Our new trustees will enhance the Foundation's ability to continue its mission to provide critical financial support to our Law School."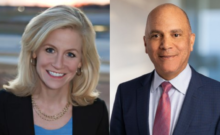 Also returning to the Board as of September 1 are Michelle Goolsby '83, a Venture Partner with Greenmont Capital Partners, and the Hon. Wallace Jefferson '88, a Partner at Alexander Dubose & Jefferson, and the Former Chief Justice of the Supreme Court of Texas.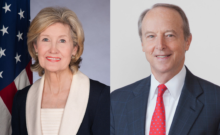 The Foundation made several other decisions regarding longtime members of its Board. It voted to reinstate former Life Trustees Mr. David J. Beck '65 and Ambassador Kay Bailey Hutchison '67.  Mr. Beck had resigned from his position as a Life Trustee when he was appointed a University of Texas Regent by Governor Greg Abbott in 2015 and Ambassador Kay Bailey Hutchison had resigned as a Life Trustee of the Foundation when she was appointed as the US Ambassador to NATO by President Donald Trump in 2017.
Mr. Beck is a founding partner of Beck Redden LLP and has been named as an Outstanding Alumnus of the Law School in 2000 and a Distinguished Alumnus of UT Austin in 2010. He will be receiving the Law Alumni Association's Lifetime Achievement Award this September. Ambassador Hutchison has held many public offices, including serving as a United States Senator for Texas from 1993 to 2013. She was named an Outstanding Alumna of the Law School in 1995 and a Distinguished Alumna of UT Austin in 1995. In 2016, she received the Lifetime Achievement Award from the Law Alumni Association.
"We're thrilled these two great friends of the Law School now once again hold the title of Life Trustee and have been enthusiastically welcomed back to the Board of Trustees of the Foundation," said Chairman Balagia.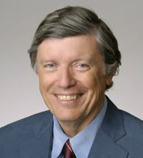 Finally, in recognition of his many years of service to the Foundation and the School of Law, as well as his illustrious career, H. Lee Godfrey '69 was elected as a Senior Life Trustee. Mr. Godfrey was a founding partner of Susman Godfrey LLP and was named a Distinguished Alumnus of UT Austin in 2009. Senior Life Trustees are no longer active as Trustees but hold this position of honor for their lifetime.
The University of Texas Law School Foundation is a 501(c)3 established in 1952 as an educational foundation to support the School of Law. The Board of Trustees includes among its members some of the most prominent attorneys in Texas and the nation, almost all of them alumni of the law school. The Foundation manages most of the endowments and privately-sponsored funds which support the Law School.