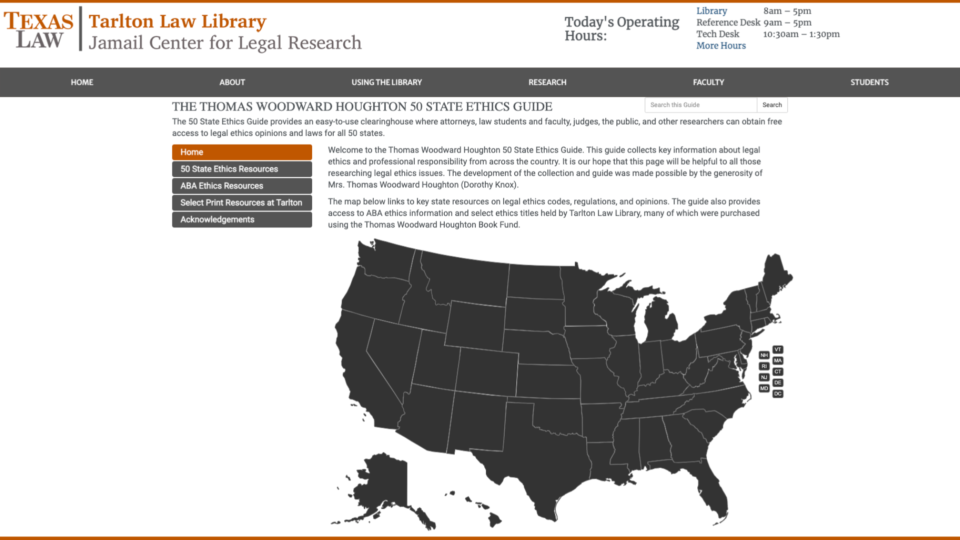 Tarlton Law Library Wins 2020-2021 AALL Innovations in Technology Award
The American Association of Law Libraries (AALL) announced the Tarlton Law Library, The University of Texas at Austin, as winner of the 2020-2021 Innovations in Technology Award for producing the Thomas Woodward Houghton 50 State Ethics Guide. The award will be commemorated at the Association's virtual 2021 Annual Meeting.
The award recognizes a technological project that impacts and benefits a library's users and community. The main criterion for judging is that the "innovative use of technology must demonstrate how librarians/information professionals effectively and efficiently serve as the human connection between technology, the information, and the user experience."
Professor Barbara Bintliff, Director of the Tarlton Law Library and Jamail Center for Legal Research said that after explaining her idea to the reference staff, they "came through in a remarkable manner … I am in awe of their abilities. I am delighted that we both completed the project and won the prize!"
The Thomas Woodward Houghton 50 State Ethics Guide is an original work imagined, created, curated, and maintained by the librarians at the Tarlton Law Library. The Guide provides a useful clearinghouse where attorneys, law faculty and students, judges, the public, and other researchers can obtain free access to legal ethics opinions and laws for all 50 states.
Access to legal ethics information is crucial for members of the legal community. For example, attorneys and judges need to understand their professional obligations, law students and faculty need a foundation for their learning and research, and law librarians need to access ethics materials for research and reference assistance. Members of the public also have need to consult legal ethics information, for example to consider whether attorneys are providing proper representation or are engaging in inappropriate conduct.
The Guide is available at no cost to users and is easy to use. Researchers simply select a state, using either an interactive map or an alphabetical drop-down menu, and they are linked directly to various websites that provide legal ethics information for that state. Tarlton law librarians built the Guide from the ground up, identifying electronic sources of ethics materials, formatting the information for the LibGuides platform, creating a widget in-house to allow the information to display dynamically, and creating the structure and metadata to allow for easy retrieval of information.
The Thomas Woodward Houghton 50 State Ethics Guide has already been recognized as a significant new resource by the AALL KnowItAll current events service, which reaches more than 5,000 subscribers daily, and by the Online Bibliographic Services Section as its January 2020 "Legal Website of the Month." Tarlton is gratified at the response to the Guide and honored to accept the 2020-2021 AALL Innovations in Technology Award.