Betty Balli Torres '85 Honored with National 2021 Innovations in Equal Justice Award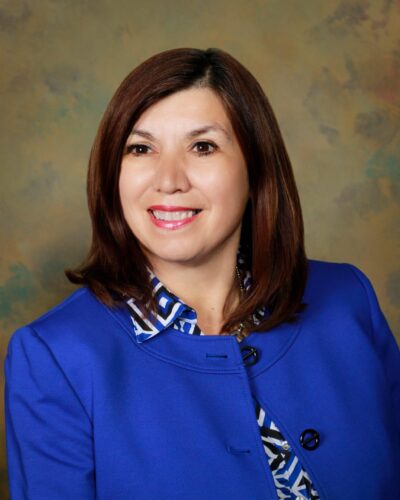 Betty Balli Torres '85, executive director of the Texas Access to Justice Foundation (TAJF), won a national award from the National Legal Aid & Defender Association (NLADA) for her work in ensuring access to justice for Texans in creative and innovative ways.
Torres was presented with the NLADA's 2021 Innovations in Equal Justice Award for her decades of contributions to and support of the provision of civil legal services at the local, state and national levels. The award is presented at the annual ABA/NLADA Equal Justice Conference.
"Betty works tirelessly on behalf of the underserved and is an invaluable voice in the national conversation to advance civil legal aid," said Deborah Hankinson, TAJF's board chair. "For decades, she has advocated for equal access to the justice system and redoubled TAJF's efforts during the COVID-19 pandemic to ensure that emergency civil legal aid, which is more essential than ever, is available to those who need it. I can't think of a more deserving recipient of this award."
According to a press release from the TAJF, Torres joined the organization as executive director in 2001.
Torres participated in a legal aid clinic at Texas Law which allowed her to discover that this would be the type of law she wanted to pursue. After graduating, she started her career as a staff attorney at Legal Aid of Central Texas, where she saw first-hand the work of pro-bono attorneys and organizations she would later help fund. She has held various public interest law positions and has served on many local, statewide and national committees, boards and task forces related to access to justice.
She has also been engaged in activities related to racial equity and diversity, equality, and justice. In 2020, she was appointed to three new positions within the American Bar Association (ABA)—chair to the ABA Commission on Hispanic Legal Rights & Responsibilities; a special advisor to the ABA Commission on Immigration; and a member of the ABA Center for Diversity and Inclusion. She is a Past President of the National Association of IOLTA Programs, Past Co-chair of the Board of Grantmakers Concerned with Immigrants and Refugees and Past-Chair of the Hispanic Issues Section of the State Bar of Texas. In 2018, the Austin Bar Association named her the Distinguished Lawyer of the Year and honored her with the Regina Rogoff Award.
As the first in her family to graduate high school, Torres experienced the effects of inequality as she moved often throughout the country, which contributed to her desire to study law in the first place. Her professional accomplishments, including this new honor from NLADA, reflect her dedication and drive to help the vulnerable.