Molly Brownfield Named Director of the Tarlton Law Library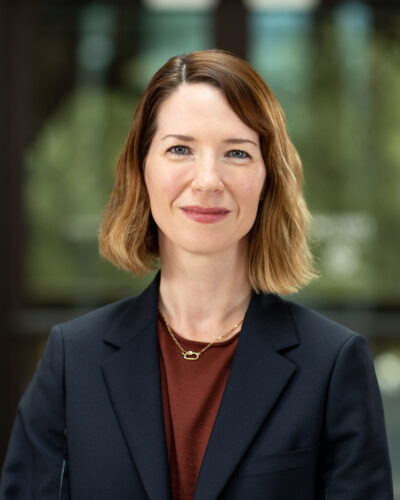 Mary (Molly) Brownfield has been named as the Director of the Tarlton Law Library and Assistant Dean for Information Services after serving in prior roles including Interim Director and Deputy Director of Tarlton.
Brownfield began her academic law library career at the University of Texas School of Law's Tarlton Law Library as a Tarlton Fellow from 2004-2006. In the years between completing the fellowship and returning to Texas Law in 2017, Brownfield worked as a law librarian at Rutgers Law School in Newark, NJ, and then at Duke University School of Law in Durham, NC where she was the Head of Reference Services and a Lecturing Fellow. She also spent several years in the private sector – first as the Manager of Library Services at Finnegan, Henderson, Farabow, Garrett & Dunner, LLP, and then practicing trademark law with the law firm of Kelly IP, LLP in Washington, DC.
Brownfield holds a B.A. in French and Comparative Areas Studies from Duke University, a J.D. from the University of Minnesota Law School, and a Master of Science in Information Studies from the University of Texas School of Information. She is a long-time member of the American Association of Law Libraries.
The Law School's Wendy Schneider spoke with Brownfield to learn more about her and her thoughts and goals.
WS: Congratulations on the promotion, Molly!
MB: Thank you so much, Wendy! I am so excited to have this opportunity and feel very lucky to be here and get to work with you and everyone at Texas Law!
WS: You've seen the Tarlton Library from a number of different perspectives and roles. How is Tarlton different now than it was when you started here in 2017?
MB: There have been several changes to Tarlton's physical facility, such as the new front entrance area, including new circulation and reference desks. And there have been changes to the library staff as people have retired, moved on to other opportunities, and new people have joined our team. I think what strikes me most about Tarlton since 2017 (or even 2004-2006, when I worked here as a Tarlton Fellow!) is not any one particular change, but the fact that it's always evolving. I think this is in large part because all the different people who come through the library — from the staff who work here, to the faculty, students, and others who study and research in the library — bring wonderful energy and many different research interests and experiences to Tarlton. The people are what make Tarlton so special.
WS: Do you have any goals or thoughts about making any changes for the library?
MB: We are in a very fortunate position at Tarlton because we were under the wonderful leadership of Professor Barbara Bintliff prior to me becoming the Director, so we're building on a very strong foundation.  I've had some great conversations with the library staff and other members of the Texas Law community regarding future goals and thoughts about changes for the library, and I'm looking forward to having more of those conversations in the weeks and months ahead. I plan to use that input to move the library forward in a way that best supports the evolving research and information needs of Texas Law and the broader UT community.
WS: I wonder, do you have any research interests?
MB: As a librarian, I'm a bit of a research chameleon and become immersed in whichever topic I'm helping someone else research. One of the best parts about working at Texas Law is getting to work with faculty, students, and others on a wide variety of fascinating questions and topics. I think when it comes down to it, what I love most is the research process itself, and particularly legal research. There is always more to learn!
WS: What do you like to do when you aren't working?
MB: I love spending time with my husband, Andy, and our two dogs, Lasso and Arlo. Being outside and going for long (very slow!) runs and walks are among my favorite things. We also seem to always have a home improvement project or two in the works, which means spending a lot of weekend time at Home Depot!