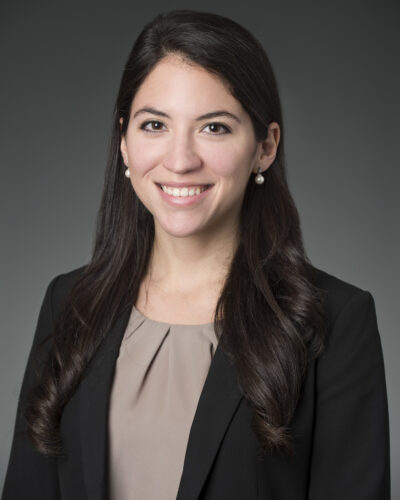 Texas Law alumna Alejandra Ávila '14 has been selected to serve as a judicial law clerk to Justice Sonia Sotomayor on the United States Supreme Court beginning this summer. Ávila is one of just 39 Texas Law graduates* (since 1938) to clerk on the Supreme Court and the first to clerk for Justice Sotomayor.
"It will be the honor of my life to clerk for Justice Sotomayor. I am deeply grateful for the support of my professors, classmates, family, and friends, and for the invaluable mentorship and encouragement I received from Chief Judge Murguia and Judge Alvarez," Ávila said.
Ávila is currently an associate at the law firm of Kellogg, Hansen, Todd, Figel & Frederick PLLC in Washington, D.C., where she specializes in complex trial and appellate litigation. She previously clerked for Chief Judge Mary Murguia of the U.S. Court of Appeals for the Ninth Circuit and Judge Micaela Alvarez of the U.S. District Court for the Southern District of Texas. In 2015, she was the first Texas Law graduate to receive the prestigious Fried Frank MALDEF Fellowship.
"Even back when I first met Ale in my first-year Criminal Law class, she impressed me as having the makings of a strong advocate," said Texas Law Professor Jennifer Laurin, who recommended Ávila for the position. "She understood from day one that law school is not the place to gain the ability to recite legal doctrine by rote, but rather to gain the ability to use the doctrine to construct or rebut arguments."
Ávila's path to the law is quite extraordinary. She immigrated from Mexico to the United States when she was a teenager, enrolling in a public high school in Laredo, Texas, as an English Language Learner, given her limited knowledge of the English language. A few years later, Ávila graduated first in her class from Texas A&M International University's Honors Program and became a naturalized U.S. citizen, experiences to which she attributes her interest in the law.
"My direct interaction with the immigration system and my experiences as a public high school student and graduate of a Hispanic-serving institution in South Texas were tremendous influences in my decision to go to law school," Ávila said. Ávila is the first in her family to pursue a post-secondary education in the United States.
At Texas Law, Ávila participated in the law school's Immigration Clinic and Transnational Worker Rights Clinic and was a major contributor to pro bono efforts. She also was the national representative for the Chicano Hispanic Law Students Association and the President of the Human Rights Law Society. Ávila interned at The White House, the U.S. Department of Justice, the Supreme Court of Texas, and the Inter-American Court of Human Rights in Costa Rica as the Rapoport Center's first recipient of the Charles Moyer Human Rights Fellowship. She received the Justice Center Graduating Student Award.
Related:
Scoring a SCOTUS Clerkship: Recent Alum Shares His Story (2013)
*Texas Law Judicial Clerks: List of former, current, and upcoming Texas Law judicial clerks