2022 Beck Center Awards Recognize Outstanding Student Writers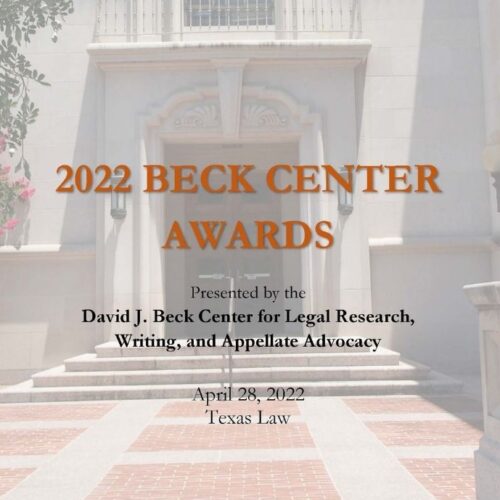 The David J. Beck Center for Legal Research, Writing, and Appellate Advocacy recognized outstanding Texas Law students with the 2022 Beck Center Awards in a ceremony on April 28, 2022. First-year students were recognized for demonstrating their commitment to perfecting their communication skills, upper-division students were recognized for their service as Teaching Quizmasters, and the 2022 recipient of the State Bar of Texas, Appellate Section, Award for Excellence in Appellate Advocacy was announced.
The Beck Center faculty also announced the first-year students receiving Outstanding Memo and Best Brief awards. Faculty also recognized winners of the Thad T. Hutcheson Moot Court. The ceremony culminated with the announcement of this year's winners of the Beck Award, the prestigious award given to six students who demonstrate outstanding performance in both Legal Analysis and Communication and Persuasive Writing and Advocacy.
See all the winners listed in the 2022 Beck Center Awards Program (pdf).
View our 2022 Beck Center Awards Photo Album on Flickr.