From Influential to Up & Coming, Texas Law is Well-Represented in ABBJ Awards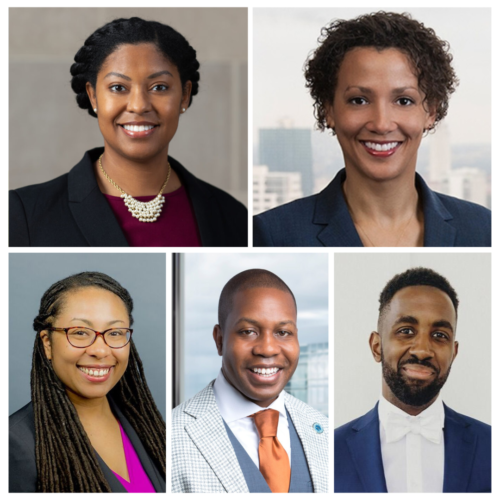 Several Texas Law faculty members and alumni have been chosen to receive 2022 Austin Black Business Journal awards. The publication announced two major awards honoring attorneys: "Most Influential Lawyers" and "Up & Coming Lawyers." The awards recognize Black professionals in the legal field who have achieved professional excellence and have actively paved the way to success for others. In addition, the annual Top Ten Central Texas Super Lawyers list was released.
"Texas Law has been well-represented in the Black Business Journal awards in recent years, which is a testament to the ongoing success of our alumni and the excellence of our faculty," said Associate Dean for Diversity, Equity, Inclusion, and Belonging Shavonne Henderson '05. "These individuals are shining examples of achievement in the legal field and they serve as inspiration to our current students."
Three of the four Most Influential Attorney honorees are notably from the Texas Law Class of 2007, who celebrated their honored class reunion last year.
These attorneys will be honored at a grand celebration on Nov. 19, 2022.
Most Influential Attorneys
Nicole Clark Simmons '07 – Director of Pipeline Outreach and Development, Texas Law
Nelia Robbi '07 – Lecturer, Texas Law; Of Counsel, McGinniss Lochridge
Hon. Aurora Martinez-Jones '07 – Travis County Judge, 126th District Court
Rudy Metayer '06 – Of Counsel, Graves Dougherty Hearon & Moody
Up & Coming Lawyer
David Holmes '18 — Associate, Walsh Gallegos Trevino Kyle & Robinson
Top Ten Central Texas Super Lawyers
Texas Law also dominates this year's group of Top Ten Central Texas Super Lawyers, with a faculty member and six alumni being honored. This group is chosen using a multi-phase process involving peer and public nomination, independent research, and peer evaluation. Texas Law is represented by:
Joel B. Bennett '77, attorney, Joel B. Bennett, P.C.
Ashton G. Cumberbatch, Jr. '82, Special Counsel, McGinnis Lochridge
Hon. Wilford Flowers '76, judge (retired), State of Texas 147th District Court
Hon. Brenda Kennedy '81, judge (retired), Travis County 403rd District Court
Dr. Joseph C. Parker '82, Chief of Litigation (retired), State Bar of Texas
Denise Pierce '94, partner, Schulman, Lopez, Hoffer & Adelstein, LLP
Patrick Woolley, A. W. Walker Centennial Chair in Law, Texas Law