Paul Begala, '90, to deliver keynote address at Sunflower Ceremony, May 22, 2010
Paul Begala, '90, a CNN political analyst and former top aide to President William Clinton, will deliver the keynote address at the University of Texas School of Law's Sunflower Ceremony graduation program May 22, 2010.
Begala served as counselor to President Bill Clinton during his administration, helping to define and defend the Administration's agenda, from the State of the Union Address to economic, domestic, and international issues.  With his partner, James Carville, he was a senior strategist for the Clinton-Gore Presidential Campaign in 1992, and has helped direct the political strategy of numerous other campaigns across the country and around the world, including advising politicians in Europe, Latin America, the Caribbean, and Africa.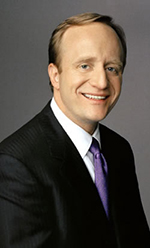 Begala predicted the Democratic takeover of the House of Representatives in 2006, and as senior strategist to the campaign of Pennsylvania Democrat Bob Casey he helped unseat the third-ranking Republican in the U.S. Senate, allowing the Democrats to take control of that chamber as well.
He helped John F. Kennedy Jr. launch the political magazine George in 1995 and wrote its "Capitol Hillbilly" column.  He is the author of several New York Times best-selling books, including Is Our Children Learning? The Case Against George W. Bush; Buck Up, Suck Up, and Come Back When You Foul Up; and Take It Back:  Our Party, Our Country, Our Future (the latter two co-written with Carville).
Begala is a research professor at Georgetown University's Public Policy Institute and in 2007 was named the Carl Sanders Distinguished Scholar in Political Leadership at the University of Georgia School of Law. He received his BA in government from the University of Texas at Austin, where he was student body president.
The Sunflower Ceremony will take place on Saturday, May 22, 2010, at 3:30 p.m. at the Frank Erwin, Jr. Special Events Center. Degree candidates, their families and friends are invited to celebrate the accomplishments of the graduating class of 2010.
Contact: Reymundo Ramos, UT Law Student Affairs Office, RRamos@law.utexas.edu, or (512) 232-1140