Sculpture Honoring Civil Rights Champion James DeAnda Unveiled at the University of Texas School of Law
A bronze bust of the late Honorable James DeAnda, '50, was unveiled Friday, November 12, 2010, at the University of Texas School of Law during a celebration to honor his legacy as an advocate for social justice, particularly for the civil rights of Mexican-American school children in Texas.
Colleagues, friends, and family of DeAnda travelled from across the state for the celebration, which began with remarks from Law School Dean Lawrence Sager and Houston attorney Scott J. Atlas, '75, about the importance of DeAnda to the Law School and the significance of his contributions to improving the lives of others.  DeAnda, who in 1979 became the second Mexican-American named to the federal bench, died in 2006.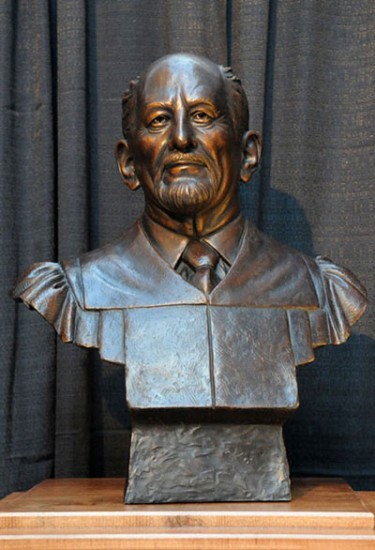 DeAnda was born in Houston to Mexican immigrants and graduated from the Law School in 1950, when there were only a handful of Hispanic law students. He began his legal career in Houston and later moved to Corpus Christi and the Rio Grande Valley. DeAnda became a renowned criminal and civil litigator, and a driving force in a host of cases brought to promote social justice for Mexican-Americans in law, politics, and education.
"James DeAnda was a towering figure:  a pioneering lawyer who successfully pressed for the equal rights of Mexican-Americans; a pioneering social activist who helped found nationally important groups devoted to the civil rights of Mexican-Americans and many others;  and a pioneering federal judge who embodied the values to which his  professional life was so successfully devoted," Dean Sager said.  "We are extraordinarily proud to be able to call Judge DeAnda our own, and pleased to be able to mark his remarkable life with this bust."
"As a UT Law alum, I am so pleased that my alma mater is honoring Judge DeAnda with this symbolic tribute to his legacy," said Texas State Senator Rodney Ellis, '79. "It was such a privilege to have had the opportunity to work with Judge DeAnda. He was a great mentor, and he will long be remembered as a Texas Mexican-American leader who fought discrimination in our state's public schools."
"The Law School is honoring one of its most distinguished graduates, one who fought for and won extraordinary gains in legal rights for Mexican-Americans," said Atlas, whose idea it was to honor  DeAnda with a sculpture.  Atlas and the Honorable Nancy F. Atlas funded the project.
Atlas said he knew DeAnda for decades before and after the judge retired from the bench.  And that his father, Morris Atlas, a renowned attorney based in McAllen, played a role in DeAnda's nomination to the bench.
"DeAnda lived and practiced law for years in my home town of McAllen, and served on the bench in Brownsville and then Houston," Atlas said. "He was so modest about his accomplishments that I knew little about them until I began my research after deciding to fund the bust. Because he was a very modest man, few people knew of his extraordinary record."
Louis DeAnda, the 77-year-old brother of James DeAnda, agreed. "He was a very humble man," DeAnda said. He said family members only learned about his many accomplishments after "Jim" died.
Louis DeAnda drove with his wife, Geraldine, and his 83-year-old sister, Mary Louise DeAnda drove from McAllen to Austin to attend the celebration. The DeAnda siblings were among more than a dozen family members to attend the sculpture unveiling. "We feel very, very honored as a family and are happy for Jim that he's being recognized so much," he said.
The committee for the DeAnda sculpture project selected South Dakota artist Edward Hlavka, whose works have been exhibited at prestigious national shows and include commissions for five U.S. presidents. The artist is known for attention to detail and grace. "My wife and I were both impressed with his demonstrated ability to capture the essence of his subjects' personalities in their facial expressions," Atlas said.
The DeAnda bronze bust will be placed in a prominent hallway between the Law School Dean's Suite and the Admissions and Student Affairs offices.
DeAnda was the youngest member of a legal team of four Hispanic attorneys that won a landmark U.S. Supreme Court victory in 1954 in Hernandez v. State of Texas, which overturned an all-white jury's murder conviction of a Southeast Texas Mexican-American man. On appeal, the U.S. Supreme Court ruled that Hispanics were a separate group deserving constitutional protection. Relying on Hernandez, DeAnda filed successful court challenges throughout South Texas to the state's system of "Mexican schools." This played a critical role in the fight against discrimination of Mexican-American children in the Texas public education system.
DeAnda cofounded the Mexican American Legal Defense and Education Fund in 1968 and in 1970 created Texas Rural Legal Aid (now called Texas RioGrande Legal Aid). In 1979, President Jimmy Carter appointed DeAnda to the U.S. District Court for the Southern District of Texas. After retiring from the bench in 1992, DeAnda practiced law at the Houston law firm of Solar & Associates. He was awarded the Distinguished Alumnus Award for Community Service from the University of Texas School of Law Alumni Association in 2004.
Related Link:
Download a photo of the bronze bust along with other materials including a photo and bio of DeAnda
Contact: Laura Castro, UT Law Communications, 512-232-1229, 512-825-9525 (cell)