Professors Jane Stapleton and Peter Cane Elected to Prestigious Arthur Goodhart Visiting Professorship of Legal Science at Cambridge University
The University of Cambridge has bestowed a remarkable honor on two UT Law professors, Jane Stapleton and Peter Cane, by electing them to the Arthur Goodhart Visiting Professorship of Legal Science, one of the most prestigious visiting chairs in the common law world. Stapleton and Cane, who are married, will hold the Professorship sequentially during the 2011–2012 academic year. This is the first time that the chair has been jointly held.
During their visiting professorship, Jane Stapleton will be a fellow of St. John's College and Peter Cane will be associated with Corpus Christi College.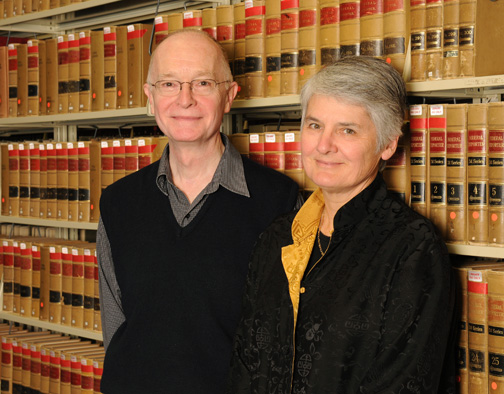 "It is a thrill for a tort lawyer to have been elected to a chair once occupied by such intellectual heroes as Roger Traynor (Chief Justice of California, 1974–1975); Guido Calabresi (Yale Law School, 1980–1981); and John Fleming (Boalt Hall, University of California, Berkeley, 1987–19788)," Stapleton said. "But it is most especially exciting that we will be following in the steps of the great UT Law scholar Charles Alan Wright, who was the Goodhart Professor in 1990–1991."
"In the globalized environment of legal education, links between leading law schools on different continents are increasingly valuable and important," Cane said. "This is a great opportunity to strengthen ties between the law schools of two great research universities."
Other Americans who have held the Professorship include John Langbein (Yale Law School, 1997–1998) and Richard Helmholz (Chicago, 2000–2001).
The Visiting Professorship of Legal Science was established in 1971 in honor of Arthur Lehman Goodhart. Goodhart was born in New York in 1891 and remained a United States citizen all his life. He was a strong advocate of fostering understanding and good relations between the U.S. and the United Kingdom, where he spent most of his adulthood. Goodhart studied law at Yale Law School and arrived in Cambridge in 1912 intending to read economics, but was persuaded to read law instead. Having served in the U.S. forces in Europe during the World War I, he returned to Cambridge in 1919 as a fellow of Corpus Christi College and taught there for a decade, during which time he founded the Cambridge Law Journal and became editor of the Law Quarterly Review (a job he did for fifty years). Although primarily a common lawyer, Goodhart lectured in jurisprudence; and he was elected Professor of Jurisprudence at Oxford University in 1931. He was the first U.S. citizen to be appointed King's Counsel (in 1943) and to become the head of an Oxbridge College (University College, Oxford, in 1951). He received an Honorary Knighthood in 1948 for his work during World War II. As the Cambridge University website says: "The day Arthur Lehman Goodhart sailed from New York for the first time to England was a significant date in the histories of the law faculties at Oxford and Cambridge."