Sundance Film Festival documentary Hot Coffee to be screened at Law School April 12, 2012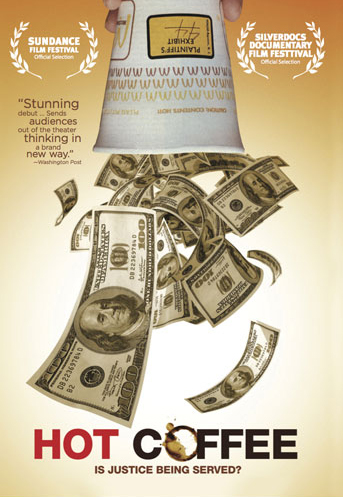 The Law School will host a screening of Hot Coffee, a Sundance documentary film about the McDonald's hot coffee case, Liebeck v. McDonald's Restaurants, and its aftermath, on Thursday, April 12, 2012.
Students are encouraged to attend.  There will be a short reception in the Susman Godfrey Atrium, starting at 5:30 p.m.  The movie will be shown in the Charles I. Francis Auditorium starting at 6:00 p.m., and will be followed by a brief panel discussion with:
U.S. District Judge Lee Yeakel
Mike McKetta of Graves, Dougherty, Hearon & Moody
Jack London of the Law Offices of Jack W. London & Associates PC
Leslie Brueckner, Senior Attorney at Public Justice
Scott Hendler, Moderator
 Please RSVP at www.acslaw.org/HotCofee_AustinRSVP
For more information about the movie, see the Hot Coffee website.  
The screening is presented by Public Justice, the American Constitution Society, the William Wayne Justice Center for Public Interest Law, the Public Interest Law Association, the UT Student Chapter of the American Constitution Society, and the Texas Journal on Civil Liberties & Civil Rights.