Professor Jane Stapleton to be awarded William L. Prosser Award in recognition of her scholarship on torts and product liability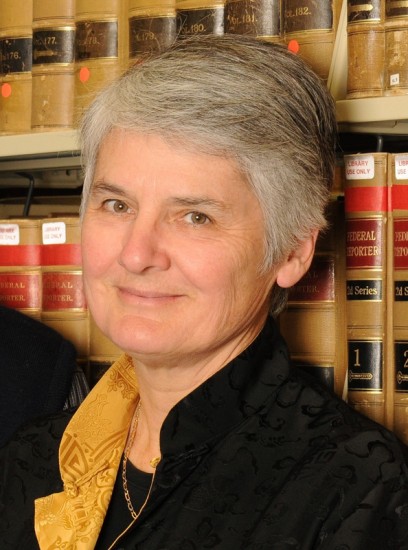 The William L. Prosser Award will be presented to Jane Stapleton, Ernest E. Smith Professor in Law at the Law School, at the annual Association of American Law Schools meeting on January 6, 2013. The Prosser Award was created and presented to its first recipient, Leon Green, in 1974, and honors those who have made an outstanding contribution to the world of tort law scholarship.
Nominators of this year's honoree stated that Stapleton is an influential scholar on three continents. In their announcement of the award, they focused on the rigor of her scholarship and the depth and breadth of her professional accomplishments. Her work, they wrote, focuses on the "law of obligations, liability and compensation systems, and ranges from comparative product liability to the philosophical foundations of common-law concepts such as causation, duty, and good faith" and her scholarship offers "penetrating insight into the areas of torts and product liability."
"Jane Stapleton is one of the world's foremost scholars of tort law," said Law School Dean Ward Farnsworth. "She is a rarity among legal academics—a master of the American legal system but also of the Australian and English systems, which gives her an unusual ability to offer comparative perspectives in her writings and in the classroom.  Personally I have benefited a great deal from her help on the Restatement of Economic Torts, for which I serve as Reporter; she has been one of the most perceptive readers of that project in the entire American Law Institute.  All of us at the Law School feel lucky to have her as a colleague, and are thrilled to see her getting the recognition she deserves."
In her native Australia, Stapleton serves as a Research Professor of Law at the Australian National University College of Law in Canberra.  She is also a barrister of the High Court and the Supreme Court of New South Wales, a Fellow of the Academy of Social Sciences, and a Fellow of the Australian Academy of Law.  In addition to her appointment at the Law School, Stapleton is also an Advisor to the current Third Restatement of Torts: Liability for Economic Harm and is the only foreign national to be elected as a Council Member of the American Law Institute. She is also a Statutory Visiting Professor of Law at Oxford University and an Emeritus Fellow of Balliol College. She is a past holder of the Arthur Goodhart Visiting Professor of Legal Science Chair at Cambridge University and an Honorary Bencher at Gray's Inn.
Professor Stapleton has accepted invitations to teach and lecture as a visiting professor at universities in the United Kingdom, Germany, Spain, New Zealand, Canada, Italy, Brazil, and the United States. In addition, she has served as a consultant in major commercial, pharmaceutical, medical and environmental litigation in the United Kingdom, Australia, New Zealand and the United States.