Record Percent of Entering UT Law Students Sign Pro Bono Pledge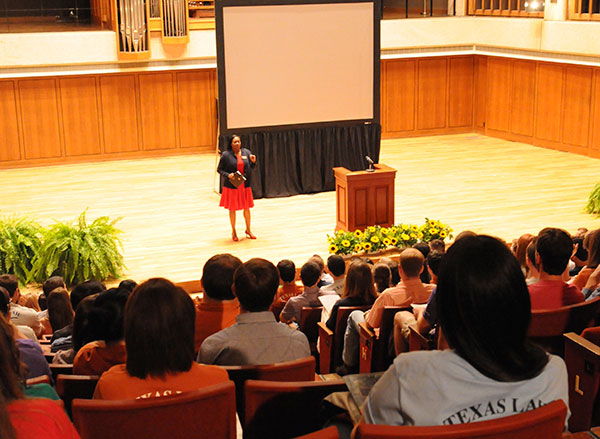 More than 93 percent of the entering 1L class signed the Pro Bono Pledge, a record level of participation for The University of Texas School of Law's Pro Bono Program. Students who sign the pledge commit to perform at least 50 hours of pro bono service before graduation.
"The class of 2013 – the first class to sign the pledge as 1Ls – performed nearly 25,000 hours of pro bono service," said Tina Fernandez, director of the Pro Bono Program. "Given their overwhelming response to the Pro Bono Pledge, I am very excited about the entering 1Ls' potential to serve others."
Lisa Tatum,president of the State Bar of Texas, led the students in taking the pledge during orientation in August.
The Pro Bono Program has scheduled September and October training sessions for a broad range of activities, including assisting with Deferred Action for Childhood Arrival immigration clinics, volunteering for a voting rights project, working with middle school students through the UT Law Youth Court, interviewing clients at walk-in legal clinics, working on asylum cases for American Gateways or U-Visa cases for Catholic Charities, and assisting divorce petitioners who are not represented by counsel. Applications for the program's very popular annual winter break trip to the Texas Rio Grande Valley will be available in October.
The Pro Bono Program was established by the school's William Wayne Justice Center in 2009 with an endowment from Richard and Ginni Mithoff. Students may learn more about opportunities for trainings on the Pro Bono Program website, its Twitter feed (UTLawProBono) and Facebook page (UT Law Pro Bono). They can also sign up for alerts on the Pro Bono Symplicity page or contact the Pro Bono Program at probono@law.utexas.edu.