Rapoport Center Announces 2013-14 Human Rights Scholars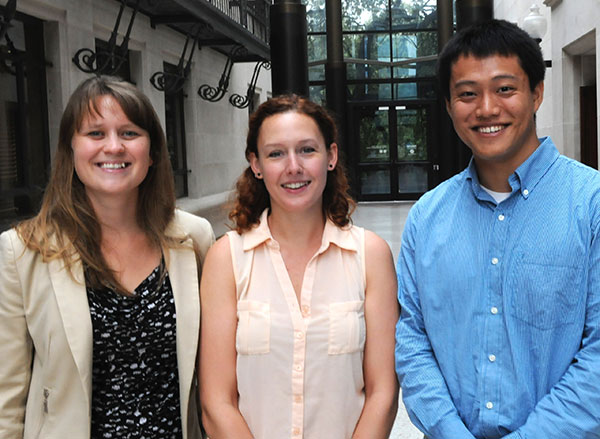 The Bernard and Audre Rapoport Center for Human Rights and Justice at The University of Texas School of Law has named three law students as Rapoport Center Human Rights Scholars for the 2013–14 school year. Kallie Dale-Ramos, Catherine Wagner and Kyle Shen were selected by a committee of international law faculty on the basis of their academic credentials, leadership skills and dedication to human rights work. Each of the students will receive a scholarship.
The scholars work with faculty and administrators affiliated with the center to help coordinate many of its current programs and initiatives, including the human rights working paper series, the archives of Frances T. "Sissy" Farenthold and the upcoming 2014 conference titled "Bringing Human Rights Home: Human Rights Constitutionalism and Domestic Politics." They also engage in human rights research and advocacy projects.
About the Recipients
Kallie Dale-Ramos
Dale-Ramos received a B.A. in history and political science from the University of Michigan in 2009, focusing on how women and indigenous communities were affected by Socialist movements across the globe. Her first hands-on experience with human rights was in El Salvador, where she worked for two years as a Peace Corps volunteer. Through her work with the Rapoport Center, Dale-Ramos is interested in developing and expanding a lively network of students on campus interested in human rights and public interest law. After law school, she hopes to create programs, policies and infrastructure to help the most vulnerable segments of societies, specifically women and indigenous groups, become their own advocates within their communities and countries.
Catherine Wagner
Wagner received a B.A. in international relations from Boston University in 2007. As an undergraduate, she was active in human rights projects and studied in Geneva, Switzerland and Niamey, Niger. After graduation, she spent four years working with human rights, social justice and development nonprofits in Washington, D.C., such as the Save Darfur Coalition, Amman Imman: Water is Life and Oxfam International. Wagner has been a Rapoport Center Fellow the past two summers, interning first at the Texas Civil Rights Project and most recently in the Office of the Co-Prosecutors at the Extraordinary Chambers in the Courts of Cambodia (ECCC), where she worked to prosecute the senior leaders of the Khmer Rouge.
Kyle Shen
Shen received a B.A. in political science from the University of Chicago in 2011, where he focused on political and cultural processes of colonization and decolonization. After graduation, he received a Fulbright Grant to teach English and research immigrant labor issues in Macau, China. This past summer, he worked as an intern for Judge Cathy Cochran at the Texas Court of Criminal Appeals. In addition to being a Human Rights Scholar, Shen is also currently participating in the UT Human Rights Clinic. He is a member of the Texas International Law Journal and is involved in the Human Rights Law Society. His interests include labor, immigration and the human impact of economic development in East and Southeast Asia.
The Bernard and Audre Rapoport Center for Human Rights and Justice at The University of Texas School of Law serves as a focal point for critical, interdisciplinary analysis and practice of human rights and social justice.