New Kids on the Floor: Two UT Law Alumni Reflect on First Legislative Experience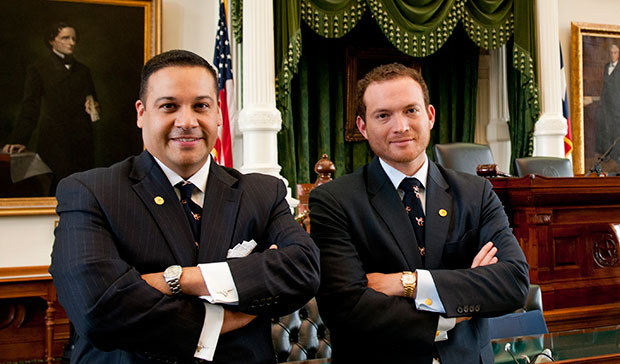 Republican Jason Villalba, '96, and Democrat Oscar Longoria, '07, will agree the friendships they made during the 83rd Legislature that wrapped up this summer — their first — were what surprised them the most.
"My biggest takeaway was how important the relationships are among all the House members and everyone at the (state) Capitol," Villalba said.
As newly elected officials in their respective districts, Villalba (District 114) and Longoria (District 35) experienced for the first time the Texas Legislature as members of the Texas House of Representatives.
"It has astonished me how well we have come to know each other and work together," Longoria said. "Working with both my Republican and Democratic colleagues has been an eye opener in that we all have a common purpose, to serve our constituents, and that is what we did this session."
During the 83rd Legislature, Longoria was appointed to the House Appropriations Committee, where he served on the subcommittee for Articles I, IV and V, and as vice chairman of the Budget Transparency and Reform subcommittee. He was also appointed to the Investments and Financial Services committee.
Villalba became an advocate for legislation to combat the growing epidemic of domestic violence in his district, authoring one bill and joint-authoring four others intended to increase awareness of domestic violence perpetrators, require mandatory jail time and increase offense levels and penalties for repeat offenders.
"My biggest achievement was the passing of HB 1009 — the 'Protection of Texas Childrens Act' — which creates a school marshal program similar to the federal law marshal program," Villalba said. "I feel really blessed as a freshman legislator to have authored a bill that the governor signed into law — a law that will make our state and schools safer."
Both Villalba and Longoria said they applauded how well the entire House worked together to pass legislation; keeping the interests of the entire state in mind, regardless of party affiliation.
This ability to collaborate and work together is something they both attribute to their time at The University of Texas School of Law. Longoria, who was active in intramural sports with the McCormick Society, recalls his intimate learning and application of the Socratic Method, which he says helped his critical thinking skills, and helped him become an
effective communicator and debater.
"Whenever we present our bills before the House or in Committee, we have to be ready to fight for them as well as help others understand why they are important," Longoria said. "The Socratic Method has become, and is, an essential tool to being an effective representative."
Villalba agreed, saying UT Law also prepared him to think critically and analyze key issues and complex problems.
"UT Law offered me such great support and prep for my profession as an attorney and now elected official," said Villalba, who as a student worked on The Review of Litigation and the Texas Journal of Business Law, among other UT Law publications. "The opportunities I had in school really paved the way for where I am today. This is one of the ways I am trying to give back in appreciation for all that I received."
Villalba said he plans to spend time in between sessions building more relationships and focusing on the priority issues in his district, such as improving education, domestic violence, revising some of the ethics rules and improving school finance.
Longoria plans to visit with local leaders to address concerns in his district that he will then work on during the 2015 Texas Legislature.
"At the end of the day, we each have to reach an understanding," Longoria said. "Each of us is responsible for a unique area within our great state and we each want what is best for our constituents."
— Marjorie Smith and Maria Arrellaga