UT Law Grad Receives 2013 Law Student Pro Bono Award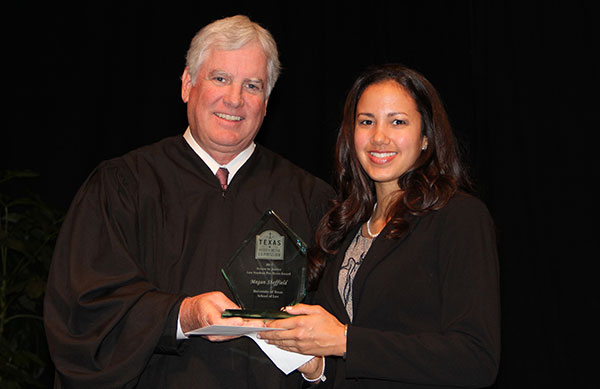 UT Law Alumna Megan Sheffield, '13, received the 2013 Law Student Pro Bono Award from the Texas Access to Justice Commission. The award is given to a law student or graduate who has improved the standards of legal aid for underprivileged Texans. Sheffield was among 23 nominees and was honored in a ceremony at the Frank Erwin Center Nov. 18.
While at the law school, Sheffield was an avid participant in the Pro Bono in January trip, sitting on the student board her second year. She also worked closely with the Pro Bono Program and the Immigration Clinic to help launch the Deferred Action for Childhood Arrivals (DACA) program. Under her supervision, UT Law held 11 clinics providing free legal advice to more than 600 DACA applicants.
"Throughout law school, Megan demonstrated a passion for advocating for underserved populations," said Tina Fernandez, director of the Pro Bono Program and Sheffield's nominator. "She was a role model for law students and helped to foster a pro bono ethic at UT Law."
Sheffield participated in the Children's Rights Clinic and interned for the South Texas Civil Rights Project in Alamo and American Gateways in Austin. She also served as the Pro Bono Scholar for the Pro Bono Program in 2012.
"UT Law provided me with incredible opportunities to not only participate in existing pro bono projects, but also to learn how to develop and implement new initiatives," Sheffield said. "Through the various projects in which I was able to participate, I was so inspired by the number of dedicated student volunteers, faculty members, partner organizations, private attorneys and community members who gave their time and energy to do pro bono work."
Sheffield is continuing her advocacy efforts working with Casa Marianella Immigration Legal Services in Austin, focusing on candidates for Special Immigrant Juvenile Status.