Victory at U.S. Supreme Court: UT Law Alumnae Argue and Win Case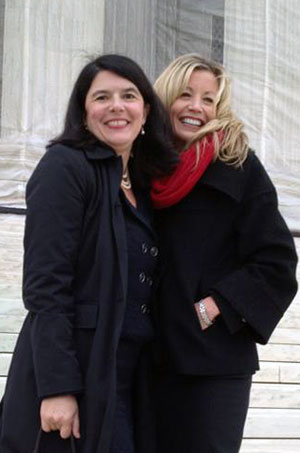 All eyes in the Austin firm of Scott, Douglass & McConnico LLP were focused on computers Feb. 20, as they closely watched the United States Supreme Court's live blog.
Jane Webre, '89, and Cindy Connolly, '96, both partners in the firm, argued a case at the U.S. Supreme Court in January and were waiting for the decision.
"It's here, it's here!" Webre called out before clicking to refresh the blog. "There was 15 seconds of holding my breath."
And then the announcement appeared: Reversed.
Webre and Connolly had won an appeal at the U.S. Supreme Court and all of their overjoyed co-workers flooded Webre's office.
"It was like a circus day," Webre said, sounding just as elated months after winning a case at the highest court as the Wednesday in February it was announced.
The case, Jerry W. Gunn, et al. v. Vernon F. Minton, involved legal malpractice claims arising out of a previous patent infringement suit. Webre, as counsel of record, and Connolly, as co-counsel, represented Gunn and three other lawyers (the petitioners) in challenging a Texas Supreme Court decision, which had held that the patent malpractice suit against them belonged in federal court. Chief Justice John G. Roberts Jr. wrote the opinion for a unanimous Court reversing the Texas ruling. As a result, state courts may now hear claims alleging legal malpractice in the handling of a patent case.
"This area of law, it's hard to grapple with," Webre said. "This is the next iteration of the Court clarifying on it."
To say that Webre and Connolly's experience was rare is an understatement.
The current U.S. Supreme Court hears arguments on approximately 100 of the more than 7,000 petitions filed with the court each term. Webre said it's been more than 20 years since the U.S. Supreme Court has reviewed a decision of the Texas Supreme Court. Additionally, out of 75 hours of arguments at the Court between October 2012 and April 2013, female lawyers accounted for only a mere 17 percent of the arguments before the justices, according to Associated Press analysis.
Arguing at the U.S. Supreme Court is a very "happy memory," Webre said. She won't forget the beautiful courtroom, how competent, kind and helpful all the Court personnel were, and the pomp and circumstance.
"It was the most fantastically awesome experience I have ever had," Webre said. "I'm so grateful I had that opportunity. I can't imagine I'll get to do it again. But, damn, I'm glad I got to."
Webre celebrated the win in New Orleans with her husband, David Plaut, '89. The two met at UT Law.
"The whole experience was off-the-charts amazing," Connolly echoed. "It was such a unique opportunity. To have the nine Supreme Court justices reading our briefs and deciding our case was so incredible. It was almost surreal. And then to have prevailed and actually impacted the doctrine of arising-under jurisdiction going forward just seems too good to be true."
In preparation for the oral argument, Webre and Connolly tapped UT Law's Supreme Court Clinic and its co-directors, Lynn Blais and Michael Sturley, who hosted a moot court in the school's Eidman Courtroom.
"Professors Blais and Sturley were very helpful to Jane and I from the first moment we learned our petition for certiorari was granted; to hosting Jane's first moot court and throughout the entire process," Connolly said. "UT Law definitely gets an assist for the victory."
Moots were also held at Baylor Law School and Georgetown Law in Washington, D.C. Webre said she's served on UT Law moot court panels before, and after her experience, said she'll absolutely do it again.
"Jane was well prepared by the time of the moot, and she is an accomplished appellate oralist," Blais said. "As a result, she was very impressive in the moot, and when I read the transcript of the actual oral argument, I was not surprised to find that she had performed masterfully in the Court."
Webre said her collaborators had a strong sense after the argument that they were going to win. "Usually it's hard to read the tea leaves," she said. But the justices let her advocate for six to eight minutes without interrupting her with questions. "Turns out we read the tea leaves right."
Webre and Connolly spoke to UT Law students on Oct. 1 about their experience taking a case from state jurisdiction to the national stage.
— Samantha Youngblood