40 Years of Service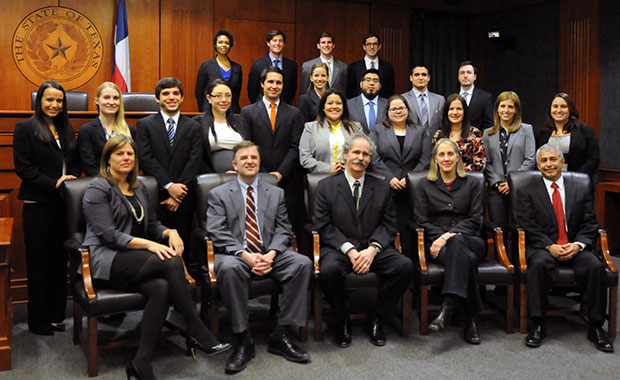 The Criminal Defense Clinic, the oldest and one of the largest law clinics at The University of Texas School of Law, celebrates its 40th anniversary this year.
"As the first UT law school clinic we set the bar high for our students," said Clinical Professor Bill Allison, the Criminal Defense Clinic's director. "We could not have imagined that we were also setting a very high standard for clinical legal education, not just at Texas with its 16 different clinical offerings, but as a model for clinics across the nation."
Since it started in the spring of 1974, the Criminal Defense Clinic has taught more than 2,000 students and among many highlights of its tenure, won a case at the Supreme Court of the United States.
The late Bob Dawson, founder and director of the clinic for 25 years, put student attorneys in the first chair position and the supervising attorneys in the second chair. The resulting learning experience is active and dynamic.
Much of what the students do takes place in a courtroom, not a classroom, and covers a range of offenses from DWI to assault.
"Forty years later, these ideas, particularly the reality of putting a student attorney as the first chair lawyer, still guides us," Allison said. "Professor Bob Dawson got it right — clinical legal education when done correctly is a great complement to traditional law school learning and it is exciting."
Allison has been a part of the clinic for 39 of its 40 years, assuming the role of director in 2004. Supervising attorneys Patricia Cummings and Richard Segura Jr. also have a long history with the clinic, having each served in the position for 12 years. Segura, '93, is the only former Criminal Defense Clinic student to ever hold the position of supervising attorney.
"The Criminal Defense Clinic provides a perfect bridge between school and the profession," said Eden Harrington, UT Law's associate dean of experiential education. "The clinic is going strong after 40 years, and we are extremely proud of its impact on our students and the community."