Game on For Steve Patterson, '84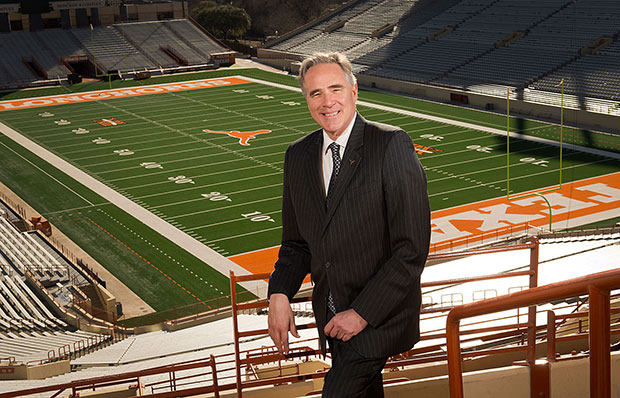 Steve Patterson, '84, has taken the helm as Texas men's athletic director, but for him, it's always been…
 Game On
By Maria Arrellaga
---
It was an exciting day for The University of Texas School of Law when it was announced last November that Steve Patterson, '84, had been selected for what media called "the most coveted job in college sports" — the men's athletic director position at The University of Texas at Austin.*
For Patterson, the UT position is a perfect composite that combines his professional expertise in the business of sports, his love for competition and a deeply rooted family commitment to education. He has inherited from DeLoss Dodds, the former men's athletic director of 32 years, the Apple of college sports — a program that is highly lucrative, über protective of its brand and needing to maintain the loyalty of the demanding Longhorn nation in an increasingly competitive marketplace.
Game on for Patterson, who seems very comfortable in his new habitat, surely in part from prior experience he has garnered throughout his career.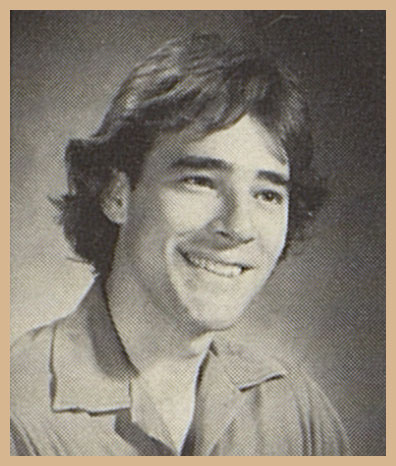 Following graduation from UT Law, Patterson went to work with his father, Ray Patterson, who was the president and general manager of the Houston Rockets. It was the same year (1984) that Hakeem Olajuwon, Michael Jordan and Charles Barkley were drafted into the NBA. Basketball was forever changed and Patterson was part of the action until 1994 when he became manager of the Houston Aeros hockey team. From there, he served as senior vice president of the Houston Texans NFL team, president and general manager of the Portland Trailblazers basketball team, and most recently, athletic director at Arizona State University.
"Running a college athletic program is very different than a pro sports franchise," Patterson said. "We have a much broader constituent base. Our student athletes need to be looked after and be on track to graduate. Their families are putting them in our hands and expecting great outcomes. This is about much more than winning ball games."
The importance of education is something Patterson was reminded of often while growing up. "I had aunts and uncles who managed to go to college in the 1930s and 40s before the GI bill was an option," he said. "It was amazing how many of them completed their degrees, given all the hardships they faced." Patterson's father ran a prep school before going into sports management.
In addition to education, competition is a concept familiar to Patterson who grew up among four siblings. "We played all sports — usually in the snow and always until dark," he said. "Even Yahtzee was competitive. My mother never let me win."
The family moved from Wisconsin to Sugar Land, southwest of Houston, when Ray Patterson took the position with the Rockets. Steve was in high school.
Patterson's path to UT was similar to many students in Texas.
"We were seniors in high school and a group of friends invited me to go to Austin. After visiting, I knew it was where I wanted to go to college," he said.
Majoring in business, Patterson lived in Dobie Center for three years where he was a resident assistant. One of his favorite memories of his undergraduate experience was dancing on the Drag after victorious football games during the Earl Campbell era. For Patterson, it didn't get any better than being a college student in Austin.
He relished the music scene at the Armadillo World Headquarters and Rome Inn, and the late night tacos that, on one occasion, he shared with Jimmie and Stevie Ray Vaughn. So when the question came up of what happens after you graduate, going to law school in Austin sounded like a great idea.
"The tuition was so affordable and my dad had always regretted that he didn't get a law degree, so I figured it would be good training for whatever future career I pursued."
Law School Memories Have Long Shelf Life
Law school memories for Patterson are very vivid starting with day one, year one.
"I was late to class on my first day of law school," he said. "It was an early morning contracts class with Professor Weintraub. I was the first person he called on, and of course, I was unprepared. I hadn't read a thing. That put everybody on notice."
Other classroom enlightenment that has resonated with Patterson since law school includes two pieces of advice from Professor Jim Treece: "Don't ever get into a lawsuit that involves nuns, babies or boy scouts," and "if you want to be a litigator, learn to play poker." Patterson commented that the second piece of advice had especially served him well.
Patterson was also very appreciative of the insight and perspective he gained from working in the Criminal Defense Clinic as a 3L. "That experience gave me a much more visceral understanding of people who have fallen on hard times," he said. "The clients I represented may have been appropriately charged, but they didn't belong there. I learned a lot about the complexities of the criminal justice system and the hard times for someone who can't afford good representation."
As for sports law, Patterson was keenly interested in the subject.
"I joined the Arts and Sport Committee and tried hard to get into a particular sports law class. I remember not being allowed into the class because I didn't have the right pre-requisites. I have laughed since wondering what the 20 or so students are up to who were in that class."
Early Success with Creative, Strategic Planning
Many eureka moments have happened on the couches outside the UT Law library. One such epiphany happened early in the fall of 1982 when Patterson and his friends decided to promote the candidacy of a cartoon character for UT's student body president.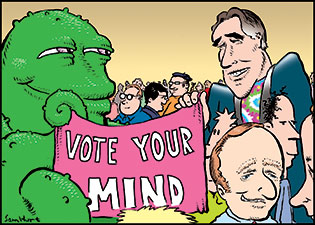 The law students remembered well the tenuous debate about the ineffectiveness of student government that clamored during their undergraduate years. In protest, a candidate Amy the Wonderdog had been nominated. Wonderdog was disqualified on the detail that it was an animal.
Patterson's friend and fellow law student Sam Hurt, '83, happened to be publishing the comic strip "Eyebeam" in the The Daily Texan at the time, which occasionally featured a character named Hank. Being that Hank was not an animal, but simply a hallucination who only Eyebeam could see, the friends decided Hank would make the perfect candidate for student government president. Consequently a student record for Hank was surprisingly discovered, which meant he/it could officially run.
"We ran a real campaign. We did some major brand building and felt like we had the most appropriate candidate. We won in a landslide," said a proud Patterson, Hank's campaign manager. To achieve such a victory, Patterson had the help of fellow law students who witnessed the phenom, Hank, go viral.
Hurt, who was Hank's creative director, unfolded the candidate's persona on a daily basis in his comic strip. Media support was provided by Daily Texan editor at the time, Mark McKinnon. Fellow law students such as John Schwartz, '83, and Mark McCrimmon, '83, among many other lieutenants, helped with grass roots strategizing and beer runs. In the build up to the election there was even a HankStock concert on the East Mall that generated national media coverage.
History was made at UT in December 1982 when Hank the Hallucination won the election. An inaugural ball was held in his honor and media again attended to interview the victor they could not see. "Then a horrible thing happened," Patterson said. "Hank was assassinated (in the comic strip) and we quickly organized a state funeral."
Hank's tragic death meant the student body election would move forward with a run-off between the two candidates who came in behind the deceased. One of those candidates was Paul Begala, UT Law '90, and Patterson's hometown friend. Begala was insightful to realize the road to victory meant winning over the Hank voters — an early indicator of the future political strategist's potential.
"Steve showed his true talent as Hank's campaign manager. Under his leadership, Hank's campaign was witty and nimble, brilliant at piercing the pomposity of politicos like me and bringing us back to earth," Begala said. "Since then I have been involved in numerable campaigns in Europe, Africa, Latin America, the Caribbean and three successful U.S. presidential elections.
"Under Steve's leadership, Hank's campaign was visionary. He found the vulnerabilities in his opponents and exploited them. He identified the strengths in his own team and maximized them. If he does the same for UT athletics we're going to have to buy a lot of burnt orange light bulbs for the Tower," Begala said.
It is worth noting that after Bill Clinton announced he would run for re-election, Patterson sent a note to Begala, who was part of Clinton's team, letting him know he had no plans to put Hank up as an opponent.
So while Patterson may have traded in his signature law school student attire of white cotton beach pants, colorful Hawaiian shirts and a Panama hat for lawyerly business suits, he continues to exhibit the same moxie and creativity.
* Coincidentally, one of the other finalists for the UT men's athletic director was Oliver Luck, '87, also a UT Law graduate.