From Assistant U.S. Attorney to U.S. District Court Judge, Alumnus Gregg Costa takes Fifth Circuit Bench
In a unanimous vote (97-0), the U.S. Senate confirmed in May loyal Longhorn Gregg Costa, '99, to the U.S. Court of Appeals for the Fifth Circuit. The second youngest judge currently serving on a federal court of appeals bench, Costa brings unique perspective to his new role. His formative learning experiences have spanned from serving as a teacher with Teach for America in the Mississippi Delta, to prosecuting Allen Stanford in a massive $7 billion Ponzi scheme that resulted in a 110-year prison sentence.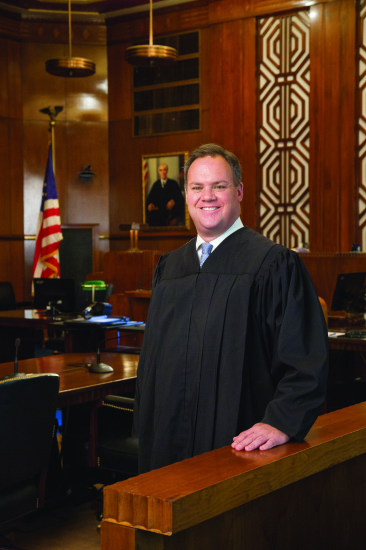 When did you know you wanted to go to law school and why Texas Law?
I wanted to be a lawyer since I was at least 10 years old. Not quite sure why; there weren't any lawyers in my family. I think I just thought it would be fun to battle it out in the courtroom. I was right.
In terms of attending Texas, it was the only law school to which I applied. That was one of the best decisions I'd ever made. Texas Law afforded me opportunities beyond what I could have imagined. And the comparatively low cost of attending allowed me to spend a good part of my career in public service.
What was one of your biggest takeaways from being a teacher with Teach for America in Sunflower, Miss.?
That teaching is a heckuva lot harder than practicing law, and also more important, especially in under-resourced areas such as the Mississippi Delta. As doubts grow about the vitality of the American Dream, there are few, if any, challenges more important than providing all of our children with the opportunity to obtain an excellent education.
Share one of your biggest challenges while clerking for U.S. Supreme Court Justice William Rehnquist. What was one of the biggest rewards?
The biggest challenge had nothing to do with the cases the Court heard. Rather, it involved my driving ability. The Chief played doubles tennis with his three clerks every Thursday. Although he could have used the court limousine, consistent with his remarkable lack of pretentiousness, he instead had one of the clerks drive. That task typically fell to me. One day, after stopping at an intersection, I looked away from the traffic light because I was engrossed in the conversation we were having with the Chief. In what was probably the sharpest criticism I received during the clerkship, the Chief looked at me and said, "Gregg, the last time I checked, green meant go."
In terms of the biggest rewards, it was the relationships I formed on two levels. First, getting to know the Justices, especially the Chief. In many ways, I model the way I run my chambers and use clerks after his practices, including an annual charades game with my clerks and their spouses. Second, the friendships I made with the other clerks — the 34 of us remain close. Just 12 years after clerking, five of us have already become federal judges, including the one federal court of appeals judge who is younger than me (Judge Michelle Friedland on the Ninth Circuit, who was born about two weeks after me).
What was it like to be an Assistant U.S. Attorney?
Being a federal prosecutor was the best job I have ever had. I tried more than 15 cases and argued a number of appeals in the Fifth Circuit. But probably even more valuable than that courtroom experience was the daily challenge of making difficult judgment calls in important matters. There are a lot of smart lawyers out there. The rarer qualities are to have sound judgment and the ability to tell clients things they might not want to hear, and it takes experience making tough decisions to develop those qualities.
Before becoming an AUSA (Assistant U.S. Attorney), I thought a lot about prosecuting cases in court once charges are brought. I did not give a lot of thought to the prosecutor's role in deciding if charges should be brought. A challenging part of that is declining to bring certain cases investigated by federal agents, either because the evidence is not there or because the federal interest in prosecution is not strong enough. The prosecutors I tried to emulate struck the right balance: they were not afraid to bring a righteous case, even if the ultimate outcome was uncertain, but they also had the courage to decline a case when prosecution was not justified.
The 2012 prosecution of Ponzi schemer Allen Stanford was career defining for you. Was there ever a point in that case when you were ready to give up?
The two-month trial was the easy part of that saga. The challenge was the three years leading up to it. Part of that challenge was organizational. We gathered millions of documents and interviewed well-over 100 witnesses. Through diplomatic channels with at least five foreign countries, we obtained documents, interviewed witnesses and froze hundreds of millions of dollars.
The other challenge was that so many people had some involvement in the matter and were scrutinizing everything the prosecution did. As usual, we had to deal with the court and defense lawyers (and Stanford had more than a dozen during the case), but we also had to deal with the Securities and Exchange Commission; the receiver appointed in the United States; the Antiguan receiver; an insurance lawsuit involving Stanford's D&O policy; forfeiture litigation in the UK, Canada and Switzerland; victim groups; plaintiff lawyers; and higher ups at DOJ in Washington, D.C. There were times when it seemed the case was never going to get to trial, but I never thought of leaving. It was too important to try to bring some sense of justice to the victims in what I described in my closing argument as one of the greatest thefts in history. I'll never be more proud of any professional accomplishment than I am of what our team — which included Texas Law grad Vanessa Walther, '92, as a lead FBI agent — accomplished.
What advice can you offer young attorneys?
Make career decisions based on what you are going to enjoy and excel at, not what is going to impress other people.
You have offered clerkships to many Texas Law students. What is one general observation you have made over the years about your clerks?
As one of my colleagues says, the two best things about being a federal judge are 1) not having to bill time, and 2) the relationships you develop with your law clerks. The young lawyers who make the best clerks and get the most out of the experience have a good bit of legal nerd in them. Federal judges are among the last generalists in the law, so you want clerks who will relish the challenge of figuring out legal issues they may have never imagined, let alone studied, before the case comes in the door.
Do people comment on your Longhorn-spirited judges chambers? Is there a piece of memorabilia of which you are most proud?
Yes. In terms of my Longhorn memorabilia, the most cherished is my autographed Earl Campbell UT helmet. Campbell is one of the first athletes I remember watching as a kid. I've still never seen a more powerful running back.
What do you like to do in your free time?
Work and time with my three kids fills up just about my entire week. The thing I look forward to most each week is my kids' sporting events; I help coach some of the teams.