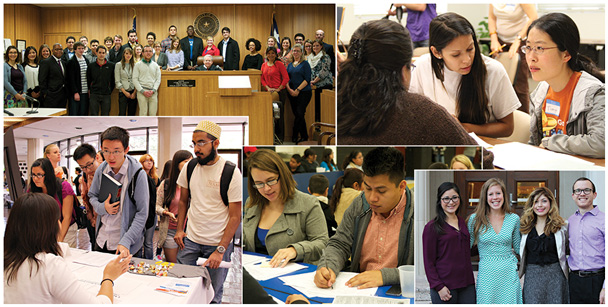 The Richard and Ginni Mithoff Pro Bono Program at The University of Texas School of Law, in conjunction with the American Bar Association's National Pro Bono Celebration, has planned several events for students and the community that highlight the role of Texas Law in delivering pro bono services. The events will take place during the Celebrate Pro Bono Week, Oct. 19-25.
Texas Title Project Training and Clinic
Tuesday, Oct. 21 from 11:45 a.m.-12:45 p.m.
The Title Project will conduct training for students on how to access tax information on hurricane-impacted properties so they can counsel low-income disaster victims in the Texas Rio Grande Valley and on the Gulf Coast. Students will be able to identify the amount of potential tax refunds and future tax savings available through homestead tax exemptions, as well as help victims qualify for tax exemptions that will enable them to hold on to new assets they received through hurricane relief programs.
Expunction Clinic Work Session
Wednesday, Oct. 22 from 5:30-8:30 p.m.
Texas Law's Expunction Clinic will hold a work session with student volunteers who will prepare expunction petitions and petitions for nondisclosure for clients who attended an Expunction Intake Clinic on Sept. 30. Expunction allows people to legally deny offenses and erases records from criminal histories. Orders of nondisclosure direct police departments and other agencies not to disclose criminal records on background checks for individuals who successfully complete specific types of probation programs. Expunctions and nondisclosures remove barriers to employment and housing, mitigating future harm stemming from arrests that do not result in a criminal conviction.
Celebrate Pro Bono Luncheon
Thursday, Oct. 23, from 11:45 a.m.- 1 p.m. (TNH 3.142)
Texas Law's Annual Pro Bono Luncheon will feature a panel on "Big Firm Pro Bono: Helping Clients, Increasing Nonprofit Capacity and Enriching Law Firm Practice." A panel of attorneys from Vinson & Elkins will discuss the firm's national pro bono program and how pro bono service contributes to business development, professional development and recruiting efforts at large law firms. Andrea Marsh, director of Pro Bono Programs at Texas Law and former executive director of the Texas Fair Defense Project, will moderate the panel and provide perspective on how nonprofits can partner with law firm pro bono programs to meet the legal needs of low-income clients. Law school community members who would like to attend the lunch are asked to RSVP to Sarah Sedgwick at ssedgwick@law.utexas.edu.
January Pro Bono Trip Application Announcement
Applications due Nov. 3 at noon
The student application for the 2015 Pro Bono in January trip will be released Monday, Oct. 20. Pro Bono in January is an annual winter break trip that gives law students the opportunity to engage in meaningful pro bono work in low-income communities. The Pro Bono Program will take about 30 students to the Texas Rio Grande Valley the week of Jan. 11-16, 2015. Students will work in Valley cities with attorneys from Texas RioGrande Legal Aid and the Texas Law faculty to help low-income clients draft wills, provide tax counseling and assistance to disaster victims, and help immigrants obtain work permits and other immigration relief. This will be Pro Bono in January's sixth year in the Valley.
The application will be available on the Pro Bono Program website and at the Pro Bono Program table in the Susman Godfrey Atrium Monday, Oct. 20, and Tuesday, Oct. 21, from 11 a.m.-1 p.m. First-year students are encouraged to apply. Applications are due by noon Nov. 3. Trip participants will be announced Nov. 7.
About the Texas Law Pro Bono Program
The Richard and Ginni Mithoff Pro Bono Program's vision is that students at The University of Texas School of Law engage in pro bono work to increase access to justice and develop a lifetime commitment to providing legal services to those in need. Launched in 2009, the Pro Bono Program is a project of the law school's William Wayne Justice Center for Public Interest Law.