Immigration Clinic Plays Key Role at Detention Centers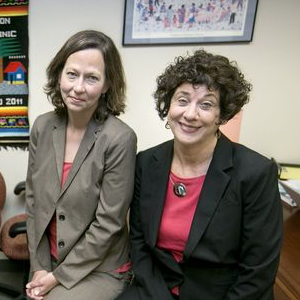 Sunday's Austin American-Statesman profiles the work of Texas Law's Immigration Clinic and its leaders: clinic founder Barbara Hines, who retired as clinic director last year but still maintains a role; and, Professor Denise Gilman, who served with Hines for seven years before following in her footsteps in the director's role.
The ongoing plight of women and children detained en masse in federal facilities in places such as Karnes and Dilley seems to float in and out of the headlines depending on current events. The recent deportation raids in Atlanta—in which federal agents began to round up families for detention, followed by deportation—has put this issue back in the public's consciousness. But the legal status and personal needs of the detained families are never out of the minds of Hines and Gilman, who between them represent hundreds of these clients pro bono.
Read the Statesman story in full here. To learn more about the work of Texas Law's Immigration Clinic, visit its website.