Upton Kea '82 Named Chief Operating Officer of the FDIC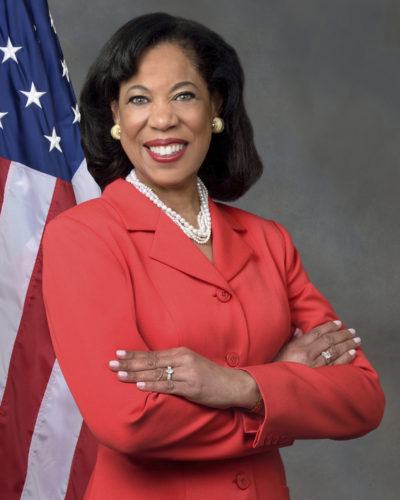 Texas Law Alumni Association President Arleas Upton Kea '82 has been named Chief Operating Officer and Deputy to the Chairman of the Federal Deposit Insurance Corporation. Her elevation was announced by the FDIC's Chairman, Jelena McWilliams.
The appointment makes Upton Kea the top senior executive of the nation's primary watchdog of the commercial banking industry.
A double Longhorn— B.A. '79 and J.D. '82— Upton has spent her entire legal career in Washington, DC, serving first at the U.S. Department of Labor's legal division and then joining the FDIC's Legal Division during the banking and savings and loan crises of the 1980's.  She held several senior positions, including Assistant General Counsel and Deputy General Counsel. She was also appointed to serve as the agency's Ombudsman in 1996.  In that role, she served as the corporation's liaison with bankers, industry representatives, and the public.
Upton Kea is the winner of numerous honors and recognitions, including selection as Chairman of the Coalition of Federal Ombudsmen and receipt of the prestigious Vice President's Hammer Award for management excellence in government.
Upton Kea has also received awards for her efforts in human resources leadership and related areas, including a 2012 nomination for the prestigious Service to America Medal of Honor.  She served on a White House Advisory Group for Reform of Senior Executives in the government
"Arleas has long been one of our most distinguished graduates – an outstanding public servant, a great mentor, and a leader of our alumni community," noted Dean Ward Farnsworth. "It's deeply gratifying to see her excellence recognized with this elevation of her role to the highest levels of the FDIC."
A full press release can be found on the FDIC website.