Law School Celebrates 2018 Alumni Award Winners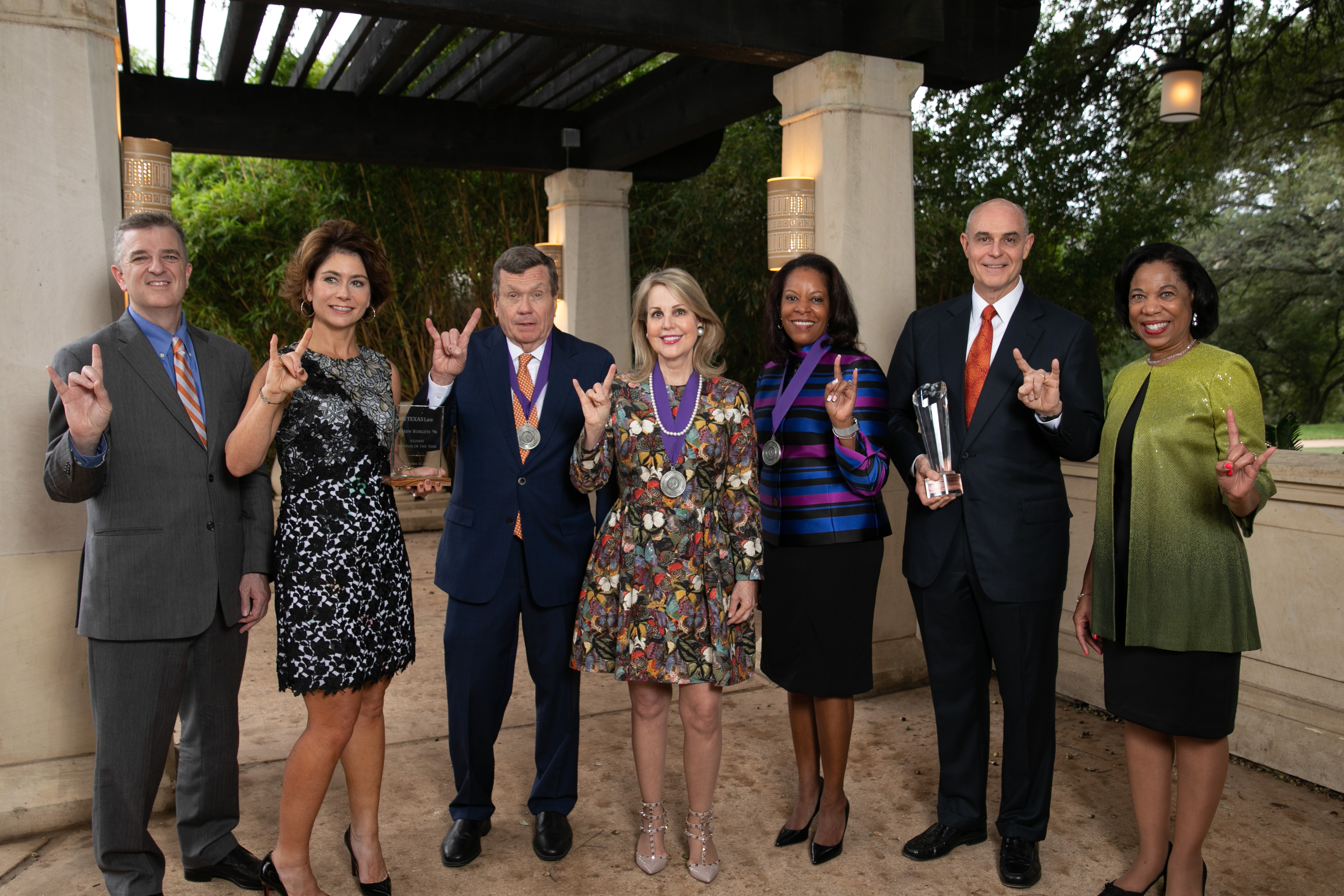 Alumni, whether they are legends of the bar with 50-plus years of practice behind them, or recent graduates just a few months removed from passing the bar, are the heart and soul of any law school. This past October 12, the heart and soul of Texas Law gathered for the Alumni Association's 2018 awards dinner – an event designed to celebrate six exceptional members of the extended law school family.
Awards were presented for Mentor of the Year, Outstanding Young Alumnus, Distinguished Alumna for Community Service, Outstanding Alumna, and Lifetime Achievement. In addition, Dean Ward Farnsworth bestowed a Dean's Honor, for Appellate Advocacy.
The evening was hosted by Alumni Association President Arleas Upton Kea '82. She and Dean Farnsworth and the Alumni Association's Executive Committee were joined by a Who's Who in attendance at the dinner, including many current and former judges and elected officials, members of the Texas Law faculty, and dignitaries from the university and the U.T. System.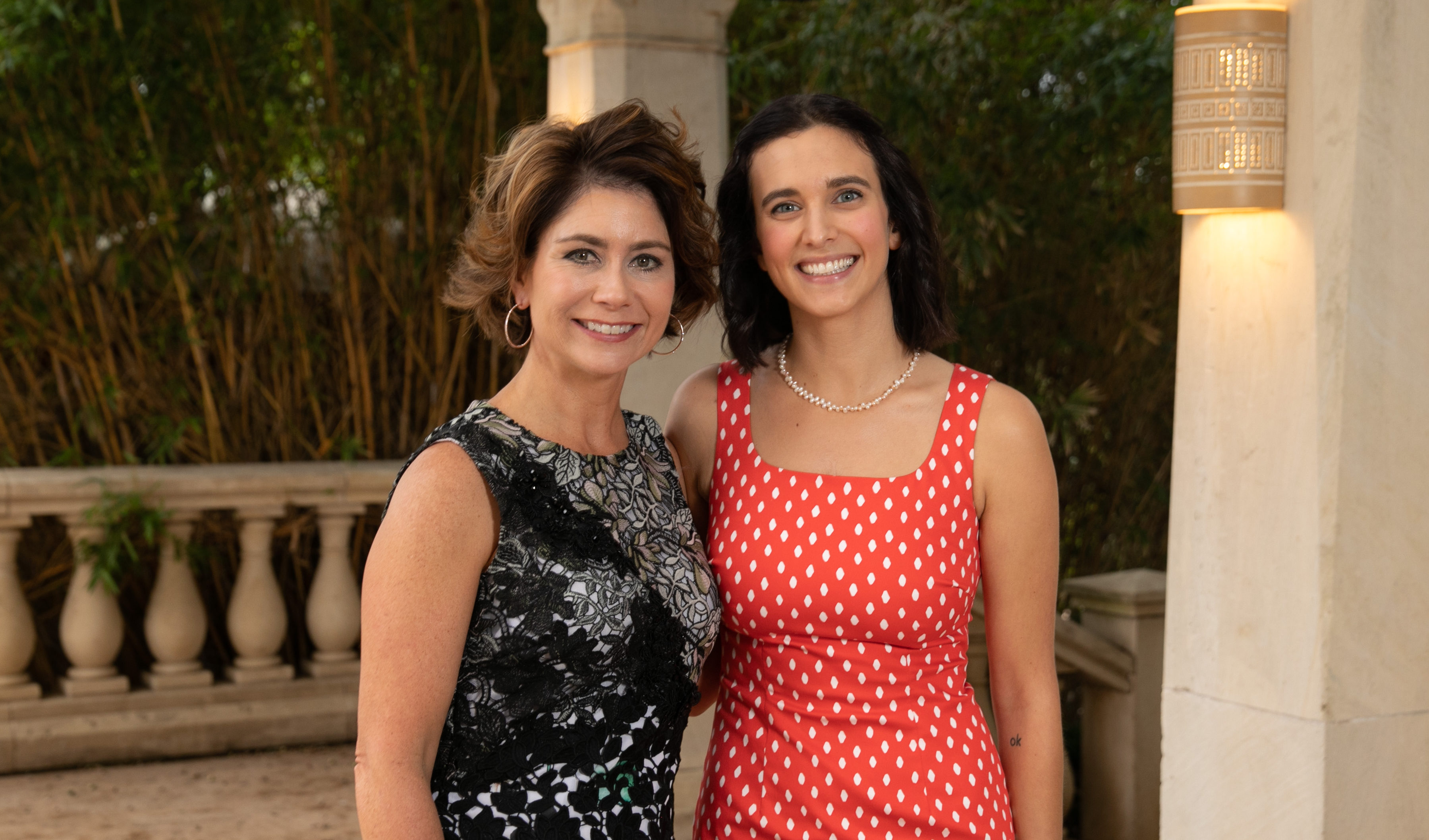 The first award of the evening, Mentor of the Year, was presented to Karen Burgess '96 by her mentee, second year law student Miranda Morton. Burgess, the Principal of Austin-based Burgess Law, implored attendees to "get out there and (be a) mentor," assuring the audience, "I promise you I got a lot more from knowing Miranda last year than she got from me."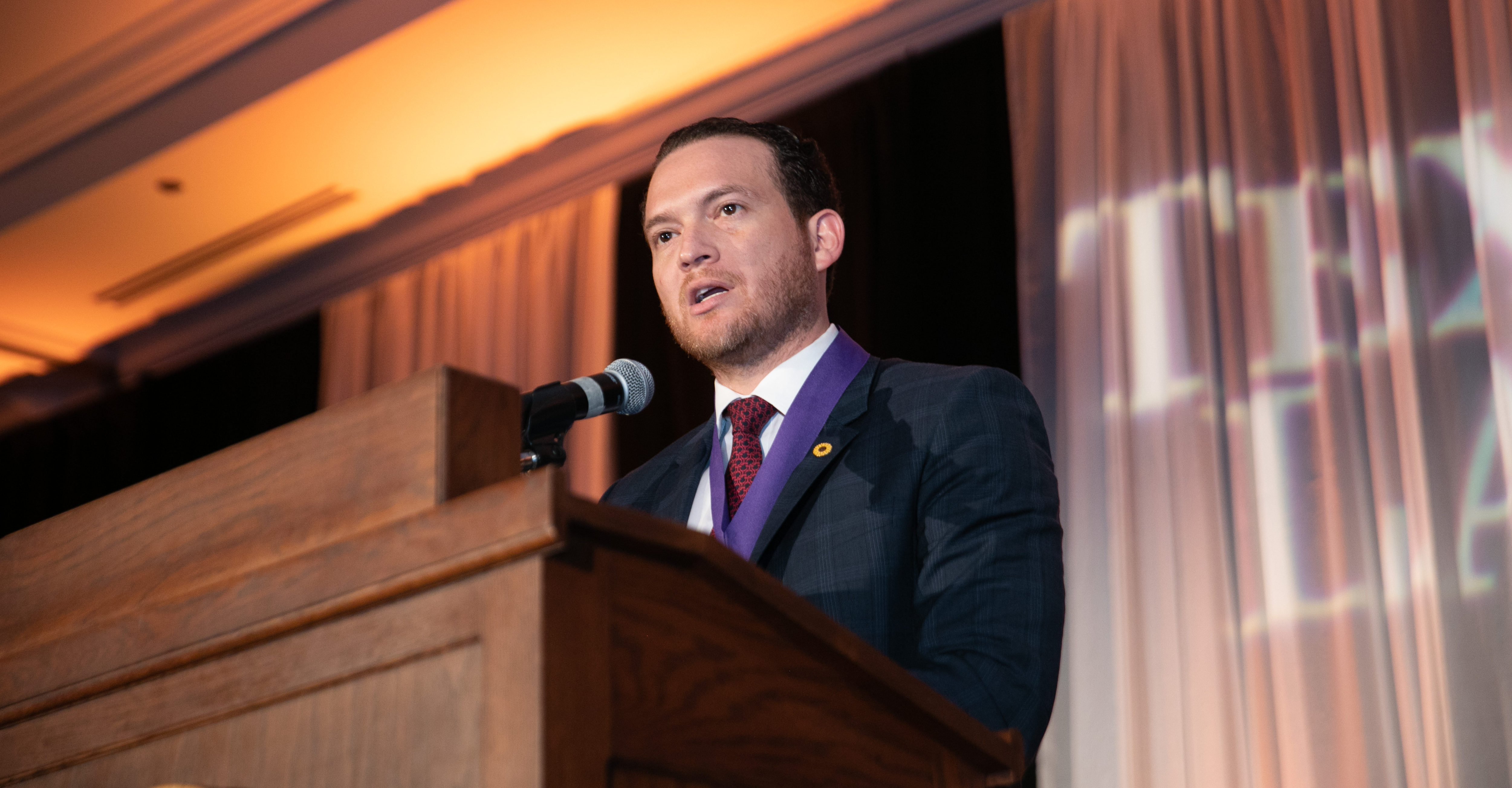 The Honorable Oscar Longoria '07 was named the Association's Outstanding Young Alumnus. This award recognizes someone with remarkable professional accomplishments or extraordinary service to the university and the law school before the age of 40. As Dean Farnsworth noted in presenting the award, Rep. Longoria carries on the tradition of winners of this award who have done both. "Oscar is already busy piling up a résumé of great accomplishments representing the 35th District in the Texas State House and serving as Vice-Chairman of the House Appropriations Committee, along with running his own successful law firm," Farnsworth said. "He's also one of the outstanding public servants in the state and a relentless and effective champion of the university."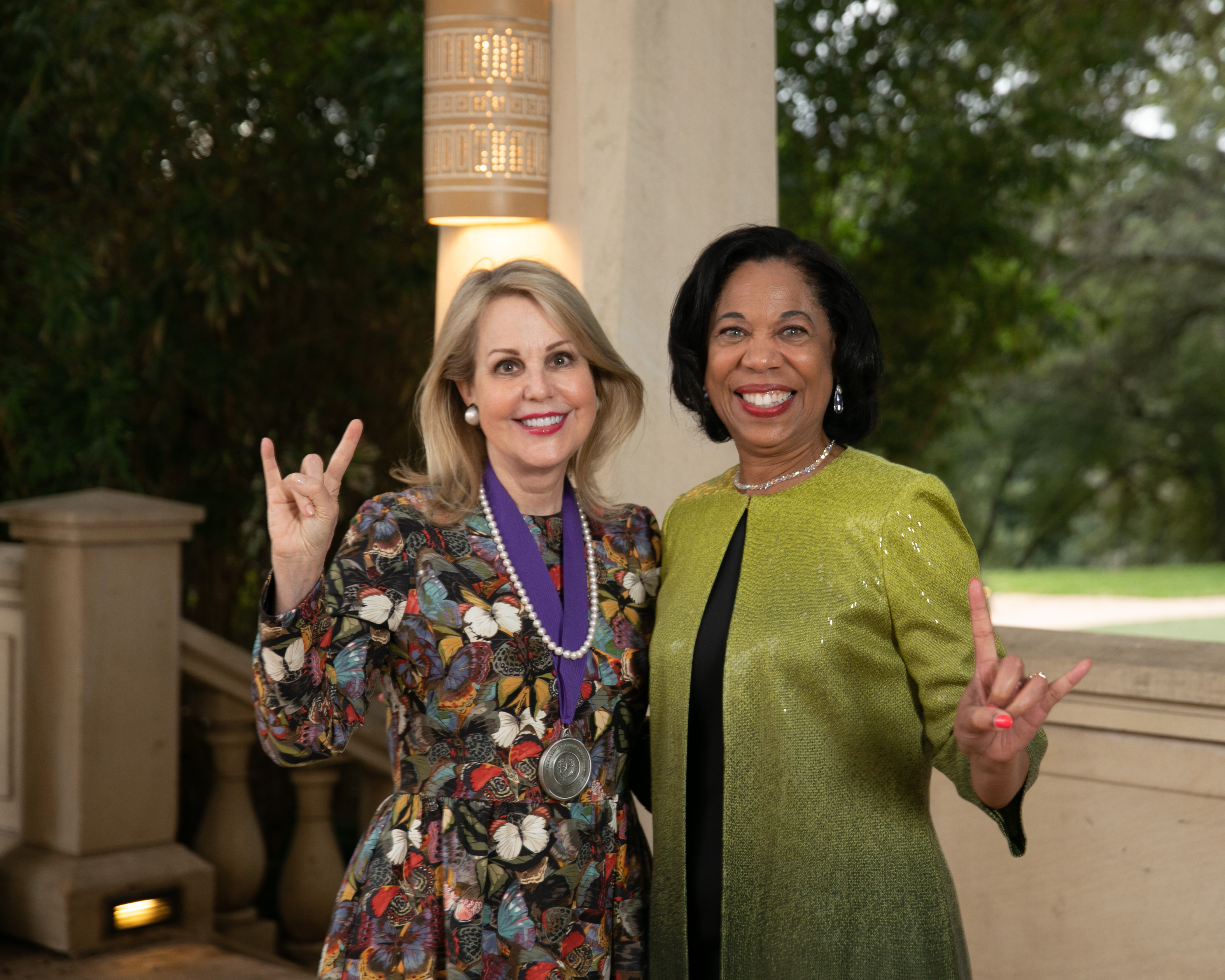 In recognition of the Community Service Award winner, presenter Nina Cortell '76 paraphrased the university's familiar slogan: "What starts with Carrin Patman, changes the world!" Patman '82, currently the Chair of the Metropolitan Transit Authority of Harris County, was recognized for her exemplary record of volunteerism and work with non-profit Boards and charitable causes, and her savvy as a fundraiser and benefit-committee chair for dozens of Texas' most important causes.
"Carrin is, and always has been, a catalyst for change. She is not satisfied to just sit on the sidelines and hope for things to improve. When she sees a problem, she attacks it. When things are not as they should be, she pushes, cajoles, advocates and leads. And she does all of this with legendary charm."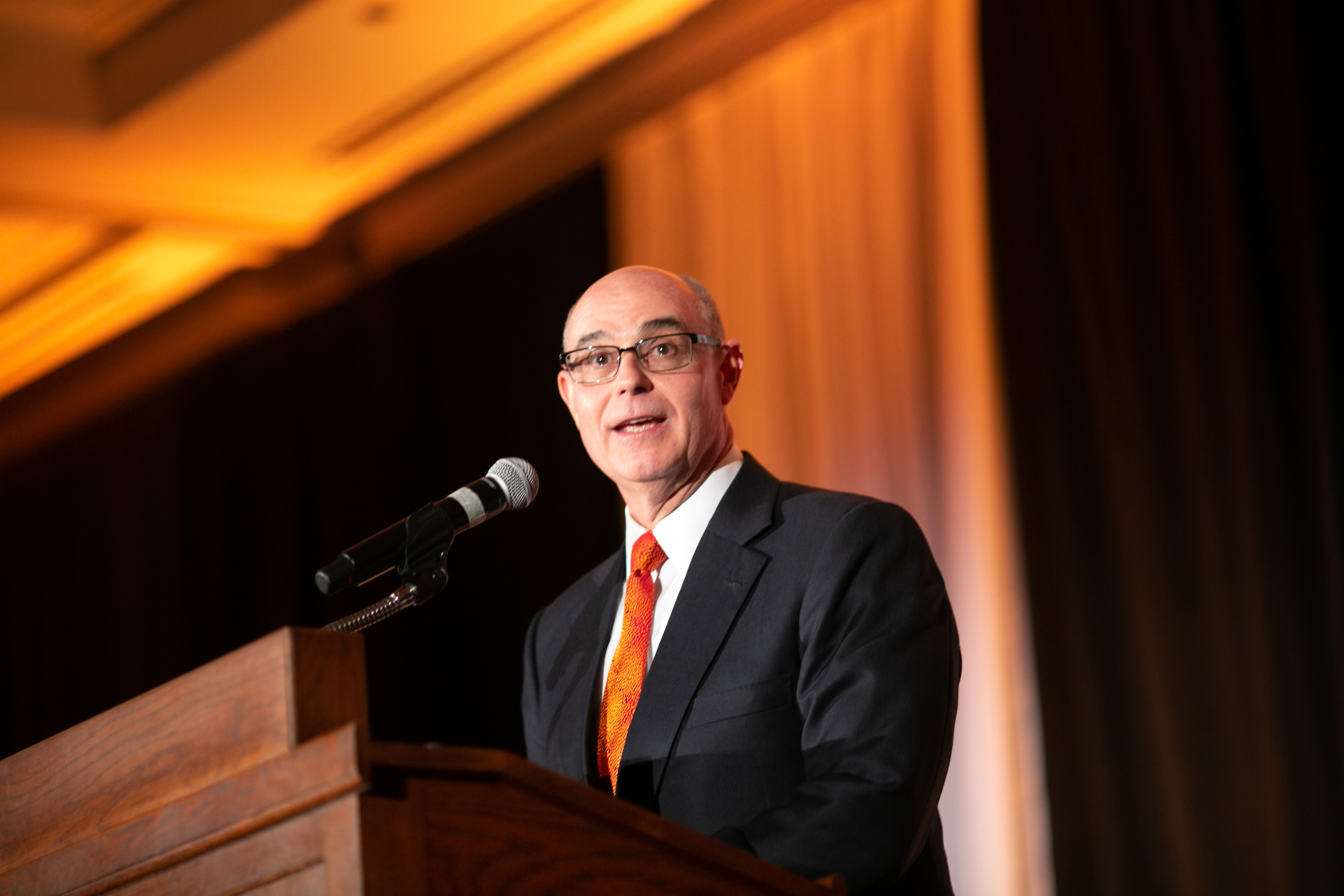 Unlike the evening's other awards which are bestowed by the Alumni Association, a Dean's Honor is a privilege granted to Dean Ward Farnsworth so that he may, from time to time, recognize an alumnus or alumna for exceptional professional accomplishment. This year, a Deans Honor was presented to David Frederick '89, in recognition of his achievements in Appellate Advocacy. The Dean, after praising Frederick's legendary prowess as a Supreme Court oralist, asked Prof. Michael Sturley — a former teacher, now friend and colleague — to speak about Frederick, especially Frederick's role in the creation of the law school's Supreme Court Clinic, one of the best of its kind in the nation.
Presentation of the Outstanding Alumna Award fell to Arleas Kea, who honored her friend and fellow Center for Women in Law member Sandra Phillips Rogers '91, the Group Vice President and Chief Legal Officer for Toyota Motor North America. In one of the night's most poignant moments, Rogers reflected on both the good and bad of her time at Texas Law. She recalled being a law student in the early 90's when the law school drew national attention with Hopwood v. Texas, one of the first successful legal challenges to a university's affirmative action policy.
"At the time, I feared for UT Law –not just for those diverse students who were struggling for real inclusion, but also for the law school's ability to thrive. Thankfully, each successive Dean has tried to move the needle on diversity and inclusion, but none more than Dean Farnsworth.  The evidence is apparent when you walk the halls of the law school. Despite setbacks, progress continues at UT Law. Nearly 30% of the class of 2017 was minority students, and just under half was women…

…Tonight, as we celebrate the legacy of UT Law, and as you consider your own legacies, I urge each of you to think about how you can make the path to becoming a lawyer more accessible, and make this truly exceptional profession more diverse and inclusive.

As Ruth Bader Ginsburg said, 'Fight for the things that you care about, but do it in a way that will lead others to join you.' I hope that I have done this with my own career. Receiving this recognition tonight will encourage me to redouble my efforts."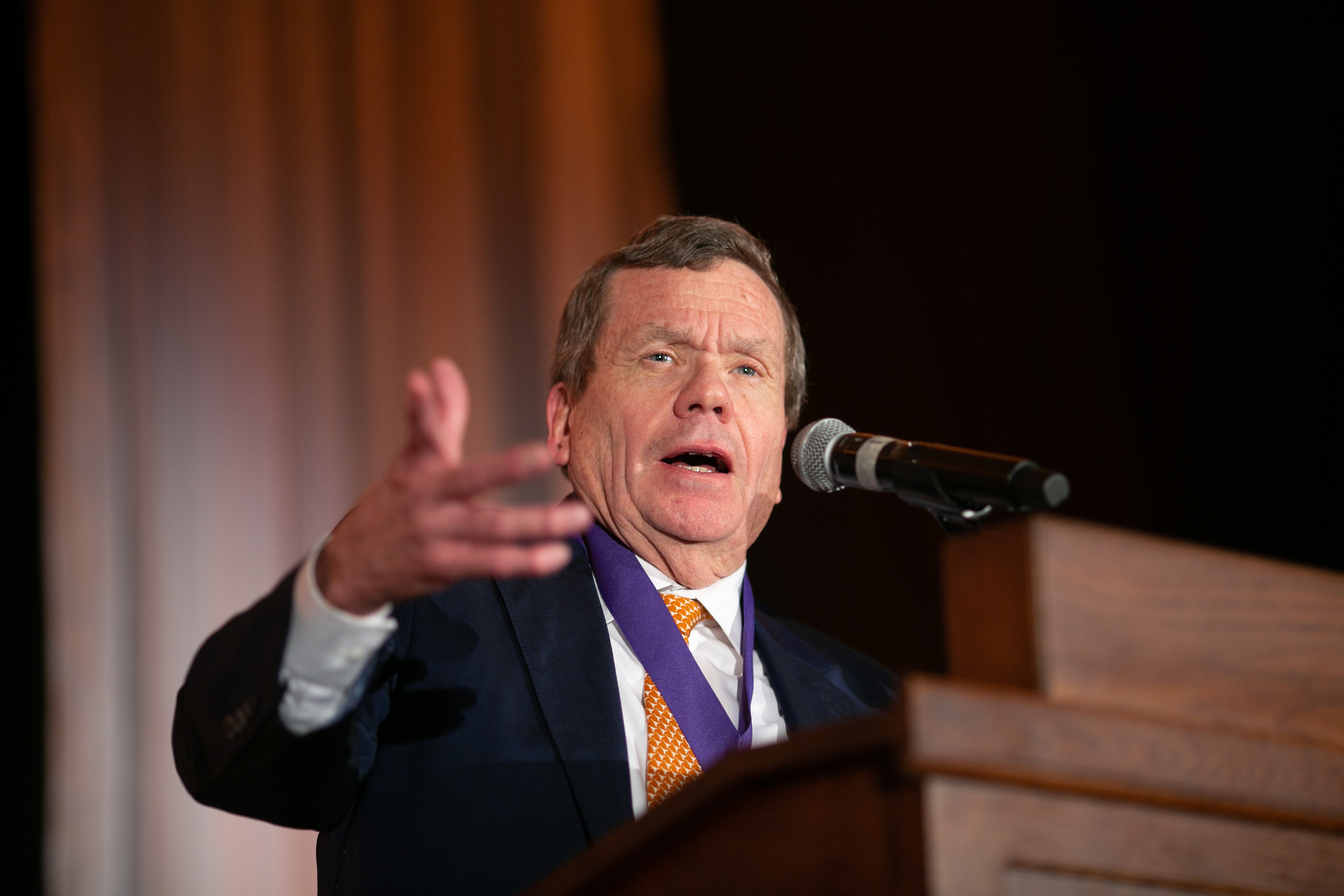 With Rogers' closing remarks echoing in attendees' ears, the final award of the evening was presented. The Lifetime Achievement Award was introduced by David Beck and presented to renowned Houston lawyer and civic leader, Richard Mithoff '71. Consistently named among the top trial lawyers in the country, Mithoff was honored not just for his magical approach to the law, but for his exceptional commitment to doing good. As Beck said:
"From the day he started practicing law, Richard has been on a mission: to help others most in need. Richard, you have accomplished that mission. But equally important you have done so while demonstrating the highest ethical principles and a commitment to professional excellence. Watching Richard over the years, I learned firsthand what someone with a good heart can accomplish."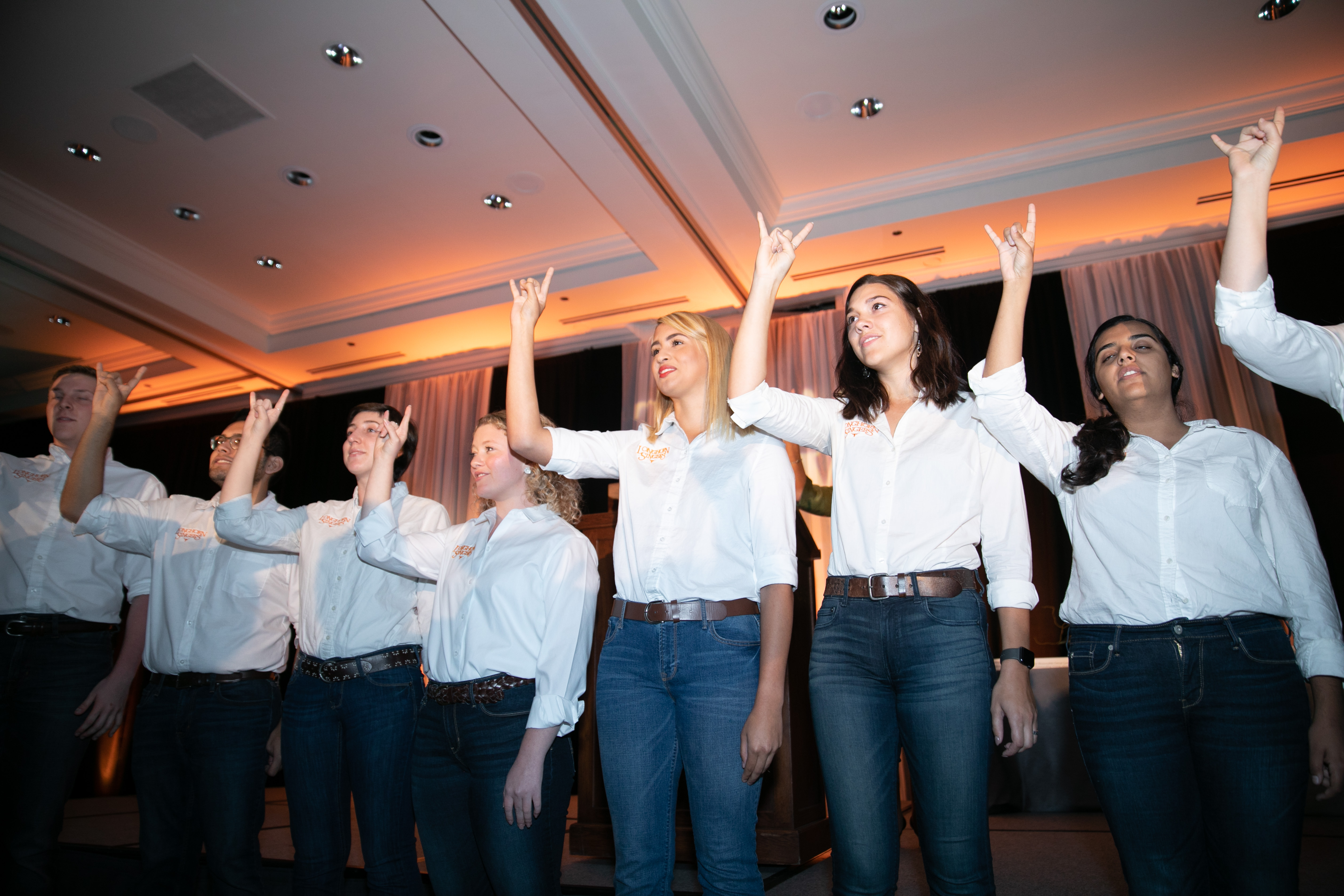 The celebration closed in true Longhorn fashion, with horns up and hearts full, as the Longhorn Singers led the crowd in a proud rendition of The Eyes of Texas. Hook 'em.