Advocacy Program Competes from Coast to Coast
Texas Law's nationally recognized Advocacy Program sent teams to a total of seven interscholastic mock trial and Alternative Dispute Resolution competitions this fall season. From California to New York City, students competed and achieved for the University of Texas at a level of excellence rarely matched. Read on to learn more about the competitions our students attended, team members and coaches, and individual awards won.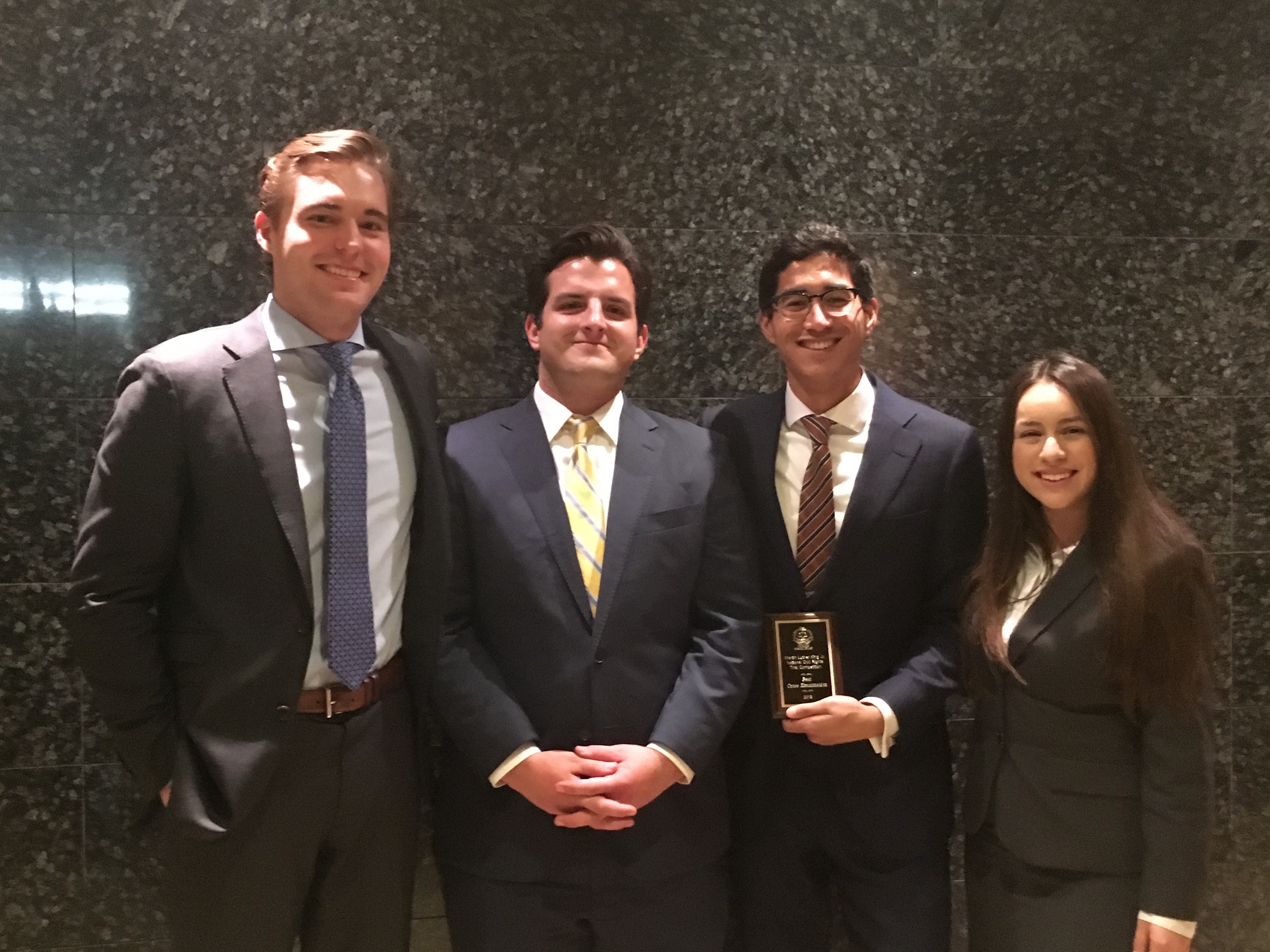 MLK, Jr. National Civil Rights Competition hosted by UC Davis School of Law in Sacramento, CA.
Competition Dates: Oct. 12 – 14, 2018
Coach: Allison Taylor
Team members: Bruce Baldree, Chris Forester, Karina Ochoa, Mason Pastrana (all third-year students).
Individual Awards: Mason Pastrana won the tournaments Best Cross Examination award.
Picture: L-R: Bruce Baldree, Chris Forester, Mason Pastrana, Karina Ochoa.
Securities Dispute Resolution Triathlon hosted by St. John's School of Law and the Financial Industry Regulatory Authority (FINRA). Took place at St. John's School of Law Manhattan Campus in New York.
The Triathlon is the first and only competition to include negotiation, mediation, advocacy, and arbitration in a single event.
Competition Dates: Oct. 13 – Oct. 14
Coaches: Sara Saltmarsh and Colin Walsh, '11
Team Members: Zimei Fan (2L), Thomas Goresen (2L), Andrew Schick (3L)
UT Law's team was one of the only teams to receive full damages from the judges during the arbitration round and placed third overall in the mediation round.
In Vino Veritas Mock Trial Competition hosted by Golden Gate University in San Francisco, CA.
Competition Dates: Oct. 18 – Oct. 21
Coaches: Sharon Baxter and Carl Guthrie, '17
Team Members: Gabriel Culver, Benjamin Hartman, Joseph Minton, Basma Raza and Samantha Sandfort (all third-year students).
ABA Labor and Employment Law Section Trial Advocacy Competition – Dallas Regional
Competition Dates: Oct. 27-28, 2018
Coach: Nadia Bettac
Team Members: Grant Gibson, David Liu, Carissa Tinley, Ryan Ziminskas (all 2Ls)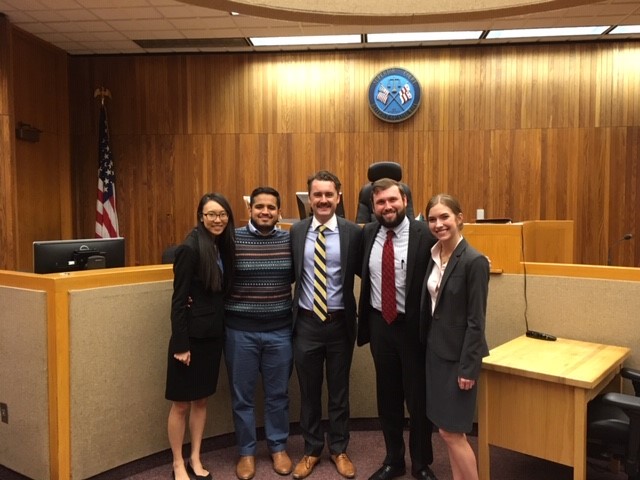 Federal White Collar Crime Invitational hosted by the Georgetown University Law Center in Washington, DC.
Competition Dates: Nov. 2-4, 2018
Coach: Murff Bledsoe
Team Members: Colin Currans-Sheehan, Gregorio Flores, Laurie Beth Jackson, Ralph Molina, Sarah Zhou (all 3Ls)
Pictures: L-R: Sarah Zhou, Gregorio Flores, Colin Currans-Sheehan, Ralph Molina, Laurie Beth Jackson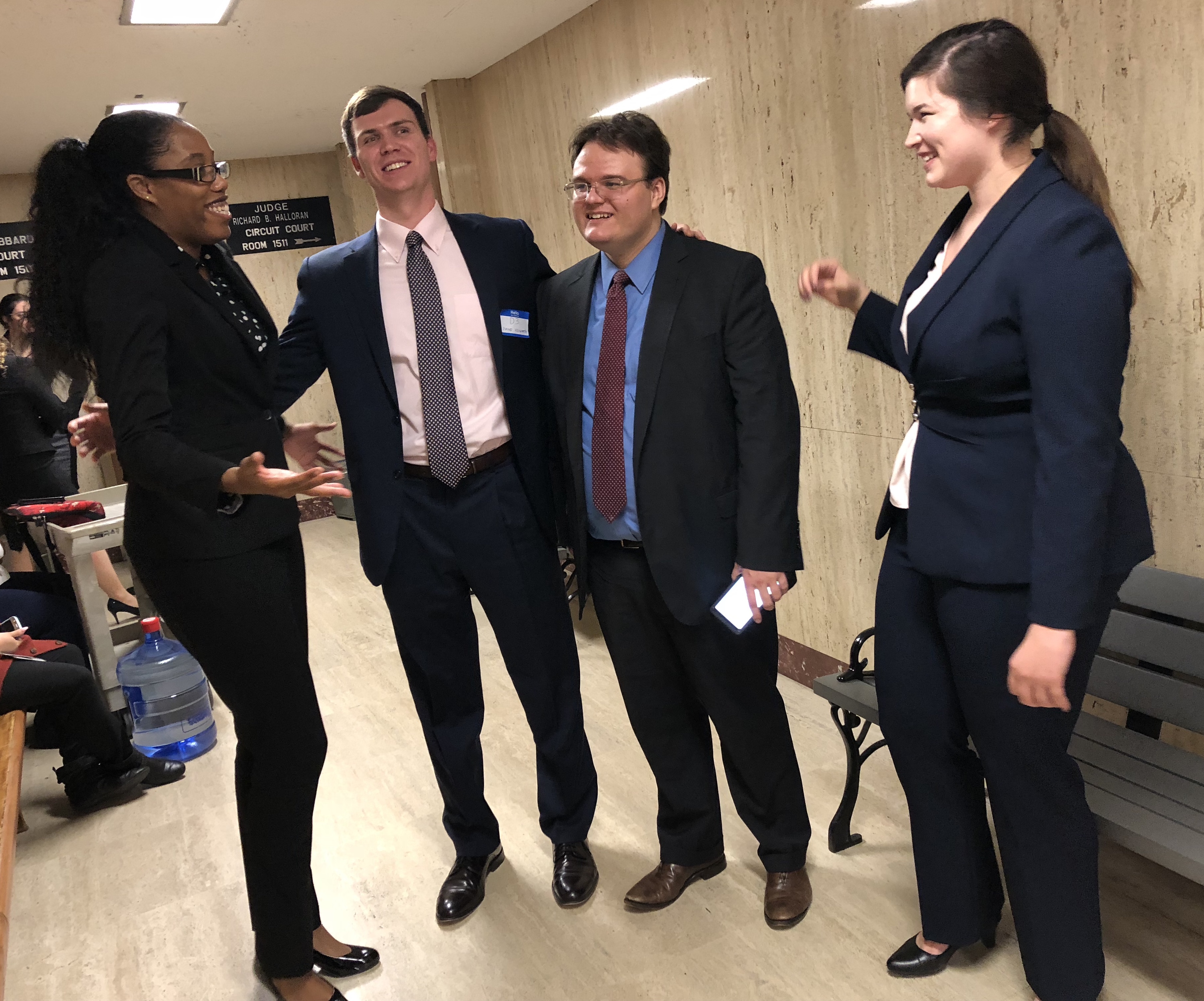 19th Annual National Trial Advocacy Competition (NTAC) hosted by the State Bar of Michigan Young Lawyers' Section. The competition took place in Detroit, Michigan.
Competition Dates: Nov. 2-4, 2018
Coaches: Peter McCabe and Rebecca Matsumura
Team Members: Patrick Aana, Michael Hoover, Morgan Hunt, Payne Keinarth, Colleen Tennent (all 3Ls)
Individual Awards: Payne Keinarth received the competition's Professional Ethics Award.
Picture: L-R: Morgan Hunt, Payne Keinarth, Michael Hoover, Colleen Tennent
ABA Arbitration Competition – Brooklyn Regional
Competition Dates: Nov. 9-10, 2018
Coach: Lauren Sprouse Aldredge, '11
Team Members: Fabiola Casas, Natasha Ertzbischoff, Huey Fischer, Cameron Kelly (all 2Ls)