Mike A. Myers '63 to Receive Santa Rita Award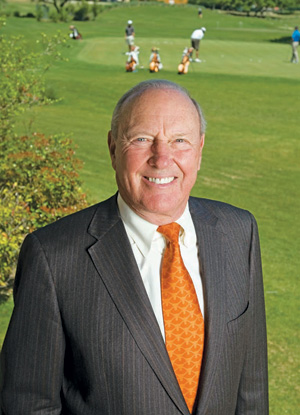 Double Longhorn and School of Law alumnus Mike A. Myers '63 has been announced as the newest recipient of the Santa Rita Award. It is the highest honor that can be bestowed by the University of Texas System. Myers will receive the award at a dinner in his honor in Dallas on December 12.
This award was created to recognize those who have served as the highest example of selfless and public-spirited service and who have demonstrated the deepest commitment to furthering the purposes of the UT system. Only 27 Santa Rita awards have been presented by Regents over the past 50 years.
Over the past six decades, Myers, a successful real estate developer and banker, has given generously of his service, expertise and philanthropy to University of Texas institutions including UT Austin, UT Southwestern, UT Dallas, UT Brownsville, UT El Paso, UT MD Anderson and UT Health Science Center Houston. Among his many transformative contributions to the UT System, Myers has established numerous endowments spanning the Forty Acres and beyond.
He is well known in the Texas Law community as one of the School of Law's most generous and engaged alumni. "Mike Myers has been taking the world by storm since he was young," said Dean Ward Farnsworth upon learning that the U.T. System Regents had selected Myers as a Santa Rita Awardee.  "His astonishing combination of talent, drive, and vision has made him one of the most successful graduates the Law School has had, and one of its dearest friends."
As a trustee of the Law School Foundation, Myers helped develop the Kay Bailey Hutchison Chair in Latin American Law. Just this year, he also established the Mike A. Myers Fellowship in Public Interest Law, created to increase access to justice for underserved individuals and communities. The one-year fellowship funds an outstanding graduating student or judicial clerk to work with a legal nonprofit organization providing legal services to victims of domestic violence or sexual assault. "Mike is that very admirable kind of lawyer who, no matter how successful he gets, is always thinking about who needs him the most," said Farnsworth. "When we talked about his legacy at the law school and who he would most like to help, it was natural that he would reply: victims of domestic violence."
"The fellowship funded by Mike Myers will support a Texas law graduate in gaining experience representing one of our most underserved communities – survivors of domestic violence," Jeana Lungwitz, Director of the Domestic Violence Clinic at the School of Law explains, "This fellowship will not only serve to enhance the legal skills of a new Texas law graduate, but it will enhance the quality of life and safety of domestic violence survivors, their children, and our community."
For more details on the award Myers' commitment to UT, see the UT System Regents Website. More information about the Mike A. Myers Fellowship in Public Interest Law is available here.