Forbath Heads to Princeton as LAPA Fellow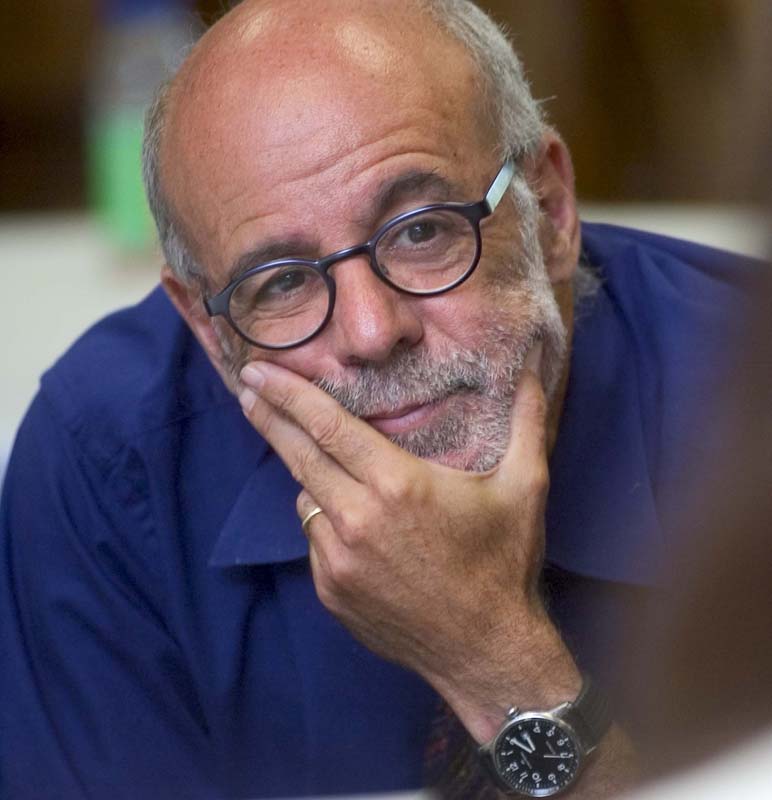 Professor William E. Forbath is leaving for Princeton University next year. But there's no need to panic—it's only for the Spring 2019 semester!
Forbath, who holds the Lloyd M. Bentsen Chair in Law and is the Associate Dean for Research, has been selected for Princeton's prestigious Law and Public Affairs Fellowship. The program brings outstanding scholars from across the nation to focus on research and writing on law-related subjects. It's an in-residence fellowship; participants work in a highly focused way on their own scholarship and also attend weekly seminars to exchange ideas with other fellows and Princeton faculty. While in Princeton, Forbath will pursue his most recent research interest in Jews, law, and identity politics in the early twentieth century.
"Texas Law's faculty is world class and Willy Forbath is one of the best there is on our faculty, or anywhere," said Dean Ward Farnsworth. "We're proud to see him honored with an invitation to the Law and Public Affairs Institute and excited for the work he's going to do there."
Prof. Forbath's plans for Princeton are just one of many projects he is working on actively. During the fall semester, he has been writing intensely with his co-author and fellow Texas Law professor, Joseph Fishkin, finishing their forthcoming book. The Anti-Oligarchy Constitution is scheduled to be published in 2019 by the Harvard University Press. In it, Professors Forbath and Fishkin tell the story of a past constitutional world. In that world, Americans thought that great economic inequalities and concentrations of economic power were not just social or political problems, but constitutional ones. They had constitutional principles that condemned "oligarchy" and required policies promoting a broad middle class, much as we think about principles of racial equality and individual rights.
"Today's America confronts mounting inequality and a real threat of oligarchy," explains Forbath, "and alongside that, is the crumbling of what was once a pretty broad and wide open middle class. In past eras like this, all sides – conservatives, liberals and radicals – saw constitutional stakes in these problems, and fought and argued about them in constitutional terms. Now, only the conservative right is making claims in this traditional key. But that conservative right includes what has become a new majority on the Supreme Court. Fishkin and I think it's time for liberals and progressives to get into the act!"
Antitrust law, labor law, tax law, trade and banking law – fields that shape the political economy of the nation – once had real constitutional dimensions, Fishkin and Forbath show. As Professor Fishkin describes in this August Q & A, "In the end [of the book] we ask: what would it mean, and what would it take, to bring this lost world back?"
Another project draws from Forbath's work over the years on the global South, again trying to understand constitutional law's part in imagining and forging egalitarian reforms in the political-economic order. In May of 2017, along with a handful of leading sociologists, legal scholars, advocates, and economists, he took part in a collaboration in, "thinking large" about reconstructing South Africa's political economy.
The workshop, titled "Toward a New Constitutional Political Economy – Transition and Transformation" took place at the Kramer Law School at the University of Cape Town. Professor Forbath joined, among others, Lucie White, Louis A. Horvitz Professor of Law at Harvard Law School, Dennis Davis, judge at the High Court of Cape Town appointed by former South African president Nelson Mandela, and Julia Dehm, who served as Postdoctoral Fellow at Texas Law's Rapoport Center for Human Rights and Justice from 2015-17.
This two-day workshop led to the production of a White Paper that aims to present complex ideas with enough specificity to help seasoned policy-makers and advocates expand the scope for social and economic rights litigation in Ghana and South Africa. The White Paper in turn led to a series of posts on the Law and Political Economy blog which you can explore here.
Forbath and his colleagues' exploration at the University of Cape Town brought legal and constitutional thought into conversation with heterodox development economics to imagine new, practical pathways to the egalitarian aspirations of South Africa's constitution. In other words, South Africa's Constitution is admired for its vision of equality and economic and social rights, yet this potential has come to seem stymied. They dug into how they might reconstruct the South African political economy in order to realize the promises of its Constitution.
With a major book project, White Paper, and esteemed research fellowship, it may seem like an unusually busy and fertile time for Forbath. That's not precisely how he sees it. "I've been involved in all of these projects for a long time," says Forbath. "So, I guess what's unusual may be that some of them seem especially timely just now. It feels good to be relevant, but given how wrenching the problems of inequality are, it's a kind of cold comfort."